If Cinderella hadn't lost her glass slipper, she would have never found her Prince. But would these shoe makers and designers be willing to lose a single one? We're talking about some of the most expensive shoes ever created in the world.
"The fact is, sometimes is hard to walk in a woman's shoes. That's why we need really special ones now and then to make the walk a little more fun." – Carrie Bradshaw
For centuries women have obsessed over shoes. From a mere protective cover for the feet; the shoe has evolved into a piece of art and jewelry for some. Carrie Bradshaw from Sex and the City added to the euphoria of shoe obsession and made designers like Manolo Blahnik shine in the global arena.
There are times when celebrities and socialites have had to shell out thousands of dollars for a pair of custom designed Christian Louboutins.
Our list of top ten most expensive shoes in the world will blow your mind. Thousands of dollars will sound like petty cash at the end of this!
#10: Nike's Socal Air Force 1 Supreme Max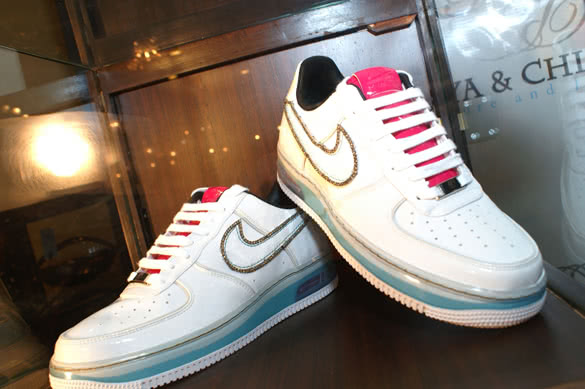 The only pair of sneakers to have qualified in our top ten is Nike's So Cal Airforce 1 Supreme Max shoes. Sitting proud on number 10, the sneakers are encrusted with 11 carats of chocolate colored diamonds. The diamonds make up the outline of the famous Nike logo.
The limited edition shoes with champagne diamonds were customized and brought to life by Laced Up owner Ernel Dawkins and C Couture boutique owner Rita Patel. These were then purchased by Outkast's Antwan "Big Boi" Patton. The proceeds from the sale went to Big Boi's Big Kidz Foundation.
Big Boi's Nike shoes are worth a hefty sum of $50,000. How would you like to shoot a basket in these ones?
#9: Slippers from 18th Century India
Slippers on number 9 have a glorious piece of history attached to them. Dating back to circa 18th century, the diamond and ruby embedded slippers once belonged to Nizam Sikandar Jah, a Prince who once ruled a rich Princely state in India.
It is said that the first diamond mines were established in the Nizam's state of Hyderabad which is the core reason for the Princes' wealth. The Nizam's slippers were designed in the traditional "mojari" style, a design that signifies curled toes and encircles the ankle by master craftsmen and shoe makers.
The slippers, designed and created some 200 years ago were a symbol of Royalty and are important because of their historical significance today. The slippers were stolen from Toronto's Bata Museum in 2006 and recovered later.
These sparkling shoes have an estimated worth of $160,000 today.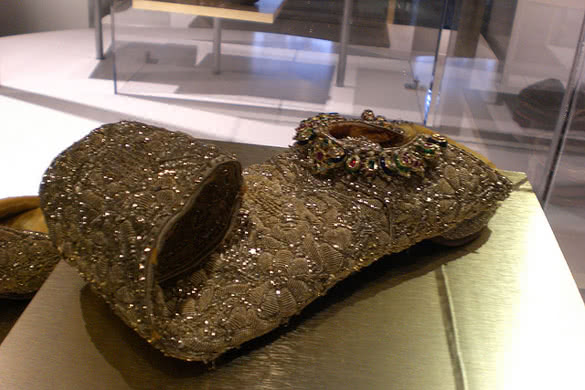 #8: Stuart Weitzman's "Diamond Dream" Stilettos
Shoe designer Stuart Weitzman has earned a reputation of creating unaffordable shoes. His designs come with a plethora of bling and a combination of shoes and jewelry. No wonder that six out of ten shoes featured here on our list were designed by him.
On number 8, are Stuart Weitzman's Diamond Dream Stilettos. Adorned with over 1400 diamonds exceeding a total weight of 30 carats, these shoes were created in association with jeweler Kwiat. Set in platinum 1420 diamonds sparkled and made a debut on the feet of Anika Noni in 2007 for the Oscars Red Carpet event.
The Diamond Dream Stilettos are worth $500,000.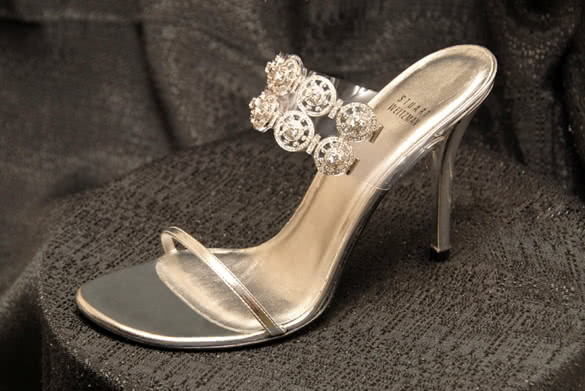 #7: Ruby Slippers from the "Wizard of Oz"
Treasured as a memorabilia from the famous 1939 movie, The Wizard of Oz, these Red Ruby shoes were worn by Dorothy. Dorothy had to click the heels thrice to return back to Kansas – how easy was that! Originally, there were seven of these pairs of which only five remain.
The slippers are embroidered with red sequins on organza fabric. These were later decorated with butterfly-shaped red strap leather bows, and each bow had three large, rectangular, red-glass jewels with dark red bugle beads, outlined in red glass rhinestones in silver settings.
The original ruby shoes are worth $666,000 and are on display at the Smithsonian Museum.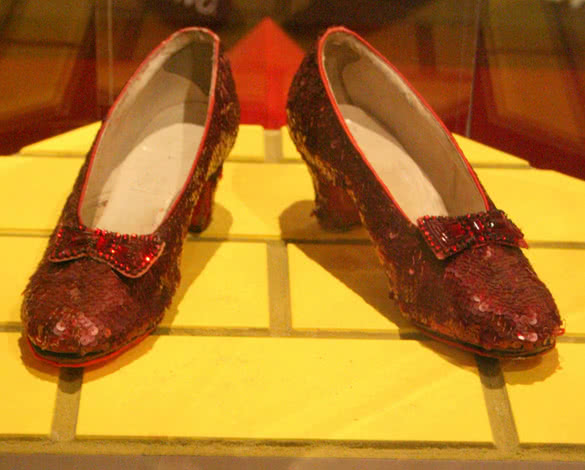 #6: Stuart Weitzman's "Retro Rose" Pumps
Inspired by the fashion trends in the 1940's, Stuart Weitzman created these I- strap Retro pumps. The classic I-strap was a rage back then. The rose adornments on the toes of the Retro Rose pumps are made up of 1800 colorless diamonds from Kwiat.
The diamond weight totals up to 100 carats. There are 400 more diamonds embedded into the shoe itself. Take a closer look at the buckle of the shoe and you will spot some. The cost of this dazzling shoe touches $1,000,000.
Diablo Cody, Oscar nominated screenwriter for "Juno" was roped in by Stuart Weitzman to walk the red carpet in the Retro Rose pumps for the Oscars. But due to a controversy between the two, Cody refused to wear the pumps calling it a "cheap publicity stunt" and showed up on the Oscars night in a pair of simple gold flats of her own.
What Cody probably didn't know was that a number of girls would kill to strut around in those pumps.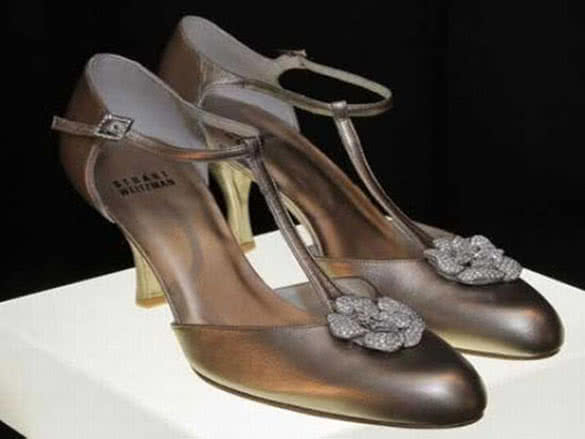 #5: Stuart Weitzman's "Platinum Guild" Stilettos
Imagine removable diamonds on your shoes that can double up for earrings or other jewelry. Stuart Weitzman's Platinum Dream stilettos are just that. Made from platinum fabric, 464 pear and round shaped diamonds dress the strappy shoes. Oscar nominee Laura Harring was chosen to wear these million dollar sandals for the 2002 Academy Awards night under the watchful eyes of 3 bodyguards.
These Platinum Guild Stilettos are worth $1,090,000 today.
Stuart Weitzman is known to create ridiculously expensive shoes with flashy diamond and gemstone bling that can later be used as jewelry by the owner. Whoa!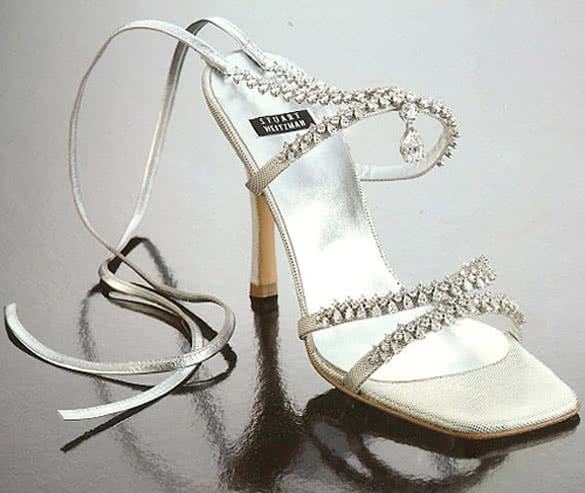 #4: Stuart Weitzman's Cinderella Slippers
Although not glass slippers, Stuart Weitzman's Cinderella slippers are fit for a Princess. Beautifully created with Kwiat diamonds weighing 595 carats, these sandals are made with Italian leather with a gold sheen. The 4½ inch clear heeled stilettos were worn by singer Alison Kraus to the 2004 Oscars. The right slipper is encrusted with a rare 5 carat amaretto diamond worth more than 1 million dollars itself.
The Cinderella slippers are priced at a cool $2 million.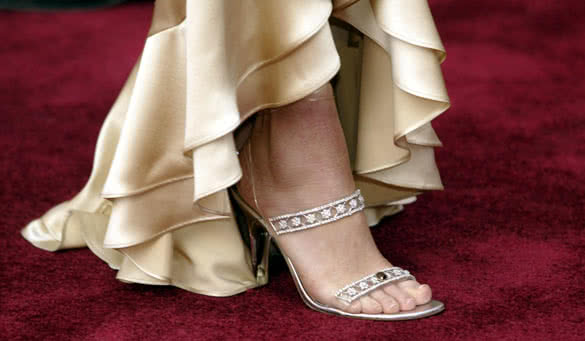 #3: Stuart Weitzman's Tanzanite Heels
Stuart Weitzman's tanzanite heels are a mix of gorgeous blue tanzanite stones and colorless diamonds on sumptuous silver Italian leather. The 285 carats of tanzanite stones along with 28 carats of diamonds embellish the sandal strap and look more like a royal bracelet than an ankle holster. The showstopper of this sandal is a gorgeous 16 carat tanzanite drop resembling a pendant on a necklace.
You will have to shell out $2 million to lay hands on this sparkling beauty.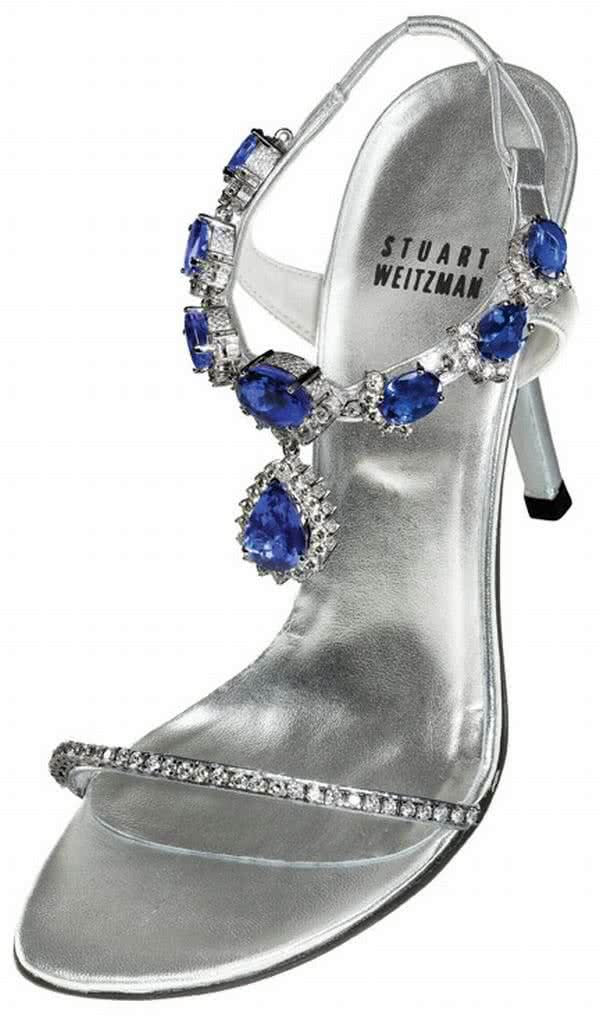 #2: Stuart Weitzman's "Rita Heyworth" Heels 
The second most expensive shoes in the world were created by Stuart Weitzman for actress Rita Heyworth.
Inspired by the diva's favorite earrings, the sandals are an open toe design embellished with diamonds, sapphires and rubies. A sensational burnt sienna colored satin was chosen as the body color and a beautiful ruffle sits pretty on the toes. The gems are encrusted in ruffle.
The late actress passed this heir-loom worthy heels to her daughter Princess Yasmin Aga Khan who is the current owner. Priced at a whopping $3 million, these heels are not for sale. Singer Kathleen "Bird" York was chosen to walk the red carpet in these extravagant heels to the 2006 Oscars.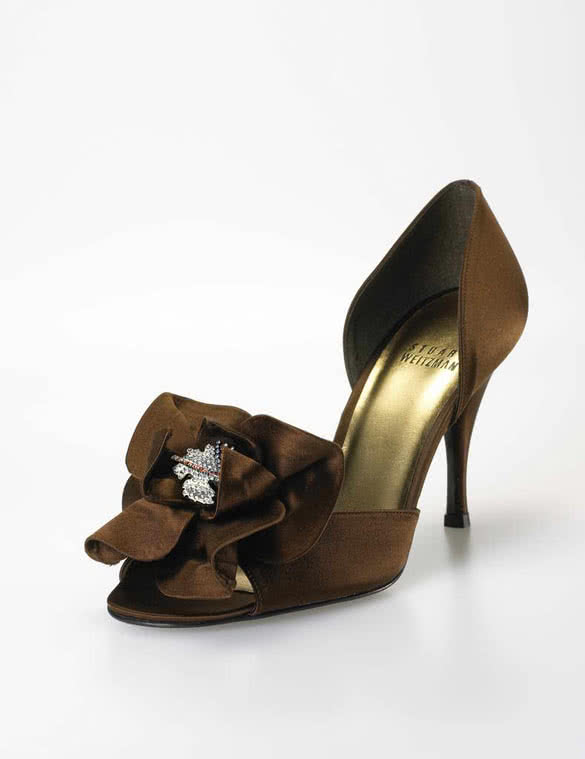 #1: The Ruby Slippers from the House of Harry Winston
Number 7 on our list is the original Ruby slipper from the movie the Wizard of Oz but in 1989, to celebrate the 50th anniversary of the movie, House of Harry Winston, luxury jeweler and producer of Swiss timepieces produced a replica of the original 1938 slippers.
Unlike the original slippers that were embellished with sequins, the replica was encrusted with real rubies and took 2 months to complete.
Designed and fashioned by Ronald Winston, 1350 carats of rubies and 50 carats of diamonds were used in the bedazzling pair of shoes. 1350 carats of rubies equaled approximately 4600 pieces of real rubies. Only the original Dorothy, actress Judy Garland has had the honor of ever wearing the most expensive pair of shoes in the world.
Currently valued at $3 million, the red ruby slippers from the House of Winston are the most expensive shoes in the world.
If you had a chance to pick one of these top 10 most expensive shoes in the world, which one would it be?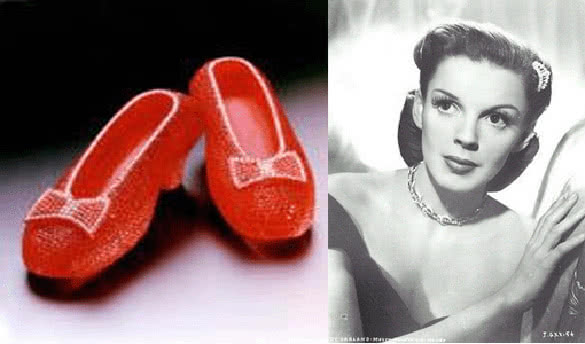 Cover photo: swarovski-elements.com