When it comes to style, every aspect is important- from head to toe. Make sure you're wearing the right sandals this summer by checking out our list of hottest summer sandal trends.
We're all getting ready for summer, right? We're out buying some adorable maxi skirts, high-waisted jean shorts, and, of course, cute little summer dresses. But while stylish and cute clothes are important during your shopping spree, don't forget the importance of your shoes. Here are the hottest summer sandal trends for summer that you NEED to be wearing this season!
Summer Sandal Trend: Flower Power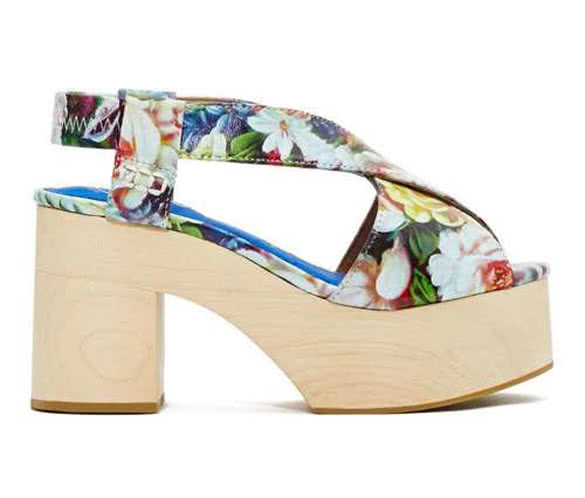 Ok, so we're seeing floral everywhere. It's one of THE hottest fashion trends this summer whether you're sporting a cute floral crop top, lovely floral summer dresses- even flower pieces in your hair. You guessed it: Floral continues to be the number one trend when it comes to sandals. Don't be afraid to get creative when it comes to this trend either. Wear flats with a cute floral embellishment or sport some chunky sandals with plenty of wildly colored flowers for a really enchanting style. When it comes to flower power, you really can't go wrong!
We're loving these chunky heeled sandals with a gorgeous floral pattern that can't be missed.
Summer Sandal Trend: Gorgeous Gladiator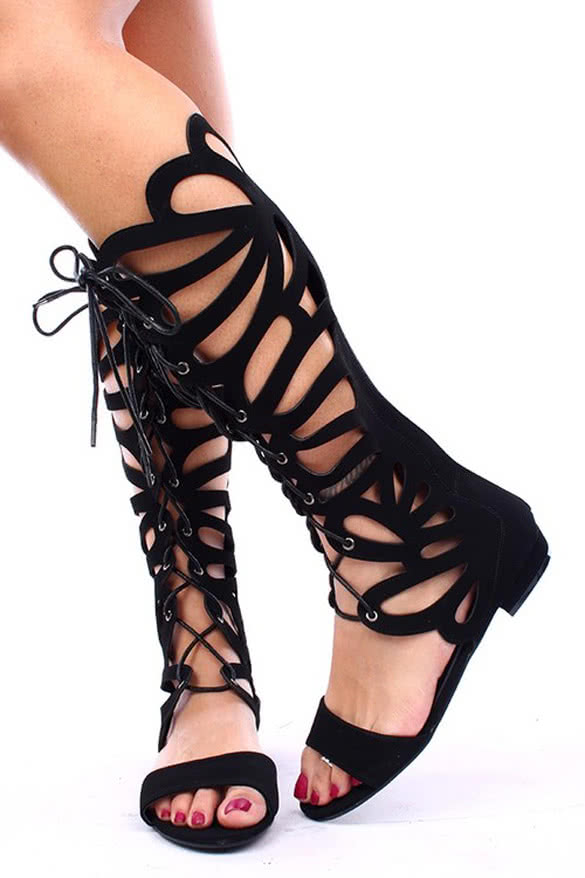 Gorgeous, tantalizing, strong. These are just a few of the words to describe summer sandal trend number two: The gladiator sandals. These sensational shoes are incredibly detailed and look absolutely amazing. Whether you shoot for a simple flat sandal with a couple of straps or go for the totally tenacious and alluring gladiator that ends right below your knee, you're sure to be rocking a seriously trendy sandal that knocks all other sandals right out of the ball park – or should we say the beach.
Summer Sandal Trend: Chunky Heels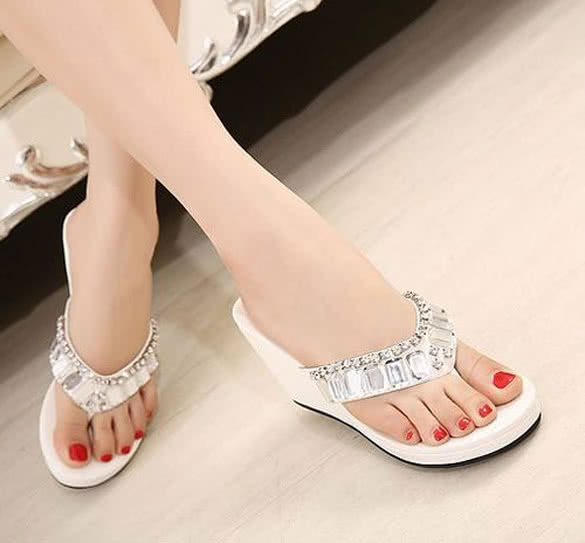 Was anybody else sad to see the era of the chunky sandals end a few years back? Well, you'll be happy to hear that chunky sandals have made a full recovery and pushed their way right back into the fashion world. Chunky heeled sandals are not only amazingly comfortable in every way shape and form, but they are so obviously cute and trendy, too. They match your favorite summer outfits perfectly and with ease – no questions asked. We love these adorable chunky sandals that are out-of-this-world in style. Not only do they have the chunky heel, but they are also in one of the trendiest colors (white) and have gorgeous embellished jewels, which just so happens to be another one of summer's must-haves!
Summer Sandal Trend: Envying Embellishments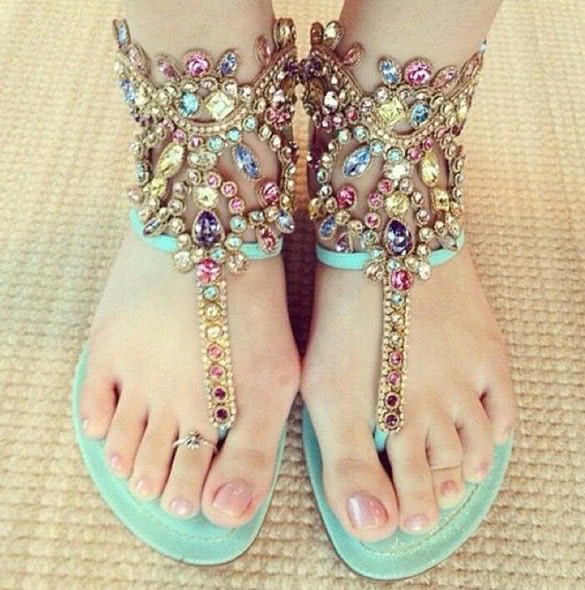 Have you ever thought, "Wow, those are some seriously sexy shoes, but they're way too busy and attention grabbing to wear in public!"? Now you can put those worries to rest. Heavily embellished sandals just so happen to be on-trend for summer – the crazier the better. Take these lovely sandals for instance: They're incredibly busy and definitely attention-grabbing with the collection of dazzling jewels in remarkably beautiful colors. You know what else? They're probably a pair of the most sensational flats we've ever seen. A+ without a doubt.
Summer Sandal Trend: There's Beauty in the Birkenstock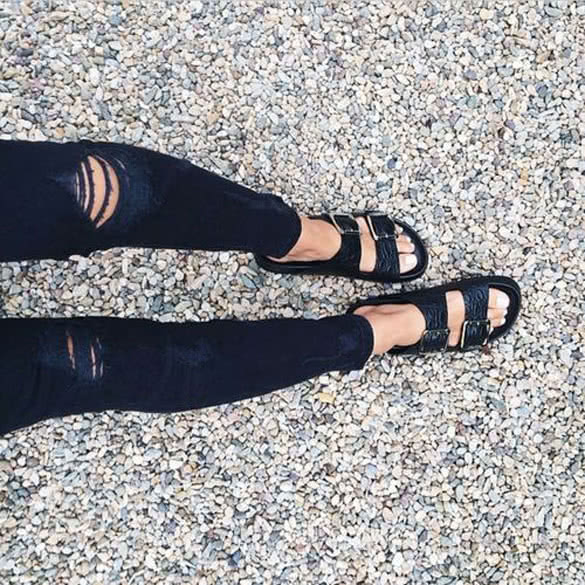 Um, come again? Yes, you read that correctly. The Birkenstock is one of the top 5 summer sandal trends. And believe me, you're not the only one who is shocked about this. While Birkenstock's may have been the laughing stock of the shoe world a few years back, they've made a serious, trendy comeback that we weren't really expecting. We have to admit, though, designers are coming out with some pretty adorable Birkenstock sandals that we won't mind wearing this summer season – not to mention the amazing comfort factor. Who doesn't love to feel comfortable in a pair of shoes!
Summer Sandal Trend: Alluring Ankle Straps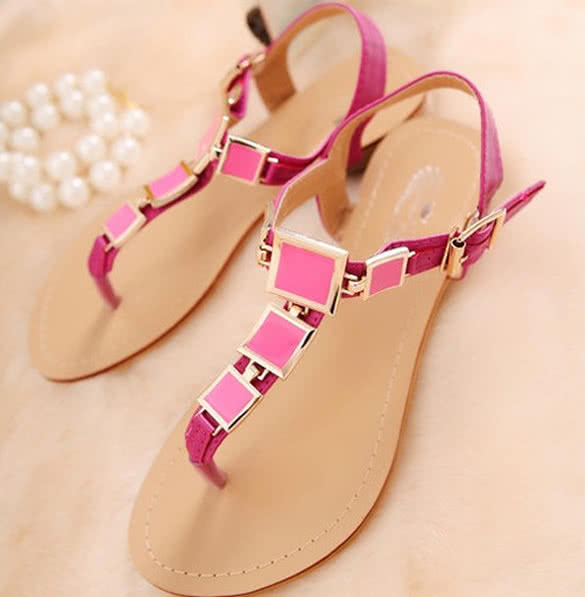 Ankle straps are really popular this year and, what do you know, NOBODY is complaining. After all, ankle straps just have that sexy factor without even working for it. You can find ankle straps on all kinds of different sandals, from flats to chunky sandals – even Birkenstocks. Whatever you choose, you'll be sporting one of the most tantalizing and sensational trends for summer.
Summer sandal trends certainly brings us a few shocks (Birkenstocks, anyone?). Needless to say though, we're loving the collection of brilliant floral pieces and dazzling embellished accessories for our feet. We can't wait to mix and match with our summer wardrobe!