Is you anniversary approaching? Do you have some ideas what to buy for your special man? If you have no clue, here're some unique anniversary gifts for him.
Getting a unique anniversary gift for him can be tough to think of, let alone finding it. Of course, every man will be different to shop for, and your love for each other is uniquely yours.
But, despite that connection, gift giving can be hard, especially with the added pressure that is associated with the fact that it is an anniversary gift.
There are some unique anniversary gifts for him that can match every relationship no matter what.
Read on to learn some ideas in order to find the perfect unique anniversary gift for him!
Concert tickets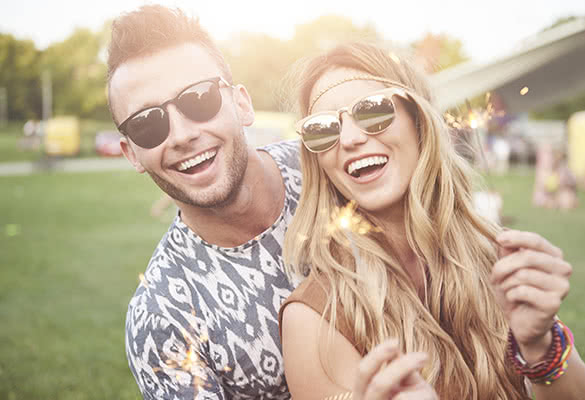 Treat your man to see one of his all time favorite bands for your special anniversary. As common as this may sound, it is quite the opposite.
Concerts are a unique anniversary gift for him as the atmosphere, lights, people, and music will not only make him extremely happy, but he'll also be happy that he got to share it with you.
You can even surprise him with concert tickets to one of the bands that you both love and share special memories with together.
Who knows, maybe the band will play your song, or the song you first had sex too, or even the song you danced to for your first dance or shared that first special kiss too.
The sex package
A great, hot, spicy, romantic, fun, wild, sexy, crazy, and intimate unique anniversary gift for him could be a very sexy evening with his special lady.
You can start off the evening with a very fancy night out for dinner where you can then take off your panties in the car and give them to him in his pocket before you head into the restaurant.
Then leave him squirming with anticipation all night while you coyly sip your drink and play footsie with him all night.
Then when you head home, treat him to a night he won't ever forget.
To start, push him on the bed while you go and change into his favorite type of lingerie, then give him a very sexy strip tease followed by you undressing him, and rubbing body oils all over his body.
Then do whatever his favorite turn-ons are and pull out a sex positions deck of cards, or play a sexual game of truth or dare. Maybe even pull out some sex toys that you both have been wanting to try for a while.
Not only will you blow his mind, but you will both have lots of fun together and will reach new heights of intimacy, and sexual openness (especially if you play a sexy game of truth or dare). You will also create some new memories that will get you feeling ready to go when you think about them later.
Recreate that special day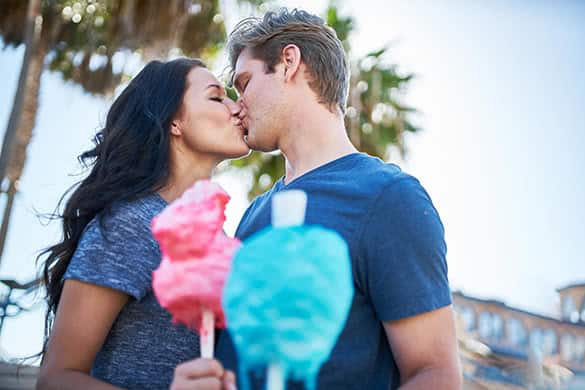 As mentioned earlier, you are a unique couple with a unique connection and history. On this special anniversary, surprise your man by recreating your very first date, or very first time for a moment you both love and cherish.
This unique anniversary gift for him, will rekindle your love, bring you back to the past, allow for your love and appreciation for one and other to grow, and for you both to enjoy some of your most prized moments together. He will truly love this sentimental gift.
Travel
It is said that people gain more from travel than from anything else. What is the perfect gift than travel? Well, traveling together with your special someone seems to be by far better.
For a unique anniversary gift, you can take your special someone to their dream destination where the two of you can explore and enjoy all the beautiful things it has to offer.
This is a very romantic, sweet, caring, and fun way to celebrate your anniversary, and the life you have, and will have together in the future.
This anniversary gift will also bring the two of you much closer together through the relaxation, exploration, and activities that you will do together as it will bond the two of you together.
A day adventure
This unique anniversary gift for him will be something that will go down in the record books for the two of you. All you have to do is plan a whole day of doing things that you two love to do as a couple.
A few examples of this could be going for an all day hike, exploring activities that are attractions in your city, or may be driving out of your city to something super cool that is further away.
No matter what you plan for your all day adventure, he will definitely love spending your anniversary doing something that the two of you love to do together, that is special to the two of you, and by creating even more cherished memories with you.
Why I love you jar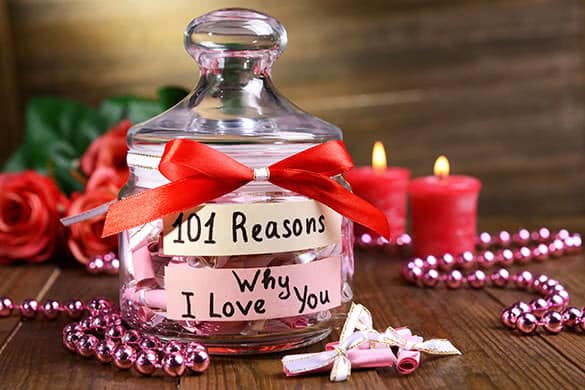 Get crafty by making "365 reasons" why I love you jar for your one-year anniversary. This is such a unique anniversary gift for him, as every reason will be a specific reason as to why you love him. This is not only very sweet and romantic, but it is also a constant reminder of your love for him, and he will realize that every time he reads one of the many or endless reasons.
Indulge his hobbies/lifestyles
This gift may seem not creative enough, or not caring enough. However, to him, this is possibly one of the sweetest gifts you could give him. This type of gift manages to maintain that romantic and loving feeling, but while also actually being extremely practical.
By giving him a gift that supports or adds on to one of his hobbies, you not only give him something that is a unique anniversary gift, but it is one that he will use all the time.
When he uses it, he will always think of you, and will also appreciate the amazing gift you gave him.
Additionally, he will also be grateful and overjoyed by the fact that you took an interest in one of his lifestyles/hobbies.
Some ideas for this amazingly unique anniversary gift for him could be new hunting equipment, a camera lens or extended flash for his SLR, a part for his mountain bike, beautifully crafted paint brushes, a special component for his instrument, or even a rare item for his very special collection.
Couple coupons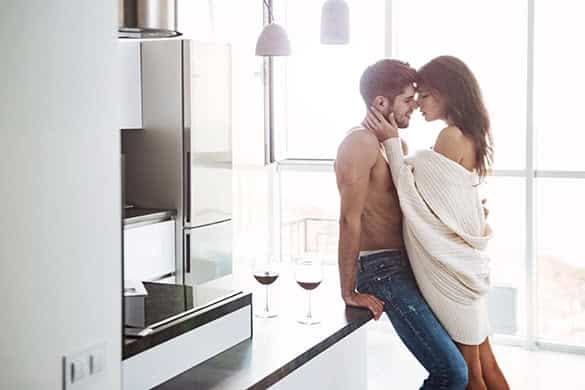 Give him a gift that will keep on giving. In a nice jar or container, you can give him coupons for things that you want to do and things that he will definitely love.
Whenever he wants one of those things he can cash in the coupon as long as it doesn't go against the few guidelines rules you have in place for it (just in case you aren't feeling it that day).
Some ideas for these coupons could be for some sexy nude photos, for you to make him his favourite dinner, to bake his favourite desert, to give him a back massage, to watch his favourite movie (even if it's a snooze fest for you), to cuddle with him, a free hug, or even for you to do one of his favourite turn-ons.
This anniversary gift is sweet and can be a lot of fun for the both of you.
Like I had mentioned earlier, any unique anniversary gift you chose to give your special man is always going to be unique to the two of you, just like your relationship.
However, some gifts are ones that every man would appreciate when it is applied correctly to celebrate your love and time together.
Some other anniversary gifts could be an engraved flask or pocket knife, a picture of the two of you from a cherished moment you two shared, his favourite wine or whisky, a beautiful watch, a scavenger hunt with special clues for him to solve to get a prize, a photo box, and so much more.
If you can think of more unique anniversary gifts for him, feel free to share, and have a happy anniversary!