Sex in the bed is so passé! It's time to spice your love life up a little and be more adventurous. Here are 6 places every woman should have sex, at least once!
Sex – everyone's doing it and most couples are still doing it only in the bedroom. Yawn: how boring. Sex is to be enjoyed, but how can sex continue to be interesting if you're stuck in the same old missionary position with your bed covers covering every piece of your skin.
Sex in bed is so passé!
Ladies, you've got to keep the ball rolling! A healthy sex life means a healthy relationship and vice versa. Sex on the bed? Hell no! Been there done that; it's time to take your sex life to the next level. Yes, there's more to sex than just the bedroom. Venturing out for sex doesn't make you a whore – it makes you fun, puts the spice back into the relationship and keeps things different and exciting.
When you're in a committed relationship it's so easy to grow complacent and with this complacency you find yourself in a relationship rut. The same old things happen; routine sets in and it's fair to say that you have a boring relationship. It's these relationships that we need to watch out for.
It doesn't matter how long you've been with him for – whether its 9 months or 3 years – it's important to keep your relationship interesting. One of the ways to spice up your love life is to venture outside of the bedroom for sex, it's time to explore more and this is bound to get both yours and your man's hearts beating wildly and the adrenaline rushing – add the element of risk in there and you'll really make your man wild (in a good way).
It's time to stop being a prude and start getting adventurous in the bedroom – think of this as your bucket list of places that you must try when it comes to sex. You'll see your sex life soar and the passion and general happiness will be re-ignited. If you're unsure, start small. Experiment with having sex in different positions around the house and from there venture outside…you're going to thank me later!
#1 The Couch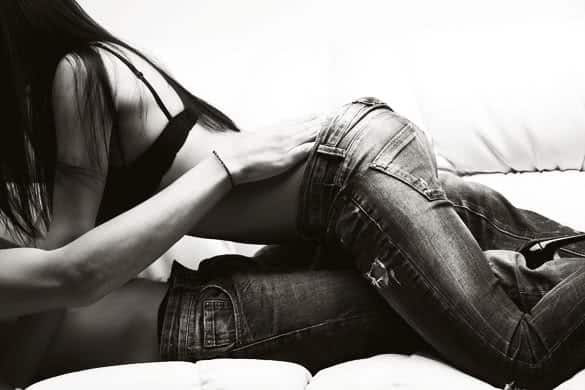 Come on now: the couch is a given! But you'll seriously be surprised at how many couples have never had sex on the couch. Sex on the couch seems to make for a smooth transition from bedroom – it's the logical next step. Maximize the couch and have a sexy time on it.
Take your man by surprise and gently snuggle into him inching closer and closer until you're able to massage his crotch. As your movie heats up a little, use this as the opportunity to show your guy you're turned on. Straddle him and ride him like a cowgirl. He'll love the idea of being able to watch you and momentarily watch the sex scenes in the romantic comedy that was boring him to tears before your own sex show.
You've got to love sex on the couch, when it's all over, you can snuggle back up to him and just lay in his arms quietly while you continue with your movie or you can go in for round two.
All it takes is one steamy sex session on the couch and you'll never want to do it in the bed again.
#2 The Kitchen Counter
It's every guy's fantasy and every girl should want to do it – sex on the kitchen counter. Food can be very erotic and the idea of having sex in a place where it's plentiful is extremely sexy. Having sex in the kitchen is fun, playful and exceptionally passionate.
Sex in the kitchen shouldn't be an orchestrated thing, it should just happen. Wear something sexy while you start preparing the food and he's going to find you irresistible – his stomach will no longer be growling with hunger; instead his crotch will be throbbing with excitement.
Men find the kitchen very sexy which explains why so many porn scenes are filmed within the tiled walls. Just make sure that you wipe down the counter afterwards and turn off anything that's boiling or you could have more mess than anticipated.
#3 Shower Sex
Now we're steaming things up. Sex in the shower's surely going to get your love life too hot to handle. There's something about a room full of steam and gushing water that is completely hot (every pun intended).
Having sex in the shower is the perfect way to put on a show for your man. More often than not when you have sex with your partner, you don't see too much of his body – this is the perfect opportunity to lather yourself up with soap.
Call your man into the bathroom and tell him to bring a towel; as he does, slowly strip off leaving your clothes in a heap on the floor. He'll get all hot under the collar and stick around a little bit longer. As you step inside the shower with the water gushing down on your body, throw your head back in passion showing him you're enjoying every moment being massaged by the hot water. Grab your sponge and gently massage the shower gel into your body suggestively. This will turn him on like there's no tomorrow and he's not going to be able to resist. Give him a cheeky smile and from there it's all systems go. He'll be stripping off to join you in no time. Lather him up and give him a sensual massage as you push your body up to his.
The hottest sex position for the shower is doggy style. Bend down inviting him to take you from behind and hold on to the wash basin for support.
The same goes for sex in the bath. Fill your bath up with bubbles and lift your leg up as you wash it. Proposition him to join you – he's not going to say "no". Bathtub sex takes the missionary position to a whole new level!
Although you're all wet and hot, water doesn't do anything for natural lubrication so be sure to have a tube of lube strategically placed so you can grab it in the heat of the moment.
#4 Sex In His Car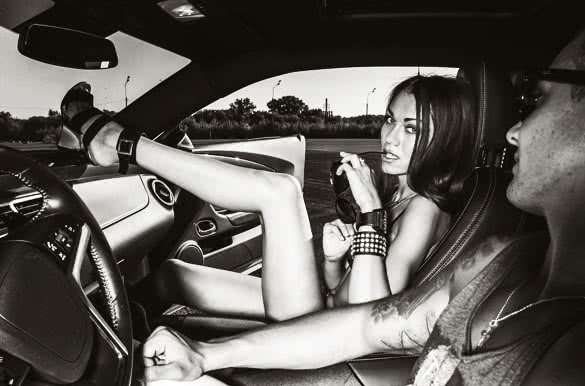 It's every guy's fantasy to have sex in the car. He loves a girl who's a bit wild and isn't afraid to be adventurous when it comes to sex. Okay, admittedly the back seat of a car is nowhere near as comfortable as your bed, but when it comes down to getting all sexy and playful, the car's the perfect location.
Risqué sex brings excitement and the element of getting caught or seen is a real turn on. Start talking about how horny you are and then have him pull over to the side of a dirt road and get it on!
#5 Pool Sex
When we think up pools we conjure up images of exotic place where the sun's beating down on us. Clearly you're not going to have a sexual escapade in the public swimming pool or you're looking for court orders and arrests; however, there's no unwritten rule about a private pool.
Water sets the mood for a little bit of playful fun and the water's buoyancy is going to help you stay afloat and make it easier to have sex and move freely. And, of course, you're already wearing very little so why not dare to reveal more? Position yourself in the corner and allow your man to take control.
Sex on the beach is sexy, but sex in the pool trumps. There's no sand getting into places where it shouldn't and no uncomfortable pebbles.
#6 Sex In The Park
By now you're ready to take your sexual adventures to the next level and after working your way up it's time to become a little bit more daring. Of course there's more risk involved, but like I said before: the more risk there is, the more exciting it is.
Suggest taking an evening stroll when the rest of the neighborhood is tucked up in bed. On a balmy summer's night with the soft romantic breeze blowing, there's nothing more beautiful about getting naked in nature. As you pass a hidden corner, suggest taking a short break to take it all in. Start kissing him wildly and you'll soon find yourselves in a nest of leaves getting it on.
Sex is to be enjoyed and it could be on an open road, your balcony or against the washing machine. When sex is exciting, it's going to keep the passion alive and you'll surely have a plentiful and exciting sex life making your relationship better on the whole.
Happy adventures and just be careful not to get caught!
Cover photo: www.pinterest.com