Here are some tips on how to introduce your boyfriend to your vibrator in the bedroom without him feeling intimidated.
Why do our sex toys intimidate men?
It might seem odd that your boyfriend would compare his own penis to your bright pink, over-sized, vibrating and rotating silicone phallic sex toy – but he will. So you avoid sharing your toys in the bedroom, and instead you keep them hidden away in a drawer so as not to freak your boyfriend out! Am I right?
Of course, it is silly to compare the two. I mean yes, they both give us sexual pleasure, but they are entirely different things. One is battery operated for starters; and the other is warm, alive, and attached to the man you love! Guys will rarely see it that way though. Many guys will only see the larger than life version of their own sexual organ, and one that can do a whole variety of super-human tricks.
I suppose a man's complex is understandable, especially when we rave on about how many orgasms a vibrator can give us in a single masturbation session, and how quickly and easily we can climax with just the switch of a button. It takes a man much longer to get us heated up after all, and even then the big "Oh!" is never guaranteed.
Can you convince a guy that you don't compare your sex toy and his penis?
The simple answer to this question is that you probably won't be able to convince your boyfriend that your vibrator is no match for his love rocket, or whatever it is you call it to make him feel like the man. This is because he has already developed the complex based on all of the reasons above.
You can however, use the following tips to persuade him that your vibrator is not the enemy, and instead encourage him to accept it into the bedroom as his own sexual ally. This is how you do it…
Use your smallest vibrator or sex toy to turn HIM on
Now then, when I say use it to turn him on, I am certainly not suggesting that you pick out a choice object from your goody drawer and persuade him to let you ease it into his ass! No, what you want to do is show him how your toys can be used to pleasure you. In other words, put on a private self-masturbation show, for his eyes only, that will turn him on and make him want to get involved!
You see, you might not be able to persuade him to accept a vibrator joining the two of you during your sexcapades, but if he chooses to join you and your vibrator of his own free will, then the problem is solved!
So to avoid freaking him out completely from the start, choose a sensible looking toy, preferably one that doesn't resemble his penis too much – I'd go for a vibrating bullet and work up towards a slim probe – and let him walk into the bedroom while you are spread eagle out on your bed with your sex toy between your legs, enjoying yourself! You can casually invite him to sit down and watch while you bring yourself to climax, or let him join in and show him how you like to play, and how well you share your toys.
He will be so turned on by the fact that he has caught you masturbating, not to mention turned on by your confidence and the naughty fact that you're letting him watch, that he probably won't even consider that any of this is a threat to his masculinity, or a reflection of his own sexual performance – which is exactly how it should be, because using a vibrator or dildo to enhance your sexual pleasure doesn't have anything to do with any of those things anyway!
How do you get him to use your vibrator on you during sex?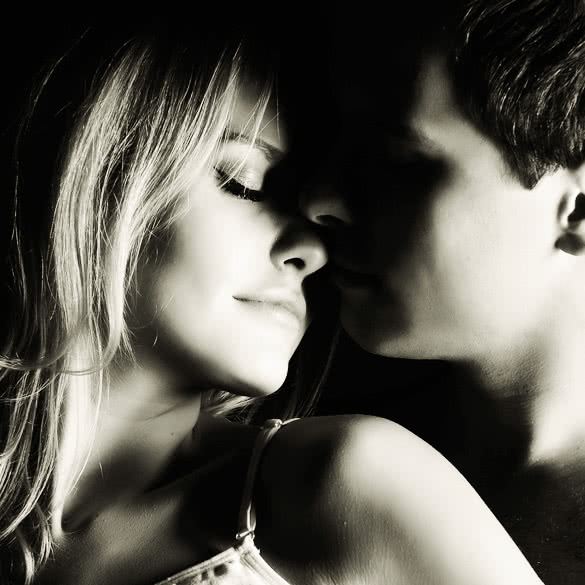 Once you have both experienced playing with sex toys together, it will feel more natural to then integrate them into your sexual routine. It should be stated though, that there is still a risk your boyfriend will develop insecurities and not respond well if you pull out your giant dildo and tell him you'd prefer it if he uses that to penetrate you with instead of his own penis, because you prefer the feeling of the rotating beads than your boyfriend's unimaginative thrust.
The trick is not to render your boyfriend as the accessory – remember that he is the real thing, and that he needs to know you value this. So always let his penis take leading role in your sexual drama, and suggest you both use the toys for extra titillation.
Here are some examples of ways to sneak your favourite sex toys onto the scene:
Ask him if he wants to hear you scream his name out louder than you ever have before, then push a vibrating bullet into the palm of his hand and suggest he uses it on your clit or around your anus while he thrusts inside of you with his penis!
Inform your boyfriend that you experience your most powerful orgasms during masturbation when you have your dildo in your ass, and then say – I wonder what it would feel like to do that while we're having proper sex?
Encourage your boyfriend to use your sex toys on other parts of your body, like your nipples, as he will feel less threatened if he feels like they are not challenging the role of his penis!
Tell us how much fun you and your boyfriend are having now…
Now that you have managed to introduce your boyfriend to your sex toys, share your fun and games with other readers! How did you get your boyfriend into the idea of using a vibrator on you? Do you use it on him? Does he like it? What advice would you give to a girl who wants her boyfriend to open up her goodie-drawer?