Is it kinky to want to be tied down, and what is kink anyway? Six things about BDSM that every woman should know.
Since the stories of Fifty Shades hit the streets, BDSM has become much more mainstream, but do you still wonder what it's all about?
If you have wondered about BDSM or you are into so-called kinky sex, it's not usually something that you would choose to discuss openly. You may discuss it with a few select acquaintances who have the same tastes as you, if you are lucky enough to meet such people, but, somehow, it just doesn't seem to be a suitable subject for general conversation.
For those amongst us who are possibly more prudish or even for people who think that vanilla is best, discussing the basics of BDSM or kinky sex doesn't appear to be an option either unless, perhaps, it's in a derogatory fashion and that of course is up to each individual. But, don't knock BDSM until you've tried it.
In strict terms (if you'll pardon the pun), BDSM stands for Bondage, Domination, Sadism and Masochism. There are various forms and levels of BDSM; I mean, honestly, who hasn't been involved in a little light restraint here and there? However, the whole BDSM scene can get a lot darker and more tangled than fur covered plastic handcuffs and single strand floggers. So, whether you are into being shackled to a stake or you like being whipped and submitting to your lover's whims, there are still a few of things worth knowing.
Is it kinky? Maybe. Is it hot? Probably. Should you experience it? Absolutely—but only on consensual terms between you and your lover!
If you want to explore, here are six things every woman should know about BDSM.
1. It's a two-way street.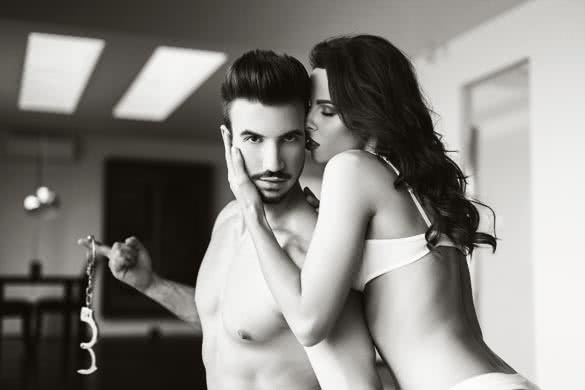 A good place to start is to talk about fantasies with your lover; if you like the idea of restraints either for you or your partner, say so. Likewise, if you want to experience pain, or indeed administer it in a sexual situation, explore that with your lover too.
The best way to play in this league is to agree in advance what you both want to happen as well as what you are prepared to do and not do. This is called agreeing on your hard limits, limits that will not be broken. Talk about how far you would like to go with the fantasies that you have discussed and remember to say what things you don't want to do.
2. Choose a safe word.
It is important to have a get out a clause or a so-called safe word. It may seem obvious, but sometimes in these situations NO doesn't actually mean NO, so for the absolute avoidance of doubt, agree on a word in advance that will mean everything stops immediately when your chosen word is uttered. You should never feel bad about using your safe word either. Remember, this is why it's there—to keep you safe.
3. BDSM doesn't have to hurt.
It can be simply about role-play: playing at dominance and submission with traditional characters and predictable outcomes – naughty schoolgirl, (or boy) spanked for naughtiness etc., although there can be whole lot more to explore depending on your wants and desires. You can go deeper and darker into any role-play if you choose, and there is a whole labyrinth of ideas and scenarios for you to explore should you wish to do so. If you need inspiration, read books and short stories.
4. Pain can be pleasurable.
It's worth knowing that the reason that pain can be so arousing is that our bodies send extra blood to areas affected by pain and those areas become extra sensitive, so the pain and pleasure mix can be very intense yet still feel erotic. It can be a powerful feeling too, both for the giver and the receiver.
5. Planning BDSM can build desire.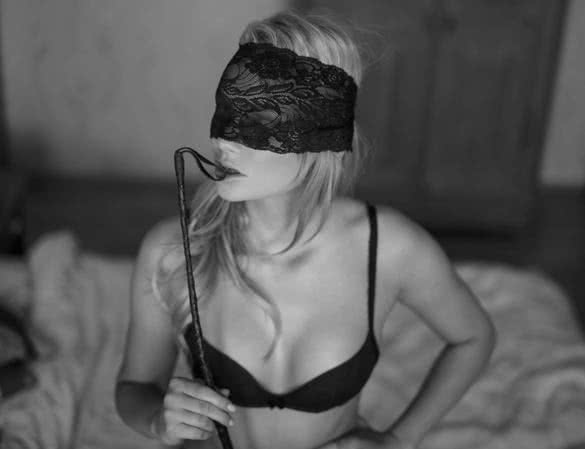 Talking about what you want to do, how you and your lover are actually going to achieve your BDSM fantasy aims along with what you will wear, and how you will set the scene, should all add to the excitement. It's like foreplay and often in any sexual scenario it's the build up that can cause extreme sexual tension and extreme and intense desire, so be sure to indulge in the build up and pre-plan.
6. Choose your outfit and accessories.
Clothes and toys tend to play a big part in BDSM and there are web sites that are dedicated to this genre of fun. Some people like the feel and visual appeal of PVC, and the fact that it can be very slippery can only add to the feeling.
Thigh high boots, latex or leather gloves may well exude an air of power from the wearer and black Dominatrix costumes, along with whips and canes, clamps and gags can all be introduced to great effect if that is what helps to rock your sexual world.
Whatever you do in BDSM, and whatever adventures you might take part in, make sure that it's consensual on all sides and then challenge yourself to explore your inner kinky side. You might just like it.