Sometimes it's just not possible to have good live sex, and the reasons are numerous. Maybe you have a great lover - but it's long distance. Maybe you're just experimenting - for whatever the reason might be for doing it, if you are - you might as well do it right.
Women do generally have an amazing passion for phone conversations – why not use it in the bedroom. So, before the bell rings, there's a few things you should know – let us deliver the news.
Be Comfortable
Take a comfortable position, wear something that gets you in the mood, be sure no one is going to stop by your house at the moment. The most important thing: charge your phone! Nothing worse can happen than the phone going dead when you're just about to achieve an orgasm. Make sure you have everything you need.
Don't Be Shy
You can't have phone sex and call your body parts "penis and vagina". No one wants to feel like he's in the doctor's office, except if that's the game you're playing. Forget about shyness – it's all about the dirty talk. If that's not your thing, have a drink before starting the conversation. Imagine you're someone else and don't be afraid to lie – in phone sex, it's all about the imagination and the filthy language.
Be Honest
You can lie about what you're wearing or what your name is, but be honest about how close you are to reaching the climax. No one wants to run if they're not gonna come. Take the time you need, there's no need for you to fake it – easy does it.
Every Farmer Needs His Tools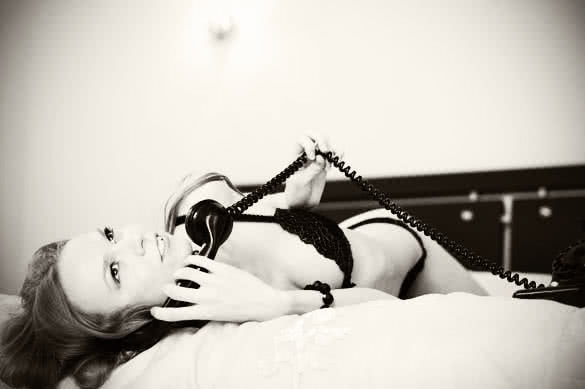 Maybe you do it. If the fingers aren't going to do the work, buy a vibrator. It's the 21st century and there's nothing to be shy about – a picky girl needs to pick a vibrator. The conversation might just be more pleasurable if you have the helping hand of your new friend. Also, make sure you pick one with good battery and one that is silent. You don't want to make a man think you're having phone sex with him while fixing the carburetor.
Be Relaxed
Don't be stiff while talking as if it's the furniture agency on the other line. Make sure you can do this and you want to do this. Be wild and tell him about your fantasies – where you'd like to be touched and how badly do you crave to be touched. Tell him about what you would like to do to him and don't say it like a Gestapo cop. Be sexy and use colorful language. Make him want to hang up and fly from Singapore to your house.
When the conversation ends, we hope you feel like you just slept with Johnny Dep. The great side of phone sex is that no one cares if you shaved your legs or have a huge stain on your hoodie. It's all about the fantasy – and it's up to you to portray a fantasy.
Now that you've had a mind blowing orgasm, you can start singing – "Ooooh, ring my bell… Ring my, ring my bell!"