If you feel like you've tried everything between the sheets, it's time to spice things up. Don't underestimate the power of foreplay, because with our techniques, you'll feel the fireworks again.
Want to add some steam between the sheets? Here are some tried and tested foreplay techniques that will blow his mind and make him beg for more.
Undressing: It's an Art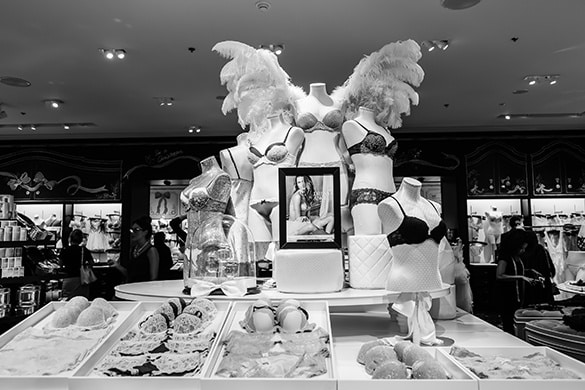 You could start with the dressing as opposed to the undressing. Take your man shopping at a place like Victoria's Secret or Agent Provocateur, and let him decide what he wants you to try on and bring home.
When you wear it, let him know. At your next date, whisper in his ear that you're wearing whatever it was you bought together. You could also send him a text about it if you know you'll see him that night, but you aren't going out for a date.
Once at home together, put on some nice music and slowly get undressed in front of him. He will love the show. If you push him into a chair, you can finish it off by straddling him.
Alternatively, take a few burlesque or striptease classes and undress as part of the choreography. Doing some striptease and burlesque can also help you to build confidence and make you more comfortable with your sexy self!
Make sure to find a class where you feel the women are nice and welcoming and where you feel safe exploring this side of yourself.
If you're feeling a bit naughtier, tie him up in bed and then get undressed. Or, why not leave a trail of rose petals or chocolates on the floor leading to the bedroom, where you push him into the bed and then get undressed as he watches?
Massage: The Sensual Way of Touching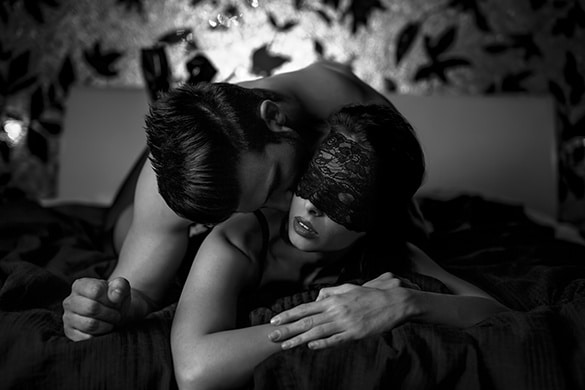 Did you know that, in France, men used to pay back in the day to have women touch them very, very lightly on the skin with their fingertips, almost like a feather? Try that on your man and see if he reacts. You can try his face or his entire body.
You can also simply tease him using a feather or, if he's a hot blooded man, some ice. Alternating between something warm, like hot stones used for massage, and ice cold stones can also be sensual.
For a proper massage, have him get naked and, either get naked yourself or wear something sexy like a sexy nightie or kimono, then massage your man using a sensual smelling oil.
Make sure to rub the area by his lower back gently, where the back connects to the hips, as nerve ends there go straight down.
Maybe sneak in some kisses in this area too, as well as on the inside of his upper thighs (be sure to apply pressure or he will feel tickled instead), along the side of his torso from his ribs to his hips (again, use firm pressure when kissing) and on his throat when massaging his neck.
You can also suck his fingers when massaging his hands.
While sitting on the couch one night watching a movie, why not massage his feet then work your way up his legs till you finish with a happy ending? Alternatively, you can massage him in the shower/hot tub using some soap.
Starting in Public: The Tease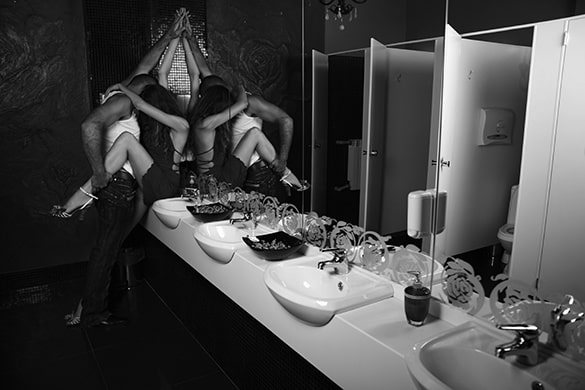 Having sex in public is one man's dream and another man's nightmare. Getting it on in public seems to be a turn on for a lot of people though, so why not start a little bit of a naughty foreplay when out and about—something you won't die from embarrassment from if you're caught in the act….
Wearing some nice heels, try running your foot up and down his legs under the table. Then, kick off your shoes and put your feet in his lap for a little while.
If you're sitting next to him, you can try massaging his thigh instead, starting just above the knee and working your way up.
Subtle or not-so-subtle messages can also work a charm in public. How about texting him, telling him all the things you want to do with him when you get home—one text at a time. It will drive him wild, especially as he knows he can't do anything until you get home.
Likewise, leaning over and whispering in his ear how turned on you are or letting him know you aren't wearing any underwear can also work wonders, especially if you gently kiss his ear after you whisper it.
If you're feeling adventurous and know you don't have any buttons lose in your coat, you could also, one night, wear just the coat when going out and let him know about it.
Even if you aren't with your man, nothing stops you from sending him texts about what you want to do with him later. This is a great turn on for most men. You can also exchange sex fantasies that way if you feel comfortable with it.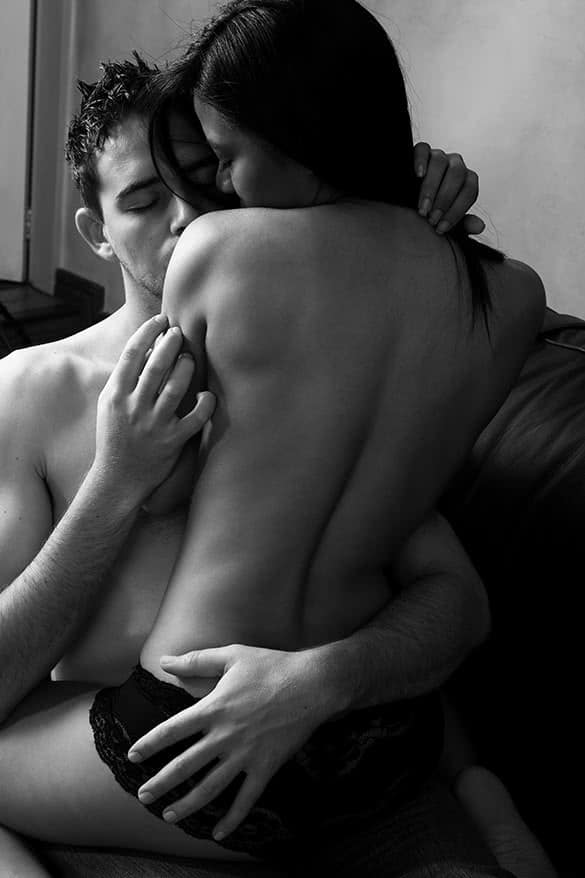 Some people also find it a turn on to pretend to just have met. Why not set up a date somewhere with your man and act as if it's the first date, while telling this "stranger" about what you'd like to do with him in the bedroom?
Even if you don't feel like acting like strangers, you could move the conversation onto what you'd like to do in the bedroom when out on a date.
These are just starting points: use your imagination to go where you want to go with it. You can do tantric massage and sensual touch in many ways. Likewise, there are plenty of things you can do to get naughty in public without having sex in public. There is a big number of ways to turn a guy on, this is just a beginning.
And, when it comes to getting undressed, there are more ways of doing it than there are women on this planet. The important thing is to play around until you find what works for you!