Don't be afraid to step outside your front door. Life is an adventure and these 50 places to see before you die will ensure you live it to the full.
Surely, the ultimate achievement in life is to die feeling like you really lived. To feel like you've seen everything, done everything and to look back knowing that not a single day was wasted. Life can be fulfilling for a number of reasons; the people you meet, the things you do, and especially because of the places you see. To help you make the most of your life, here are 50 places to see before you die – the ultimate bucket list.
#1 The Underwater Waterfall, Mauritius Island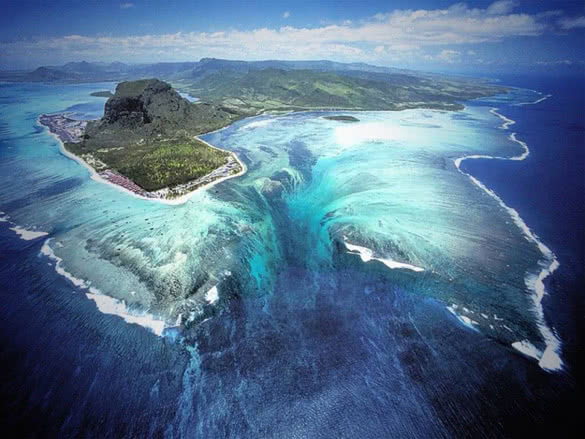 As well as being covered with white-sand beaches, populated with some incredible restaurants and shops, and being home to mesmerising sea turtles, Mauritius is also the location of the phenomenal Underwater Waterfall.
Admittedly, the Underwater Waterfall isn't a waterfall at all, it's actually an optical illusion created by strong tides that have washed sand into the pattern of a waterfall; however the sight is far from disappointing. You can see this spectacular feature by boat or by taking a tour above the island by plane, both of which are both unforgettable trips.
Believe it or not, the Underwater Waterfall is so big it can even be seen by satellites from space!
#2 Oktoberfest, Germany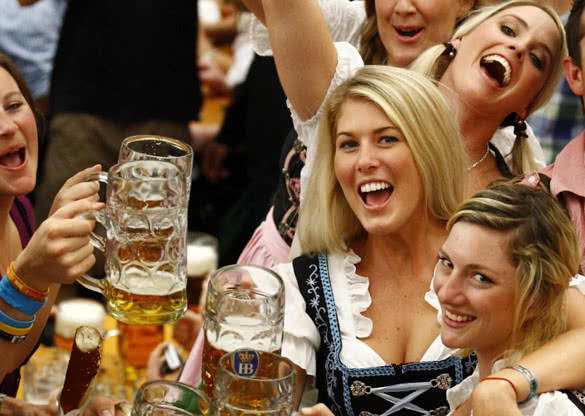 Held in Munich and with over 6 million people attending annually, Oktoberfest is the world's biggest beer festival.
Having been held since 1810, tradition still rules and states that only beer brewed within the Munich city limits can be consumed at the festival. This doesn't seem to put a dampener on people's spirits, however, as it's estimated that over 6 million litres of alcohol are consumed within the 16 day celebration each year.
Despite all the alcohol flowing, Oktoberfest boasts a great family atmosphere and is filled with great entertainers, live music, and plenty of fun. If you're planning a trip to Germany, October is definitely the time to go!
#3 Ruins Of Pompeii, Italy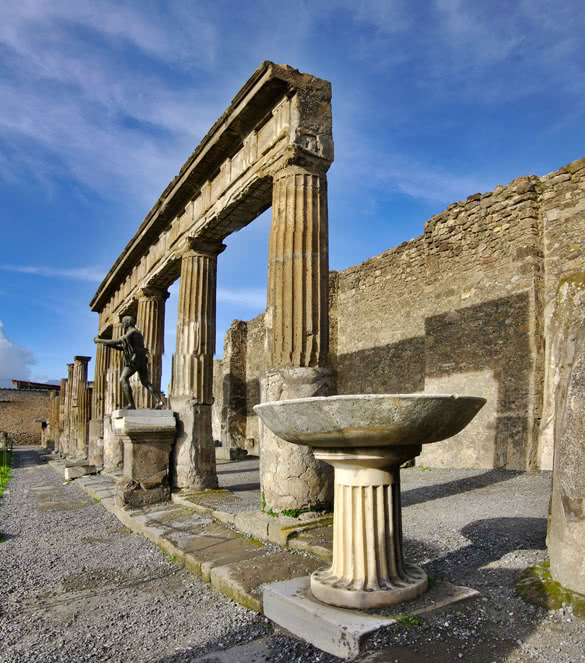 After the eruption of Mount Vesuvius in 79AD, the once bustling Roman city of Pompeii was, for the most part, destroyed and buried beneath four to six meters of ash and pumice. When Pompeii was re-discovered some 1,500 years later, it wasn't just buildings and artefacts that archaeologists found themselves uncovering, however.
Amidst the rubble were hundreds of plaster-like casts of bodies, which had captured the citizens of Pompeii in their final moments. Today, tourists can take a walk through history by strolling the streets of this ancient city, taking in the mesmerising sight of the ancient buildings, beholding the eerie bodies of those who perished, and looking upon Mount Vesuvius herself.
#4 Hollywood Walk of Fame, California, United States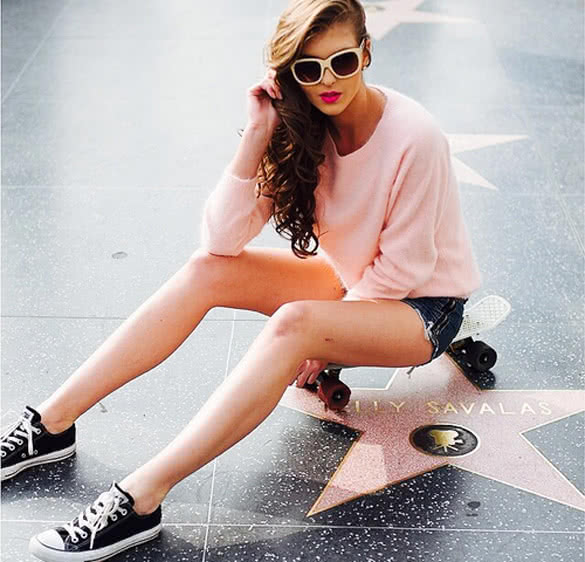 The Hollywood Walk of Fame is an absolute must-see place for every entertainment fan out there. As a tribute to stars of the entertainment industry, the iconic street is inlaid with more than 2,500 five-pointed stars that stretch across a total of 18 blocks.
Each of the stars bears a name of an iconic figure, recognising their work, and today you can read the names of a mix of actors, directors, musicians, musical and theatrical groups, producers, fictional characters, and others. The Hollywood Walk of Fame is an incredible sight to behold – even more so if you can find your favourite star.
#5 Machu Picchu, Peru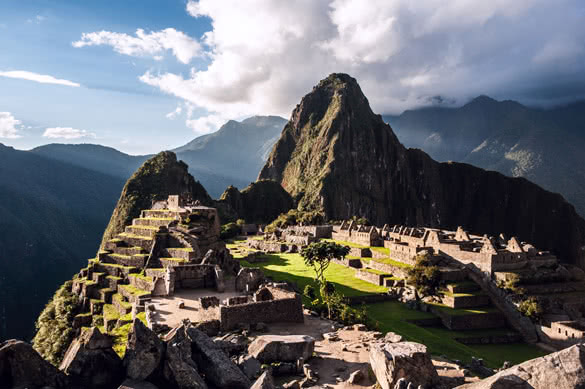 Located 2,430 metres above sea level, Machu Picchu is a mesmerising sight and one of the seven wonders of the world. The mysterious city is a 15th century Inca site, though no theory as to why the site was built and what it was used for has yet prevailed.
The city itself is a wonder to behold, however; if you're looking for adventure as well as a chance to soak up history and culture then you ought to try hiking the Inca Trail to get there.
Hiking the Inca Trail takes between three and five days, and is a truly unforgettable experience that will guide you through high altitude mountain ranges and sub-tropical forest to the grand ruins of Machu Picchu.
#6 La Tomatina, Spain
La Tomatina is the type of festival you can either participate in or simply watch (however, if you watch you'd better be prepared to get messy nonetheless!).
Held annually on the last Wednesday in August, it's perhaps the messiest festival in the world and is definitely the world's biggest food fight. For the event, truck after truck filled with tomatoes is hauled into the town of Bunyol with the idea being to throw as many tomatoes as possible at people during the event.
Sounds fun, right?
#7 Keukenhof Garden, The Netherlands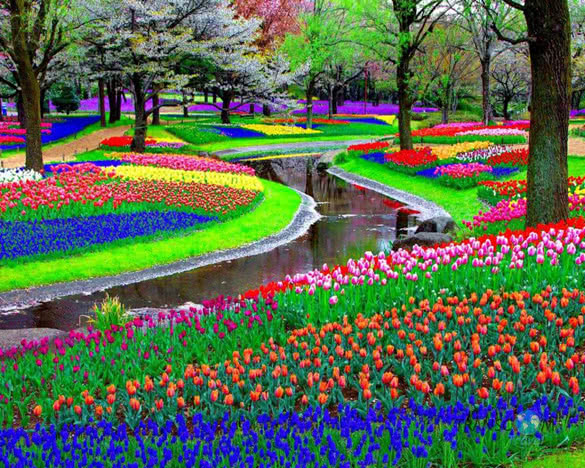 Keukenhof Garden is the second largest flower garden in the world and by far the most breathtaking. Each year, 7 million flower bulbs are planted across 79 acres of land and they blossom into an incredible (and not to mention colourful) sight.
Each patch of the garden is colour coded and great precision is taken when planting to ensure the displays look as perfect as possible. Whether you're a garden lover or not, Keukenhof Garden is among the places to see before you die due to its sheer beauty.
However be sure to plan your visit to Holland between mid-March and mid-May as the garden is only open for a short time each year.
#8 Bora Bora, French Polynesia Leeward Islands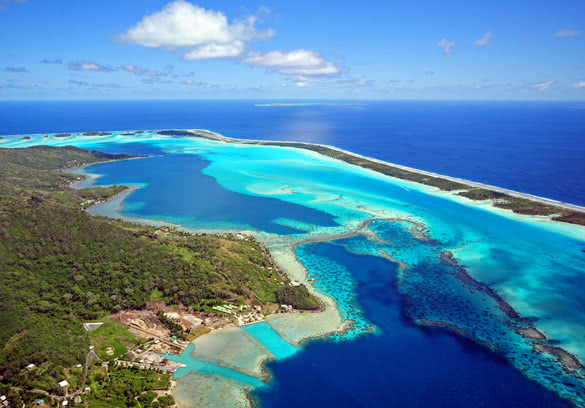 At the heart of Bora Bora lie two rising peaks: Mount Pahia and Mount Otemanu – the remnants of an extinct volcano; surrounding the picturesque island is a crystal blue lagoon and an unforgettable barrier reef.
For those of you looking for somewhere to simply soak up the sun while unwinding, Bora Bora is definitely among the places to see before you die. By the way, it's also a popular honeymoon destination. The island has a population of less than 9,000 but it's a popular tourist destination, famous for its tropical landscape, overwater bungalows and aqua-centric luxury resorts – the perfect getaway. Don't forget to check our article on 10 Interesting Facts About Bora Bora.
#9 Sistine Chapel, Italy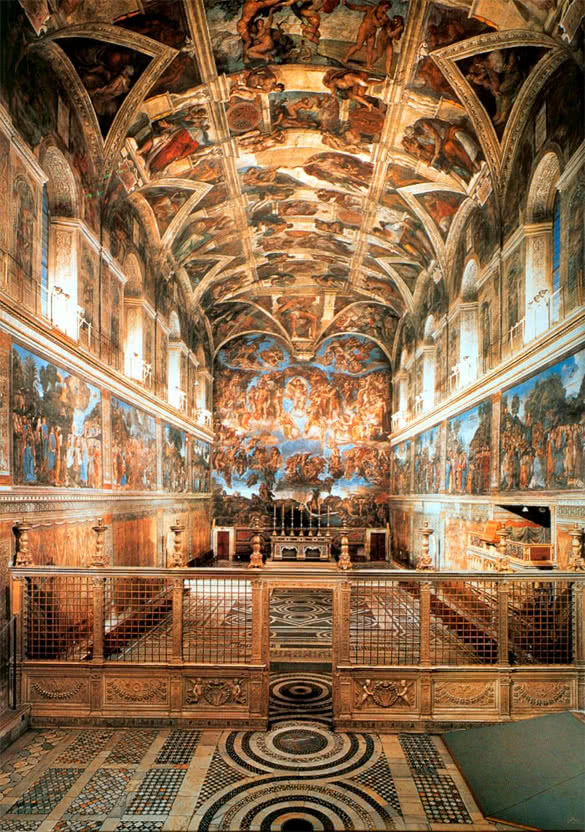 The Sistine Chapel is world renowned, not least of all for Michelangelo's iconic painting which sprawls majestically across the ceiling. From the moment you gaze upon the chapel it's evident that the entire building is a work of art, decorated with intricate sculptures and some of the greatest works of art history has ever seen. Whether you're an art lover, religious or not, it need not matter – the Sistine Chapel, which is set in the Vatican City, is a wonder that everyone can appreciate and everyone ought to see.
#10 Petra, Jordan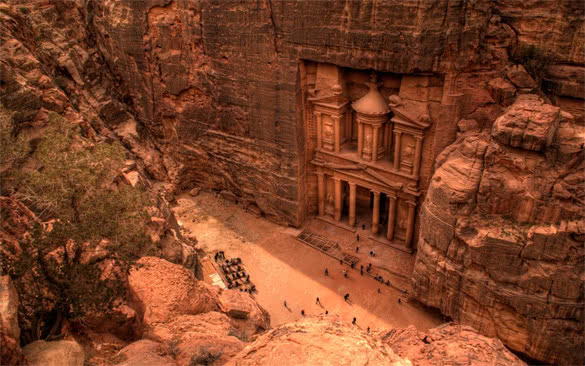 Petra, also known as the Rose City for the red stone it is carved from, is Jordan's icon which is rumoured to have been standing since 312 BCE. The site has a rich cultural history that can be read from the walls of the city and which is evident in the grand buildings that form this world heritage site.
While at the site, you'll be able to visit the ancient treasury, theatre, tombs and more as you take in this wonder. The sheer size of the city will undoubtedly dwarf you, making you marvel at your own existence and truly appreciate the world around you. Petra is fascinating and surely among the top places to see before you die.
#11 Sea of Stars, Vaadhoo Island, Maldives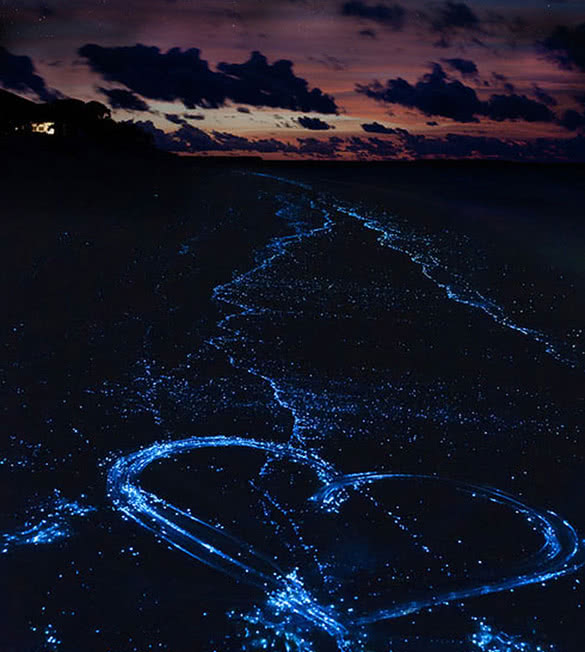 If you thought you were dreaming while gazing upon the Sea of Stars you could be forgiven for doing so as it truly is like something straight out of Wonderland. By night, the waves that gently lap upon the shores of Vaadhoo Island's white beaches can be seen to glow and glitter a distinctive shade of blue, lighting up the night.
This incredible sight is caused by phytoplankton, a type of marine microbe that lives in the water and emanates a bioluminescent blue glow. Sitting upon the beaches of Vaadhoo Island is truly soothing for your soul and makes for an unforgettable sight. Or why not take your partner along and enjoy the romance of it all? By the way, the Maldives are probably the best place in the world for diving, here's why.
#12 Salar De Uyuni, Bolivia
When several prehistoric lakes joined into one, the Salar De Uyuni was born, creating the world's largest salt flat. As incredible as the salt flat is during summer, come the rainy season it becomes even more majestic as it is transformed into the world's largest mirror reflecting the sky above so perfectly it seems as though you're walking among the cloud.
To look upon the Salar De Uyuni is a truly dream-like experience that is sure to blow your mind. For the unforgettableness and sheer majesty of the Salar De Uyuni, this is a must-see.
#13 Stonehenge, United Kingdom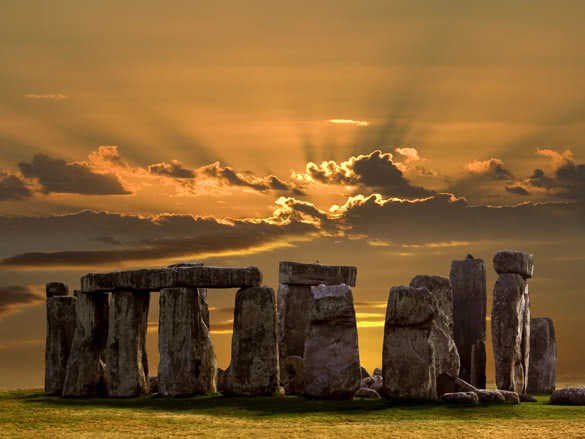 Stonehenge is the best known prehistoric wonder in Europe and one that is famed across the world for its beauty and undying mystery.
To this day, no theory as to how our prehistoric ancestors managed to haul the giant stones into place has been proven nor the exact reason for the stone circle's existence.
Countless legends are attached to the stones including healing powers, King Arthur stories, teleportation and even aliens interaction; however, you'll have to visit the site yourself to make up your own mind on what's going on. One thing's for sure, however, just about everyone who visits Stonehenge reports feeling something of a higher power while standing within the stone circle.
#14 Antelope Canyon, Arizona, United States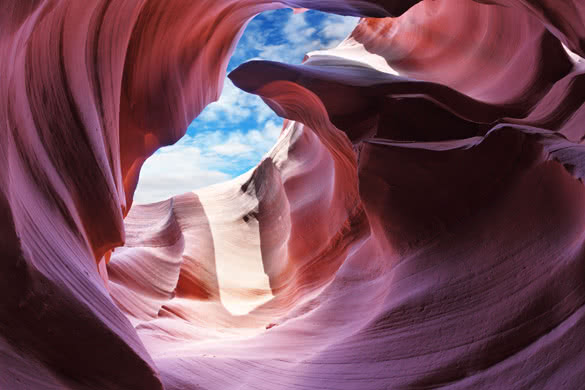 Formed by erosion caused by flash flooding, Antelope Canyon is a slot canyon (and the most photographed one in the world at that!). The canyon is made up of a beautiful orange rock that, due to the way it's been eroded, seems to ripple across the walls. You can visit two different sections of the canyon, Lower Antelope Canyon and Upper Antelope Canyon, both of which have very different geology despite being situated just a few kilometres apart.
#15 Northern Lights, Northern Hemisphere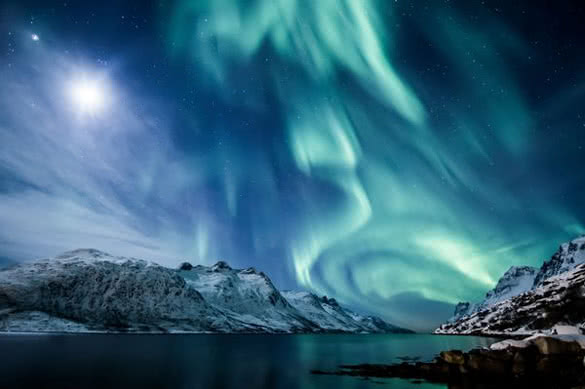 The Northern Lights, scientifically known as the Aurora Borealis, is a must-see natural light show. At night in the Northern Hemisphere, the Northern Lights dance across the sky creating a magnificent display of colours.
This incredible wonder is created when solar winds collide with magnetospheric charged particles in the high altitude atmosphere, exploding into a show of green, red, yellow, pink, and blue lights.
Sadly, the appearance of these wondrous lights can be rather unpredictable, but if you find yourself far enough north it's worth keeping your eyes on the skies for this must-see sight.
#16 Redwood National Park, California, United States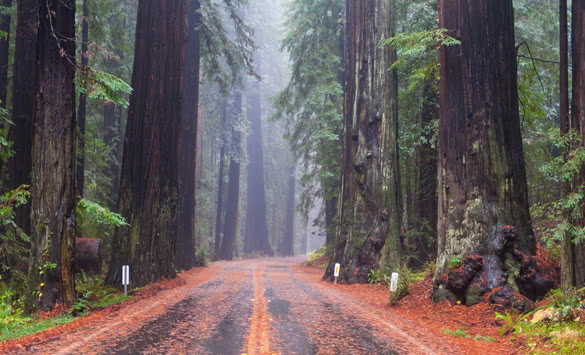 Composed of 133,000 acres, the Redwood National Park (which is composed of four smaller parks) is home to 45% of the Earth's remaining coastal redwoods, the world's tallest trees.
The park keepers strive to keep everything within the park as natural as possible and to preserve everything within its bounds from the rivers and flowers to the trees and animals. The moment you step into the Redwood National Park you'll find yourself dwarfed beneath these massive trees and at a loss for words as you gaze upon this true spectacle of nature.
#17 Thor's Well, Oregon, United States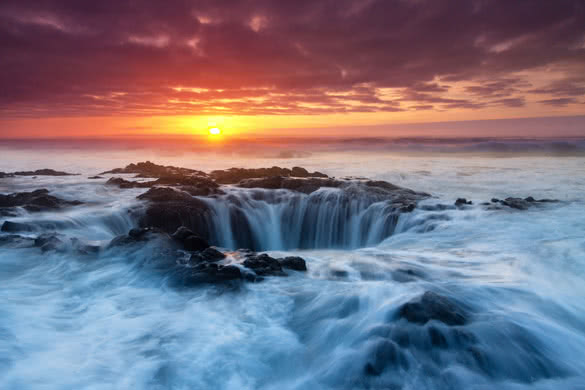 Thor's Well is a truly magnificent sight that will undoubtedly take your breath away. This waterfall-like feature is a part of Cape Perpetua, a narrow piece of land which extends out into the Pacific Ocean. As the tide rocks in and out the well sucks in water, jetting it up into the sky as the waves crash beneath it.
Thor's Well is a magnificent natural wonder that should definitely be on your bucket-list, especially if it's viewed as the sun is setting behind it.
#18 The Colosseum, Italy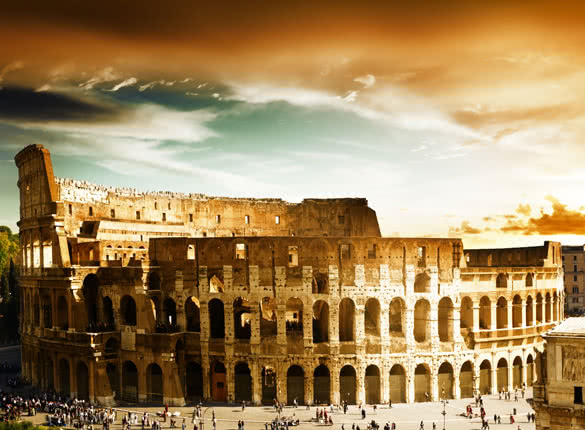 Built between 70 and 80AD, Rome's Colosseum was the largest amphitheatre of the Roman Empire and is considered to be one of their greatest accomplishments in terms of architecture and engineering. In its heyday, the Colosseum was used to stage gladiator fights, mock-sea battles, and dramas based on Roman mythology among other things.
However, today's visitors can simply stroll around the site and soak up the culture, imagining the history of this grand building. In 2007, the site was added to the list of New Seven Wonders of the World making it among the top places to see before you die.
#19 British Museum, United Kingdom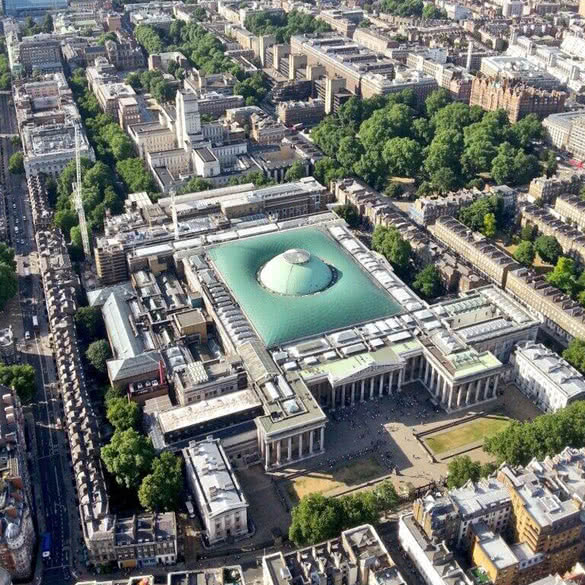 Located in London, the British Museum is dedicated to preserving human history and culture. With a permanent collection of some 8 million works and several ever-changing temporary exhibits, it is among the largest and most extensive examples of human history in existence. You could spend days touring the museum and still not see everything there is to be seen yet every exhibit is still as fascinating as the next.
Along the way you'll see mummies, Viking artefacts, pieces of ancient Chinese history, works of art, and much more. The British Museum truly is eye-opening and an absolute wonder to behold not just for history lovers but for everyone. It makes for a great day out whether you're visiting solo or even if you have kids in tow.
In case you're visiting, check out these lovely cheap hotels London.
#20 Eiffel Tower, France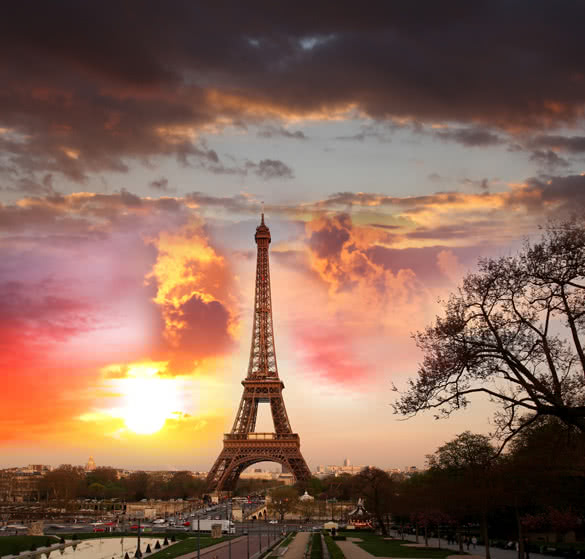 The Eiffel Tower is the symbol of Paris – a work of art for some and an eyesore for others. No matter your stance on this iconic building though, it's still an absolute must-see. At 324 metres (the same height as an 81 story building!), the Eiffel Tower stands tall above Paris and can be seen from almost anywhere in the city.
On a sunny day, few things are more blissful than enjoying a picnic on the grass beside this monumental building, or, if you're feeling brave, you can even venture up to the top of the tower and gaze across all of Paris. Warning: Climbing all the way to the top isn't for the faint-hearted – I can assure you!
Paris just by itself is, of course, one of the the places to see before you die, but before you go – here are some non-touristy places to enjoy in Paris, and also tips on visiting paris on a budget, but still keeping it romantic.
#21 Waitomo Glowworm Caves, New Zealand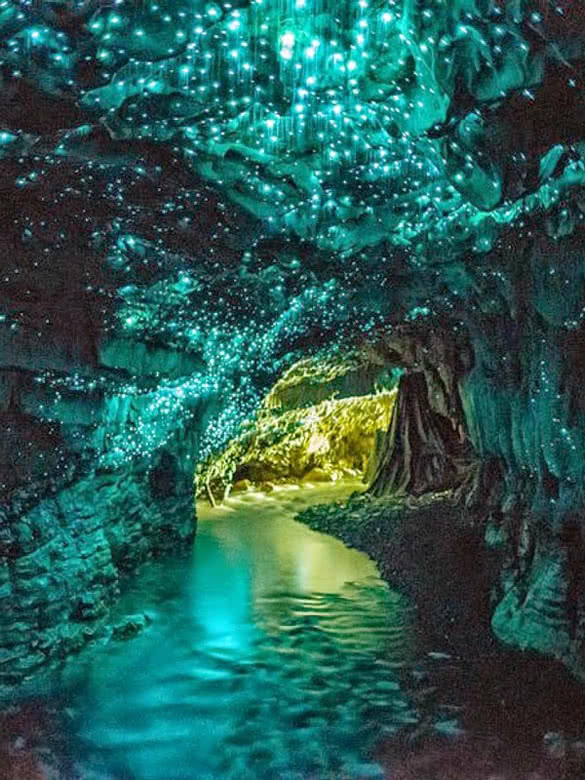 As you enjoy a calm boat ride through the Waitomo Caves in New Zealand, you could be forgiven for thinking you were outside and that there was a blanket of stars above you. As you step into the cave, it's as though you've stepped into a dream as the ceiling comes alight with thousands of blue, star-like lights.
The lights are created by thousands of Arachnocampa luminosa, a glow worm that is unique to New Zealand, making this a truly unforgettable experience. As you sail through the caves, your tour guide will also teach you about the incredible geology of the caves and point out the fascinating stalactites, stalagmites, and other wondrous rock formations.
#22 Taj Mahal, India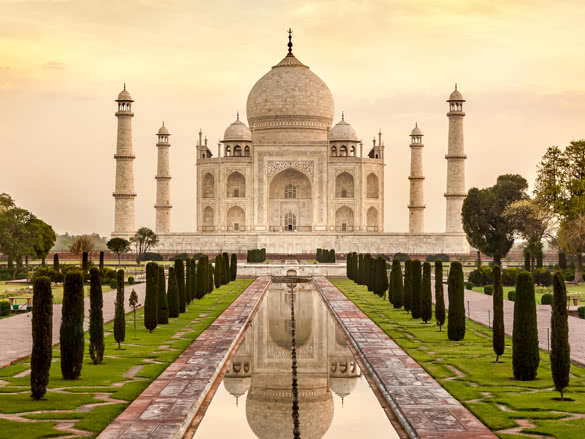 The Taj Mahal, a white marble mausoleum, is the jewel of India. It was built nearly four centuries ago by Shah Jahan, India's emperor at the time, in honour of his deceased wife. The building itself is a true wonder; however one cannot overlook the breathtaking gardens that surround this great feat of architecture. The Taj Mahal is just one of the many reasons to visit India, and India in itself is definitely one of the places to see before you die.
#23 The Dead See, Israel/Jordan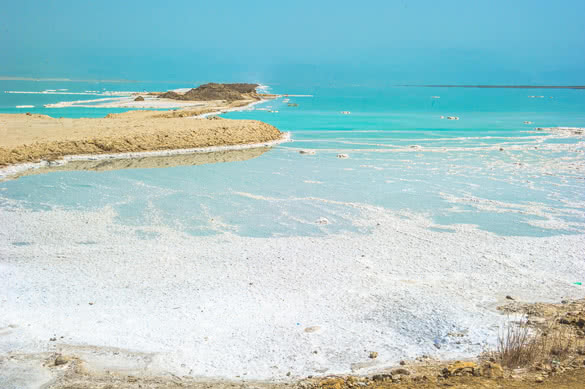 With all the globetrotting it would take to get through this list, I think a more relaxing must-see entry is needed, which is where the Dead Sea comes in. Set between Israel and Jordan, the Dead Sea is a salt lake that is surrounded by breathtaking landscapes and is world famous for the fact that you can simply float in its waters – no swimming necessary – due to the high concentration of salt in the water.
The Dead Sea was actually the world's first reported health resort due to its relaxing properties and even today the water is used in countless health and beauty products due to its beneficial qualities.
#24 The Olympics, Worldwide
Before you die, you ought to watch at least some of the Olympics, and not just from your TV screen. Whether you get the chance to see just one event or a few, or even just experience the atmosphere in the city where the Olympics is held, it's definitely worth going.
Watching the Olympics is like watching history in the making; it's a great event that brings people from all across the world together. The next Olympics will be held in Rio de Janeiro in 2016, so now's the time to get planning.
#25 Hawaii Volcanoes National Park, Hawaii, United States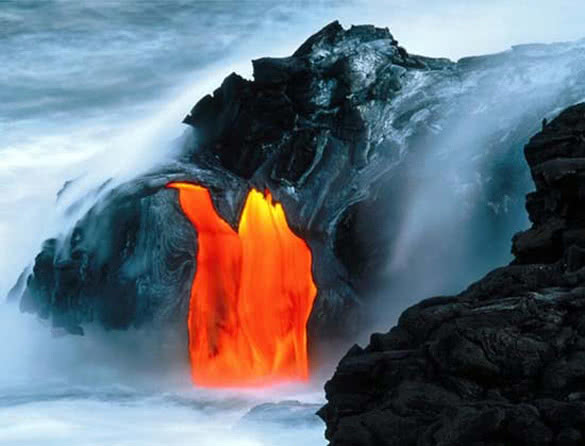 Established in 1918, the Hawaii Volcanoes National Park is a one of a kind wonder. As well as being used for scientific research to better our understanding of volcanoes, it's also a visitor centre that allows people to get a close up look at an active volcano and the landscape surrounding them.
Within the park, there are two active volcanoes though for obvious reasons visitors aren't able to get dangerously close to them. You can, however, view active lava flows at a safe distance while visiting. There are also a range of museums onsite to teach you more about the incredible landscape you're seeing and the history of Hawaii's volcanoes.
#26 The Pyramids of Giza, Egypt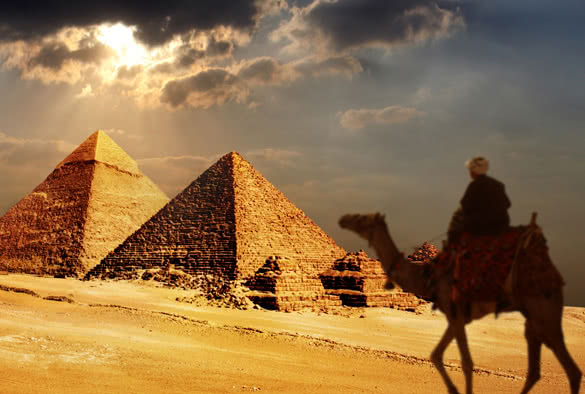 Few sights are more magnificent than that of the Pyramids of Giza, a world renowned wonder that truly is the jewel of Egypt. At this burial ground of kings, you'll be able to behold the pyramids themselves, the magnificent Sphinx, and of course the Great Pyramid – the last remaining wonder of the ancient world. While you're in Egypt, why not take a cruise down the river Nile to make the most of your stay, too?
#27 Santorini, Greece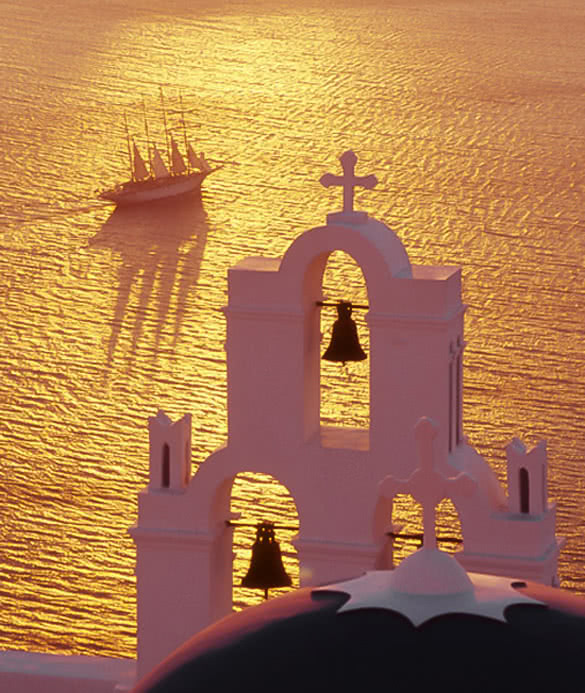 Santorini is perhaps the most talked about and also most fascinating of all the Greek islands. It's an absolute wonder to behold with its grey and red beaches, a volcanic landscape, gorgeous white houses and, of course, ripple aqua water. It's a stunning place to behold and filled with history and culture, too – a must-see if you're in Greece. By the way, Santorini is among our top 5 Greek Islands you should see.
#28 Zhangye Danxia Landform, China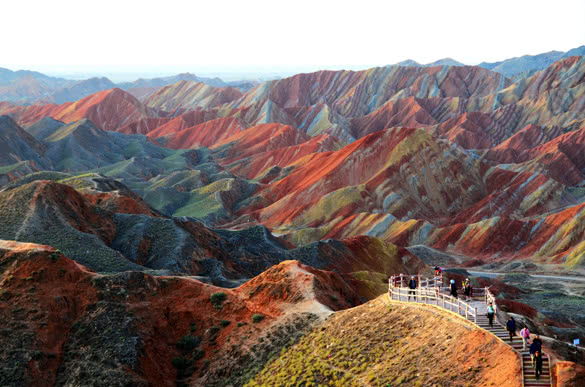 Also known as the eye candy of Zhangye or the Rainbow Mountains, the Zhangye Danxia Landform truly is a wonder to behold. Due to the way the valley has eroded and the way the red sandstone and mineral deposits that create the stones were laid down some 24 million years ago, the rock appears in an array of colours that weave together in a ripple form.
The site truly is like nothing else on Earth and the various colours, textures, shapes, sizes and patterns of the rocks is an unforgettable site. Within the Zhangye Danxia Landform you'll also be able to see some incredible natural pillars, towers, ravines, valleys and waterfalls. Just make sure you learn some basic Mandarin Chinese before you head towards the Middle Kingdom.
#29 The Great Wall of China, China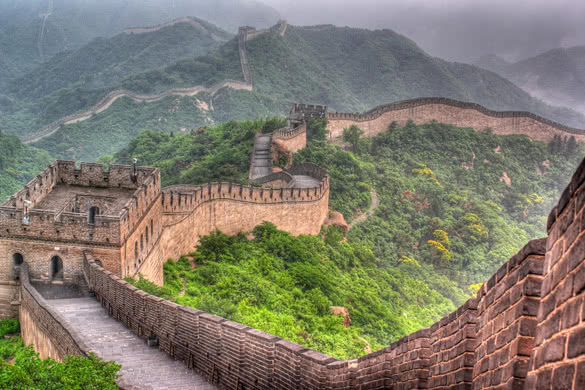 Stretching some 5,500 miles and winding up and down across deserts, grasslands, mountains and plateaus, the Great Wall of China is a fantastic man-made wonder. Seeing as it's now roughly 2,000 years old, parts of the wall are in ruin; however, the parts that aren't are incredible to behold as you walk the footsteps of China's ancient citizens.
For the hikers among you, trekking along the wall for a distance is a must that will show you more of China's incredible landscape, which you might not see otherwise. The Great Wall of China is definitely among the top places to see before you die. Try to go during spring or summer, when it's most beautiful.
#30 Moraine Lake, Canada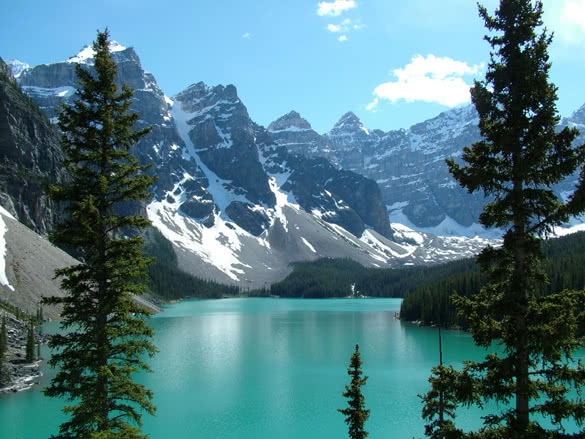 Moraine Lake is a glacial-fed lake that reaches its peak in mid-to late June. Set amidst snow-capped mountains and lush green trees, the lake is a beauty to behold.
Due to the refraction of light off the rock flour deposited in the lake, Moraine Lake appears an exceptional blue and turquoise colour and making it unique in the world. Looking upon it, you could be forgiven for thinking it was something out of a fairytale.
#31 Statue of Liberty, New York, United States

Situated in New York Harbour, Manhattan, the Statue of Liberty is a symbol of freedom and an icon of the United States. The statue was a gift to the Americans given by the people of France in 1886 and over the years it has become a cultural icon and one of the most recognised statues in the world.
To visit the statue you need to take a ferry to Ellis Island and you can choose to either climb to the base of the stature or, for those of you who are feeling brave, you can climb the staircase to reach the Stature of Liberty's crown where you can look out across the ocean. In case you're visiting the Big Apple with your partner, we've got a list of the most romantic restaurants in nyc you can enjoy.
#32 Cave of the Crystals, Naica Mine, Mexico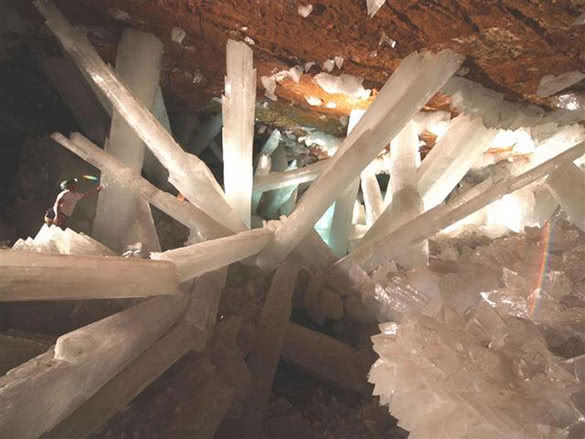 The Cave of the Crystals can be found within Mexico's Naica Mine and, as the name suggest, it is filled with crystals and giant ones at that. Some of the crystals have been reported to grow up to 12 meters long and four meters wide, making them some of the largest crystals on Earth.
Sadly, very few people are given the opportunity to gain entrance to this natural wonder. However, over the years, several experienced cagers have been allowed in alongside the scientists working there. This cave is a caver's dream, so if you're ever in the area, be sure to ask around to see if it's possible for you to venture into this wondrous cave – it truly is a once in a lifetime opportunity.
#33 Grand Canyon, Arizona, United States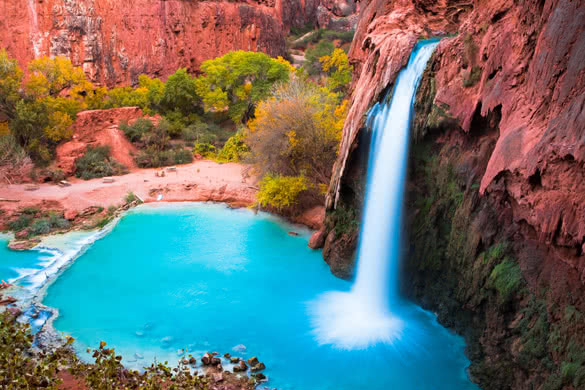 Carved out by the relentless Colorado River, the Grand Canyon is a steep sided canyon that appears as a powerful and inspiring landscape. Nearly two-billion years of the Earth's history can be seen by looking at the valley walls, making the canyon as mystifying as it is beautiful. If you're feeling brave, be sure to take a walk across the glass walkway that stretches above part of the canyon.
#34 Fly Geyser, Nevada, United States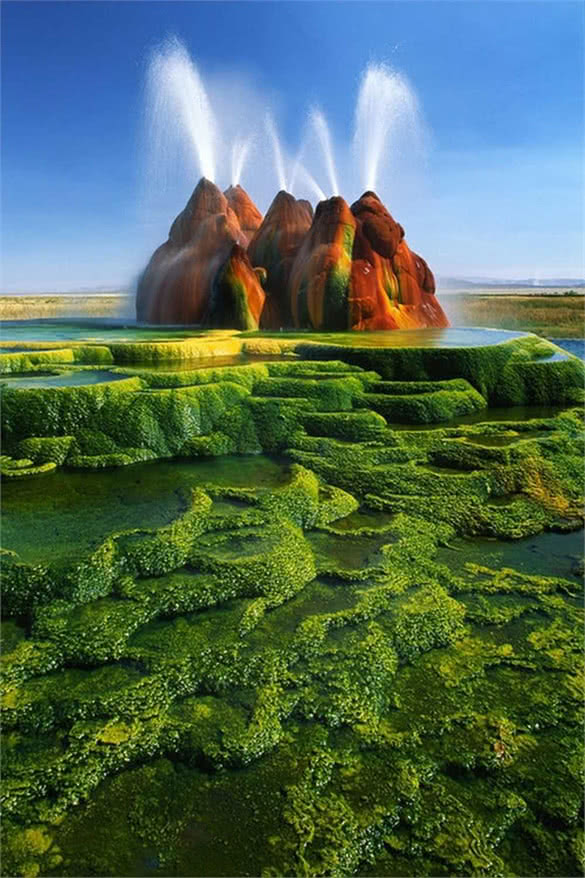 Despite appearances, Fly Geyser is not a natural phenomenon – or at least it's not entirely a natural phenomenon. It was created by an accident while well-drilling where either the well was left unsealed or wasn't capped properly, which resulted in dissolved minerals below rising and accumulating to the wondrous mound that can be seen today.
Water is constantly rocketed from the top of the mound and can reach up to a meter and a half in the air. The Fly Geyser is set in a breathtaking landscape and is surrounded by pools of water meaning it's not just the attraction itself that is a must-see – the entire area is full of delights.
#35 T in the Park, United Kingdom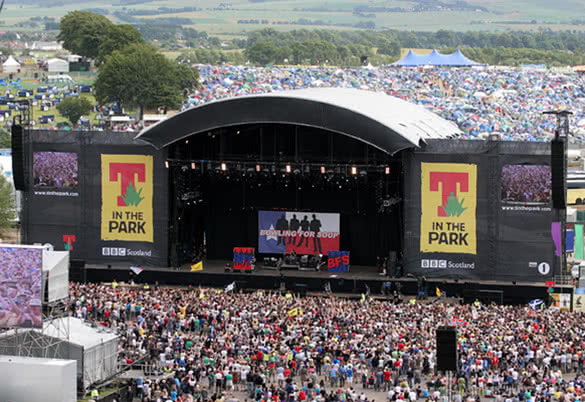 T in the Park is one of Scotland's biggest music festivals that has been held annually since 1994. Since the event attracts musicians from around the world to play, some 85,000 people per day pass through the gates of the three-day festival ready to soak up the music and enjoy the Great British weather.
Everything about the event is a sight to behold from the incredible music to the fantastic atmosphere, and everything else that goes alongside it to make T in the Park a must-see music festival.
#36 Angkor Wat, Cambodia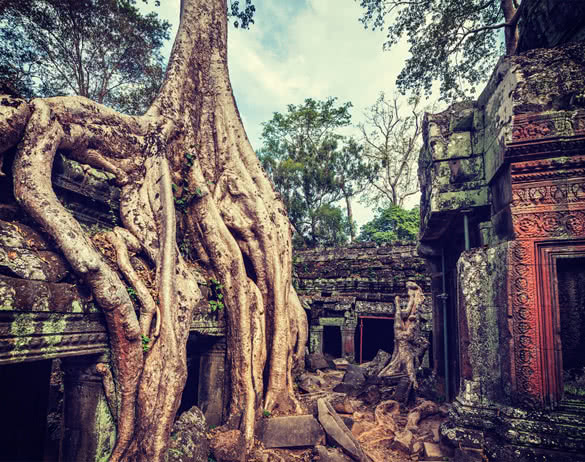 Built by King Suryavarman II in the early 12th century, Angkor Wat is an awe-inspiring temple and today has become the symbol of Cambodia. The complex is vast and contains several smaller temples, too. Today, tourists can walk freely among the buildings, marvelling at the intricacy of their design and how well they have stood the test of time. If you ever visit South-East Asia, Cambodia and its Angkor Wat are definitely among the places to see before you die. It's a truly breathtaking place.
#37 Louvre Museum, France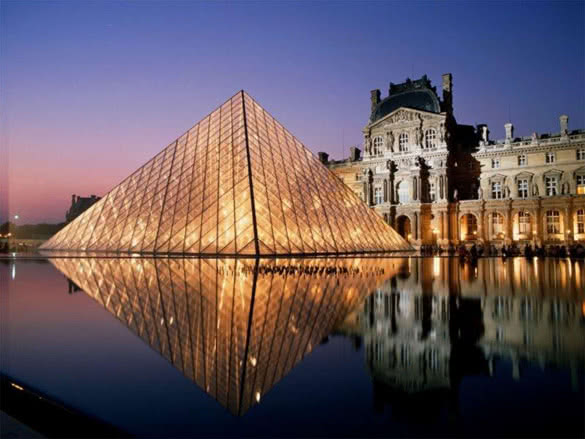 The Louvre Museum is considered to be a historic monument and is also one of the largest museums in the world. It holds nearly 35,000 pieces of art (including the world renowned Mona Lisa), over 380,000 artefacts and attracts a whopping 9.7 million visitors each year. The Louvre truly is a must-see museum, whether you're an art or history lover or not, and makes for an incredible day out.
#38 Giant's Causeway, Northern Ireland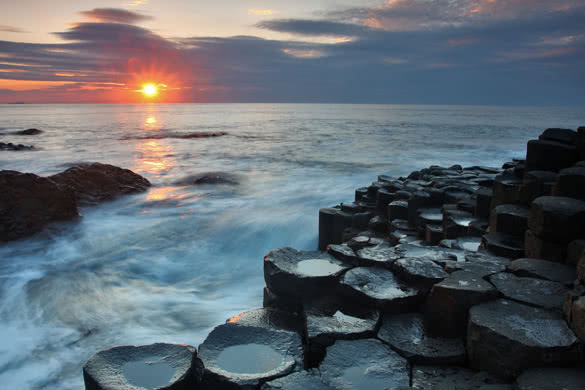 The Giant's Causeway was created following an ancient volcanic eruption that left behind roughly 40,000 hexagonal basalt columns that all interlock together.
Today, some of the columns rise up to 12 meters high, coming out of the cliff face, sprawling across the shore and eventually vanishing beneath the sea and re-emerging in Scotland (though the Scottish stones are somewhat less impressive and far fewer to see).
According to legend, the columns weren't caused by a volcanic eruption but are actually the remains of a giant who used them as a causeway. When the giant fled Northern Ireland to go to Scotland, he destroyed the causeway behind him which is why the causeway is made up mismatched-sized columns today.
#39 Walt Disney World Resort, Florida, United States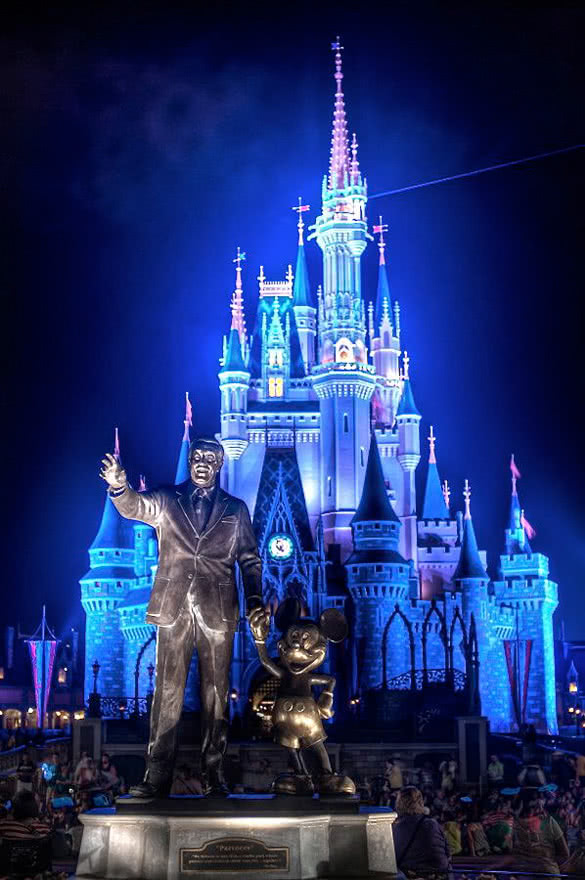 What bucket list would be complete without the inclusion of Walt Disney World Resort? Simply put: None! The world famous entertainment resort houses 24 themed hotels, four magnificent theme parks, four golf courses, two waterparks and (yes, theres's more!) many more other entertainment activities.
If you're looking for fun, Walt Disney World is definitely the place to go. Even if you don't fancy taking a thrill ride on the rollercoasters, the resort is certainly worth seeing and is guaranteed to awaken the child within.
#40 Tanah Lot, Bali, Indonesia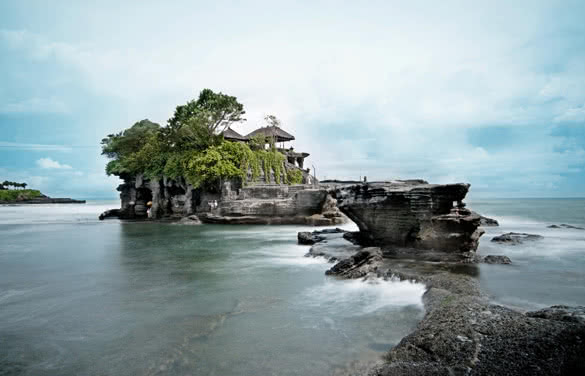 The temple Pura Tanah Lot is but a simple building constructed for the worship of the Balinese gods. Its must-see status is driven by its incredible ocean-front location and the fact that it sits upon a giant rock on one of Bali's beaches, making for a beautiful view. By day, the temple looks incredible, but try to see it as the sun is setting in the ocean behind it for a spectacular sight.
#41 Times Square, New York, United States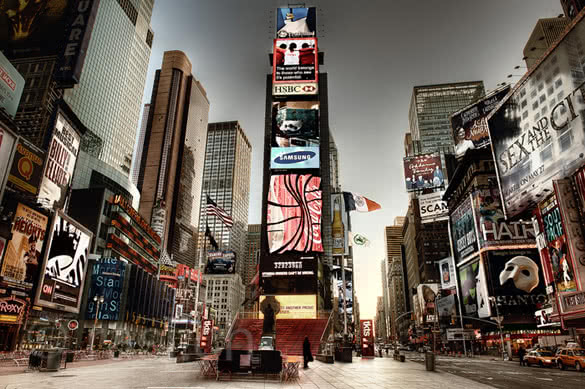 Iconified as 'The Crossroads of the World,' Times Square is truly a wonder to behold and enjoy. Located at the cross-section between Broadway and Seventh Avenue, the intersection is brilliantly illuminated and filled with iconic places such as The Hard Rock Cafe, Times Square Studios, and Planet Hollywood among more.
Even if you're just passing through, Times Square is an incredible sight. To truly make this a bucket list experience, I suggest visiting for the New Year's Eve celebrations for a party you'll never forget.
#42 The Las Vegas Strip, Nevada, United States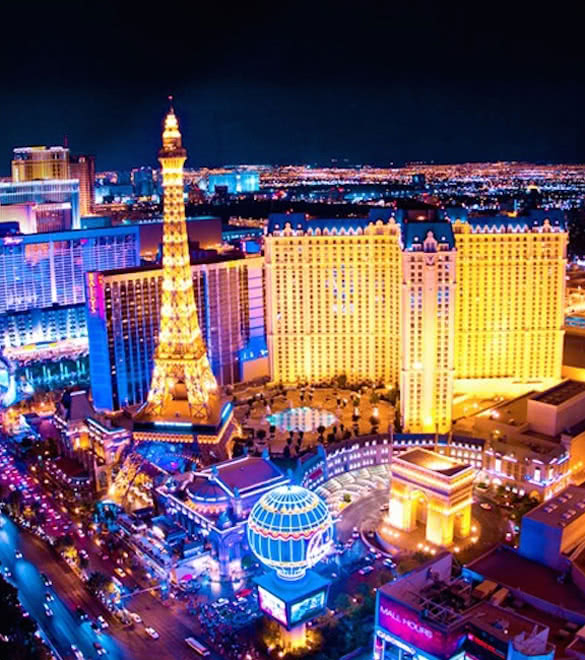 The Las Vegas strip is, quite simply, 4.2 miles of the most incredible hotels, casinos and entertainment around the world. Its neon lights, golf courses, restaurants, novelty shops, and much, much more. Admittedly the Las Vegas Strip isn't for everyone, but for those of you who are looking to experience everything life has to offer, it's a sight and an experience not to be missed.
#43 Lake Hillier, Australia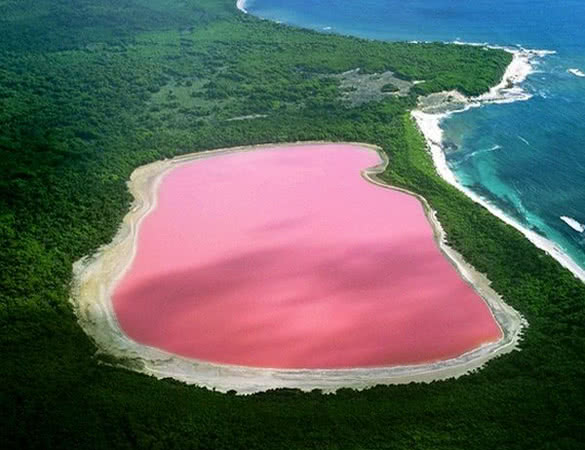 Of all the lakes around the world, Lake Hillier is by far the most unique. The reason? It's bright pink! The fascinating colour of the lake is permanent and even remains when the water is placed in a container.
Scientists haven't been able to prove the reason behind the lake's incredible shade. However, other coloured lakes have been proven to be dyed due to the thousands of tiny organisms living within them. Believe it or not, the lake is not harmful to humans. The water is completely safe and you can even take a dip in the pink lake!
#44 Niagara Falls, United States/Canada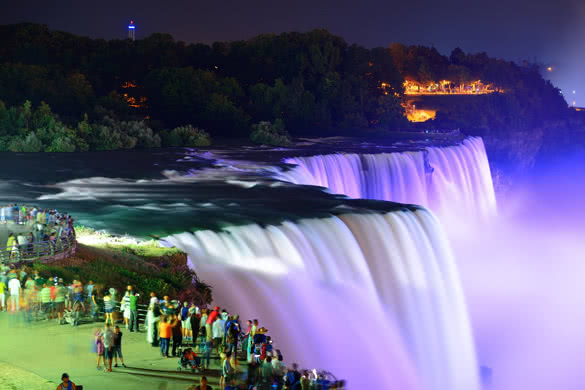 Located on the border between the state of New York and Canada, Niagara Falls are by far the most visited waterfalls in the world and definitely among the top places to see before you die.
Believe it or not, the falls are not one waterfall but actually a combination of three that blend into the monumental sight we see today. By day, the falls are breathtaking, but be sure to visit at night, too, when they'll be lit from behind by an array of neon lights.
#45 Notre Dame Cathedral, France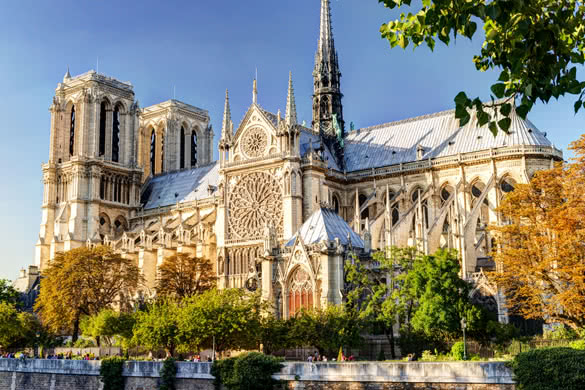 Notre Dame Cathedral, also known as Notre Dame de Paris, which is French for 'Our Lady of Paris,' is a historic and iconic cathedral that is today considered to be a symbol of France and of French gothic architecture.
Its intricate design is a mesmerizing, as are the incredible stained glass windows and the eerie gargoyles that look down upon visitors.
The sight of the cathedral is truly breathtaking and the feeling only intensifies once you step inside its hallowed doors.
#46 Madagascar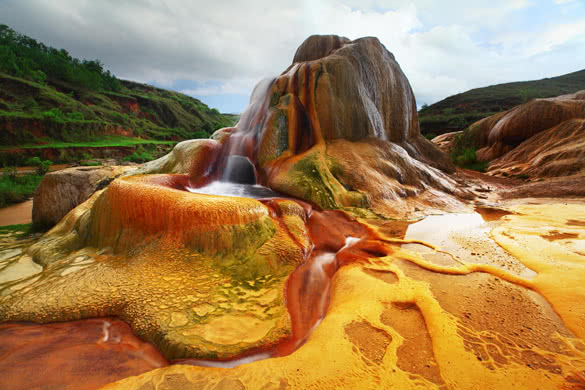 For any animal or nature lover, seeing the island country of Madagascar is an absolute must. The island is covered with sandy white beaches, rolling forests, and, of course, an incredible variety of wildlife. The island is home to tens of species of lemur, flying foxes, tropical birds, geckos and iguanas, to name but a few.
Nature is thriving on Madagascar and the island makes for a much more memorable and natural experience than simply heading off to your local safari park.
#47 Pamukkale Hot Springs, Turkey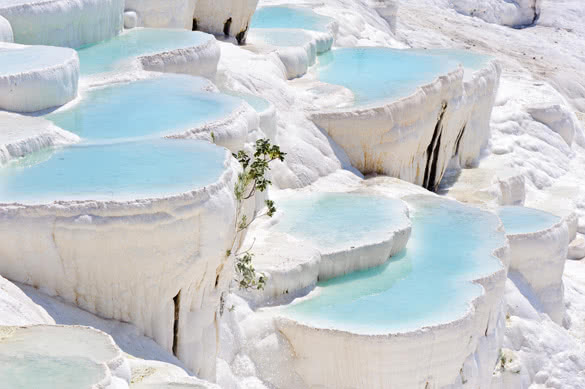 In Pamukkale (Hierapolis), you'll find terrace after terrace of natural hot springs, each of them a different shape due to the way the elements have carved them.
Since ancient times, these historic baths have been visited by royalty and common man alike to soak up nature and relax in the hot waters. As well as being beautiful to look at and a pleasure to enjoy, the Pamukkale Hot Springs are also incredibly good for your skin, and after just one dip you'll come out looking and feeling refreshed.
#48 Easter Island, Chile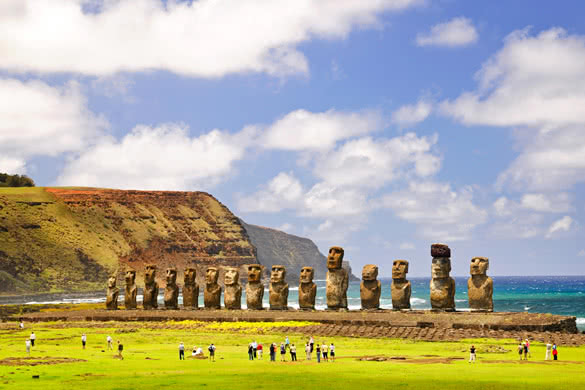 Famous for its 887 majestic Moai statues, Easter Island is breathtakingly beautiful. Surrounded by nothing but ocean for a staggering 1,289 miles, it's one of the most remote inhabited islands on Earth. The isolation is worth it to lay eyes on the Moai statues, however.
No doubt the giant heads will captivate you and have you wondering who the people who built them were and why?
#49 Rio Carnival, Brazil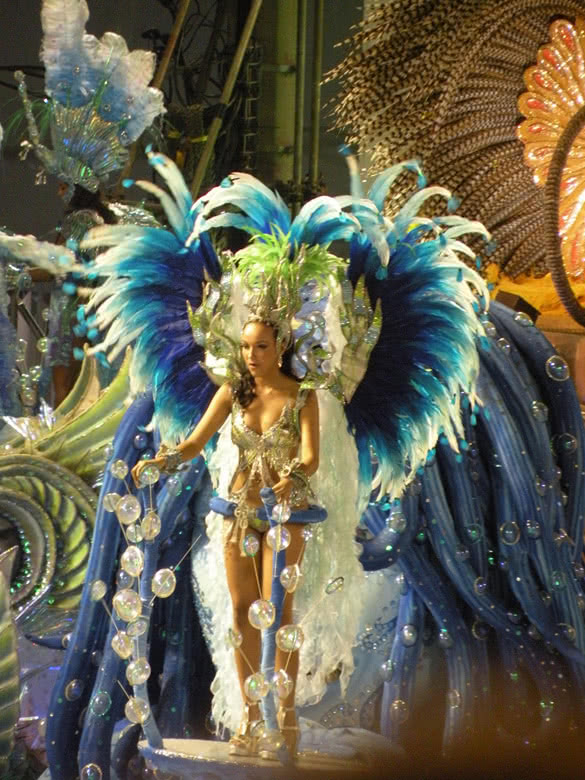 Rio Carnival is arguably the biggest and most spectacular event in the world. It takes place 40 days before Easter and lasts four days.
Kicked off by an epic parade that boasts stunning floats, sparkling costumes and an infinite number of sequins, the event soon moves into every bar, club, hotel and other available space Rio de Janeiro has to offer.
The reason for such an impressive event, you ask? The aim is simply to laugh, dance, sing and have as much fun as possible!
And if you're planning a trip to South America, definitely include a visit to these 12 awesome places in Brazil.
#50 The Serengeti Migration, Tanzania/Kenya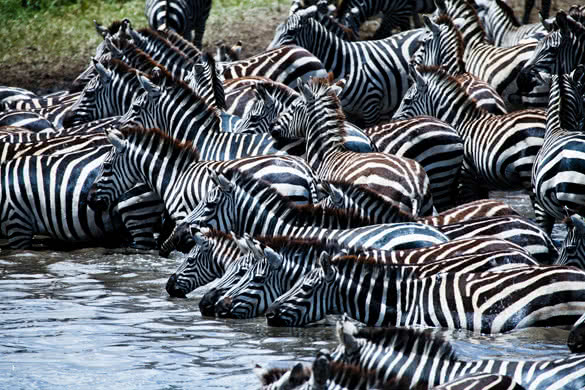 Each year more than one and a half million wildebeest and hundreds of thousands of zebras and gazelles make up the Serengeti Migration, the largest migration on Earth.
They travel roughly 300 miles each year, storming across the Serengeti, though Tanzania and into northern Kenya. This mass migration is an absolute marvel to behold and a definite must-see if you're an animal lover.
There's a beauty to seeing animals in their natural habitat and it's impossible not to wonder at seeing them in such great numbers.
Guided tours will be able to take you as close to the action as possible, giving you an up close and personal experience that you'll never forget.
So there you have it, 50 places to see before you die. How many of them have you seen so far? And what other places would you like to see which aren't on the list? Chime in!