Is he really good in bed, or does it just seem like it? Look at these 6 signs and, if you find them, you know he's definitely good in bed.
There's this guy you like and you've been seeing him for a while now, but you didn't reach "the point" yet? So, now you're wondering. No one can tell you for sure if he's great in bed, but there still are some hints that will tell you a lot about his "secret skills."
You know, Pandora was a woman after all – it's only natural you want to know everything, and you want to know it now. Take the hint.
#1 The Chemistry
I never really liked the science, but everybody loves chemistry – between two people. The first time he touched your hand, did you feel the buzz through your body? Even the best lover fails when there is no chemistry. Sometimes, even holding hands feels like it can lead to an orgasm – if that's the case, you don't even need to read the article. Go have sex.
#2 The Kiss
If you didn't learn the alphabet, you can't be Dostoyevsky. And yes, a kiss is the alphabet of sex. You expect him to kiss your entire body or give good head? If he can't really kiss, forget about it. Never gonna happen'.
#3 His Manners
Yes, I know. No one really likes to be called "My Fair Lady" in bed, but that's not the point. A man who can't even open the door of the restaurant for you will certainly not do other nice things for you. A man who can't buy you chocolates from time to time, can't really be sweet in other occasions. Yes, even if you like it rough. Of course, not every man is the Duke of Windsor, but even the bad boy with a bike will give you his leather jacket if it's cold – and then he'll give you something else, if you know what I mean.
#4 His Physique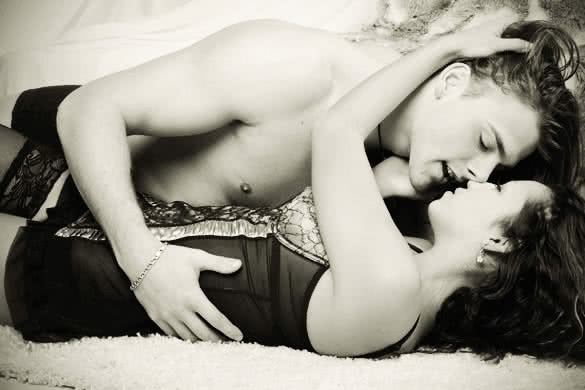 We're not saying a man has to be beautiful to satisfy you – it's often quite the opposite. But a guy who never ever saw a gym and weighs 250 pounds probably doesn't have enough energy to go buy his Big Mac (oversize it), let alone touch you the way you need to be touched, for as long as you need to be touched.
On the other side, a body builder on steroids is probably long time impotent.
#5 He Wants  It, But He's in no Rush
You can tell he wants you real' bad, but he's in no rush. He's confident and takes his time – you can see he isn't desperate and knows he can get it. He looks and touches you with true passion, but knows when to stop. He makes you want more – and you really do want more. He will not ask you if he can come up stairs – he'll wait until he's invited. He'll invite you upstairs, and if you say no – he will not look as all his ship had sailed. It hasn't been years he's abstinent.
#6 He's Successful and/or Ambitious
A man with no ambitions is not a real man, if I may say so. A guy who knows what he wants and how to get it usually can apply the same tactics with women. A man with no ambition whatsoever, a man who doesn't really know what he wants will never really know what you want either.
Girls, these are the obvious signs – but still, you can never really know for sure. Actually, there is one way – go check it out yourselves!