How to Have Skype Sex
Let's face it, people do it. Yes, Skype is used for more than just international chit chat about the weather, and now has a bit of a more intimate use. Yes, we mean sex. When the one that stole your heart is miles away, you don't just miss having breakfast with him or watching movies on Friday nights – you also need him to meet your sexual needs. He has them, and you don't want him to satisfy his needs elsewhere. So, you guys decided to have Skype sex. But how? Well, these are our tips.
Before Logging in, Check Your Internet Connection
The worst possible scenario is – you getting wet, him getting hard and the internet connection broken. So, before even logging in, make sure you have a fabulous internet connection that can't in any moment, fail.
Extra tip: close any other tabs you have open on your browser. It might slow down the connection.
Music
SPONSORED
What Every Man Actually Wants, But You Probably Do Not Know
Add this 1 simple ingredient to your sexual repertoire and make him sexually addicted to you… 
[continued here]
You wanted romantic music in the background? We're afraid it might sound horrible on the other side of the camera (we mean, to your partner). If you really want to play something, play it over the stereo so it wouldn't sound like a computer connecting to a dial up connection in the '90s. If you want romantic music, we recommend a band called "Zero Noel." Playing Frank Sinatra while having Skype sex might be a bit' cheesy. If you want to have rough sex, try Nine Inch Nails.
Start Dirty
When you guys start your Skype conversation, there has to be some kind of build up. So, you don't start by saying "Hi, are you hard yet?" Build the tension gradually. Start by just saying "Hi," then remove your halter, then talk dirty… Dirty talk comes before Skype sex.
It is very important that the conversation comes off effortless – the talk isn't what should stiff. If you are very shy or nervous, we recommend a glass of wine. Make your atmosphere as cozy as the real thing can be.
Every Worker has a Tool
No matter how real your Skype sex might seem, or how horny you might get, there will be no penetration, and imagination is the key. But, you should also have some kind of tool – a dildo or a vibrator because fingers probably will not be enough. Don't be shy and make sure you have an orgasm.
Trust
If you don't trust your partner a 1000%, then don't even think of having Skype sex with him. He can film and distribute the moments you thought were intimate and what you thought is being shared with that special someone, might be shared amongst millions of internet users. Keep it confidential.
Dress up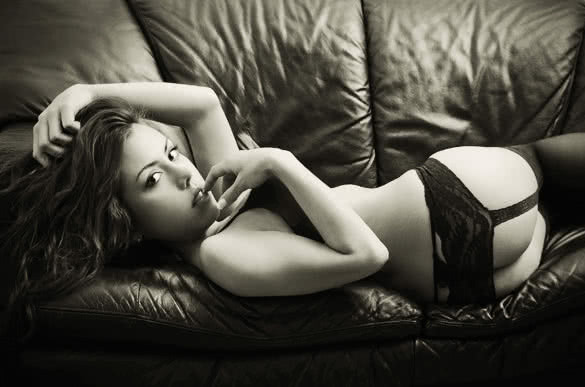 We told you what to do for your own pleasure – this is what you do for his. As you really can't give him a blow job and he can't really feel, smell or penetrate you – the visual effect is the key. Make sure you put on some nice "barely there" make up, wear inviting lingerie, do your hair, and set up the light. You can't imagine how much the light can help you! Make sure that the light isn't behind you.
Extra tip: The camera responds best to bright colors- think pink, red, blue…
Words
Don't be shy, this is the worst moment to be shy. Be dirty, sexy and provocative. You can't do anything he'd be thrilled about (anal sex, amazing blow job, sex positions)… All you can do is talk. And the talking part is hard for the first time. You'll be shy, afraid and all, but the second time – it's already easier.
By dirty talk, we don't even mean you have to go way out of your comfort zone. You don't have to talk like a hot-line employee. Just let your partner know how turned on you are by everything he says or does.
Let him know you wish he was by your side, how much you need his touches, kisses, his loving. Talk about your typical sex turn-on's that you used to share together…
Extra Tip: If you are very shy and you aren't the most eloquent among them all, you could write a few pointers, imagine the conversation before it happens. That way you'll be prepared. You could also read an erotic novel, just so you see how big the force of words can be and how much words can do for your libido. Try the bestselling novel "50 Shades of Gray."
Other than talking, you can "dirty-chat" whatever you are too shy to say out loud.
Don't Forget!
Don't forget that men are more visual than women. They like to see, not just feel and hear things. So don't use your toy just for your own pleasure. Let him see how you suck on your dildo, finger, a lollipop or an ice cream. Moan passionately while doing this. He'll imagine how you are giving him the bj of his life. We recommend you read the bestselling sex guide Jack's Blowjob Lessons before he comes back, so that once you finally meet he'll never want to be away from you again!
Until then… We hope Skype gave you… Some good news, let's say. We hope you had lots of fun – and yes, we know… You can't even finish the article. You have an incoming call.