Curvy women have always been the sexy ones and these style tips and tricks will help you enhance your figure in the best way, to always be at the top of your game!
In the past few years, the top magazines and designers have all wanted to make a point about "real" women, to the level that they started to proclaim that "curvy is the new black"!
Maybe fashion has finally realized that having a model-like figure is neither sexy nor healthy and started to exalt the shapes of more full-figure women.
If we think about the biggest celebs of the past few years we will also notice that they all have quite big curves, starting from Kim Kardashian, to Beyoncé, to Catherine Zeta Jones. All women who are not afraid to show off their body even if it is not super skinny and managed to look really sexy in the eyes of every man.
So, before starting off with this list of style tips, make sure you fully embrace and start to love your curves!
Done this, fashion will do the rest in helping you hide your small problem areas and enhancing all your best assets! Let's see how.
Tip #1: Choose the right bra and shapewear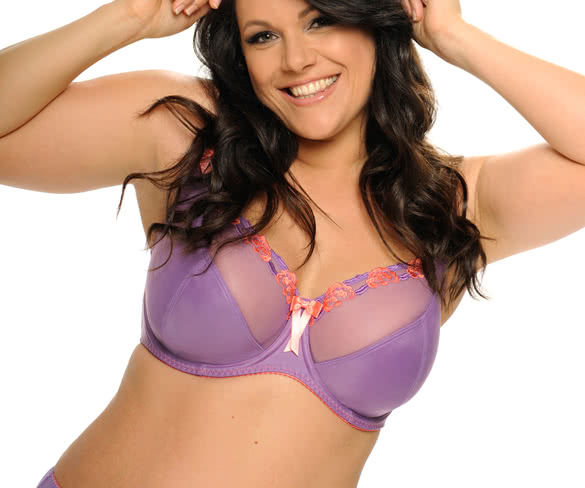 You would never guess how choosing the right bra can make all the difference in a look.
Fact is that eight woman out of ten wear the wrong sized or shaped bra, but what they don't realize is how getting professionally measured and investing in a great bra can go a really long way in making your body look much slimmer.
Also, choosing the right shapewear is really important, as it will smooth out your body, add definition to your curves and make you loose a couple of pounds just like that. In short, it will reduce and enhance all the right parts.
Tip #2: Not too large, not too clingy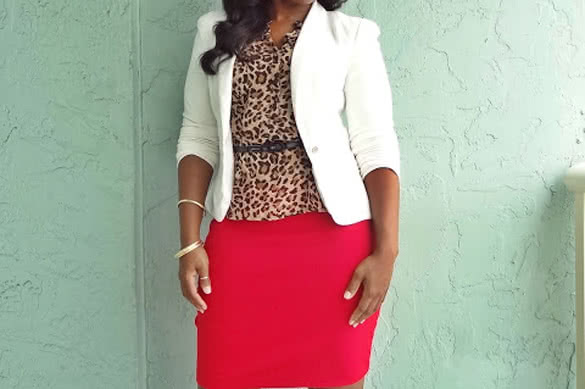 The biggest mistake that many women make is to try to hide their curves under oversize and large clothes. Wrong! This is the perfect way to actually make your body look much heavier and larger!
Showing off your feminine shape and curves is a much better solution, but be careful not too exaggerate in the other sense now.
Also really clingy and body-hugging clothes will have the effect of enlarging your shape and underline each and every small flaw of your body.
You should always choose well-fitted and tailored clothes for you, especially that enhance your small waist and fit a bit more loosely in other parts of the body.
So, go for fitted button-up shirts, tailored blazers and flared skirts to always be sure to look gorgeous!
Tip #3: Show off your cleavage (a bit)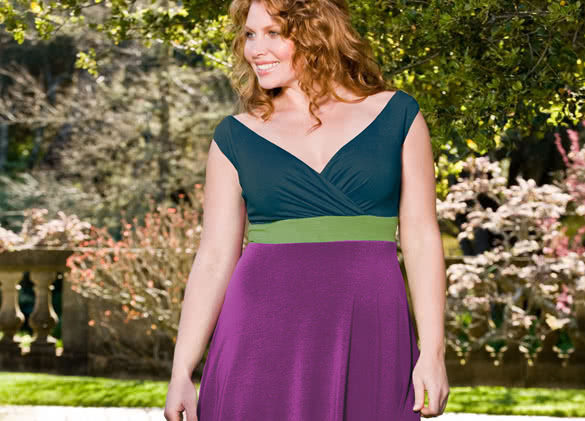 Try to avoid high necklines, but prefer V-necks that will have the effect of elongating your silhouette and flattering your figure.
Here goes the saying that "if you have them, flaunt them" but don't exaggerate as the risk is to look a bit vulgar. In alternative to the the V-neck, also the scoop neck will look perfect and will be more suitable for the daytime.
Tip #4: Belts are your BFFs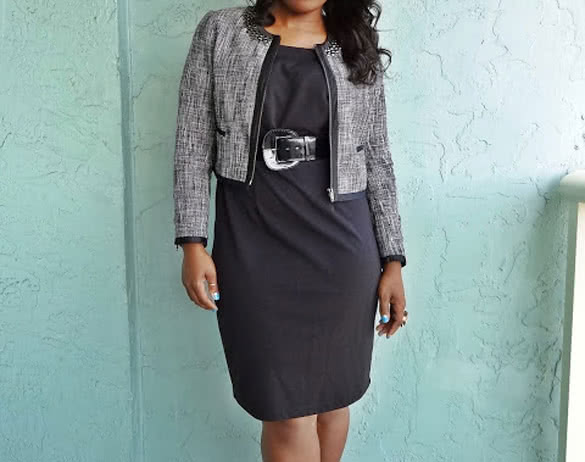 A waist belt should always be present in each and every outfit you wear. It can do miracles in making you look slimmer by enhancing the smallest part of your body: the waist. Plus it will also add definition to your curves.
Choose it quite wide and wear it with tops and dresses alike for a great flattering effect that will make all the difference in your look.
Tip #5: Skirts and dresses just above or under the knees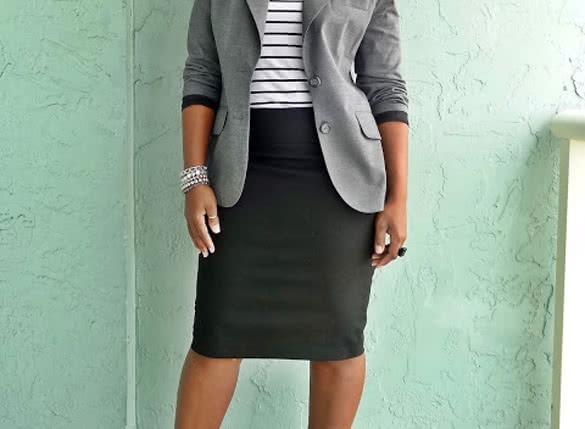 The general rule to follow when choosing the length of the hemline for every body shape (curvy and not alike) is to always opt for something that hits the spot where your legs start becoming slimmer.
In this case, you should always go for something that is just above or just under your kneecaps as it will make your legs look so much slimmer and longer!
Tip #6: Go for the right dress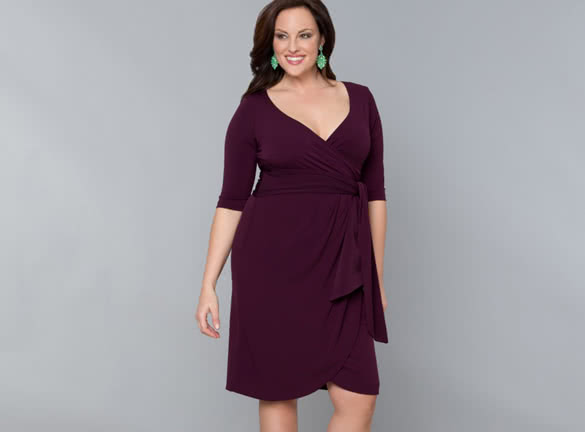 Sheath dresses will be perfect for a curvy body as they hide and enhance all the right areas. In fact, they usually have a V-neck that, as I said earlier, elongates your figure and a nipped waist that will flatter it.
Choose one in a  light and drapey fabric that will skim flawlessly over your curves. Also the wrap-dress is a great alternative and it will have the same flattering effect.
As a general guideline, when you go looking for a dress for yourself, always remember these rules and you can never go wrong: nip your waist, hug your hips and skim over your lower body. Real easy, isn't it?
Tip #7: The right skirt is important
When it comes to skirts, always think high-waist!
Low-waist skirts and trousers will not really flatter your shape as they will cut your figure right in its largest part attracting the attention there and make those few extra pounds on your hips stand out.
You want something that wraps and hugs your hips so to hide all your flaws and make everything look smooth and sexy.
Go for an A-line skirt that will show off your small waist and skim over your hips and thighs and, if you have a flat-stomach, also a pencil skirt will be great to give you a really sexy silhouette.
Tip #8: Go with bold accessories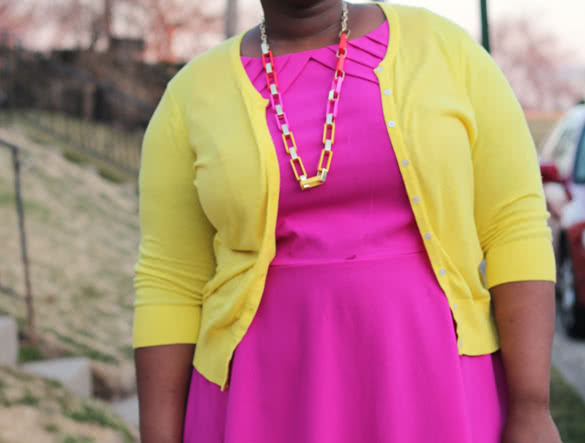 If there is anyone that can sport bold accessories in a perfect way, it's you. Go for long necklaces, chunky bracelets and large loop earrings, and avoid small accessories that will be lost on you.
Also a maxi bag will be perfect and prefer it to tiny clutch bags. The accessories that you wear need to have the right personality that complements your own!
Tip #9: Keep it simple
Don't try to overdo things but the best solution, as I always say, is often the easiest one. Your clothes, in fact, have to be sleek and simple, with no extra frills and ruffles that will only have the effect of adding more volume to your figure.
Prefer also solid colors rather than crazy patterns as they will slim down your figure and make your look more polished!
Cover photo: ericamatthews.wordpress.com