After covering the top 10 items to buy for next season, here is a special focus on this fall's incredible jewelry pieces.
Now that we've covered the top 10 must-have trends for the coming fall 2013, we're moving on to what's really important – jewelry.
Jewelry is going to be huge in the coming season and it will actually become the real protagonist of our outfits.
This fall, chunky and bold pieces of jewelry have taken over all the most important runways of the world, becoming the eye-catching elements of all the outfits.
This season, it all comes down to these two: chunky and bold. Keep this in mind when shopping for your statement pieces!
You should be shopping for…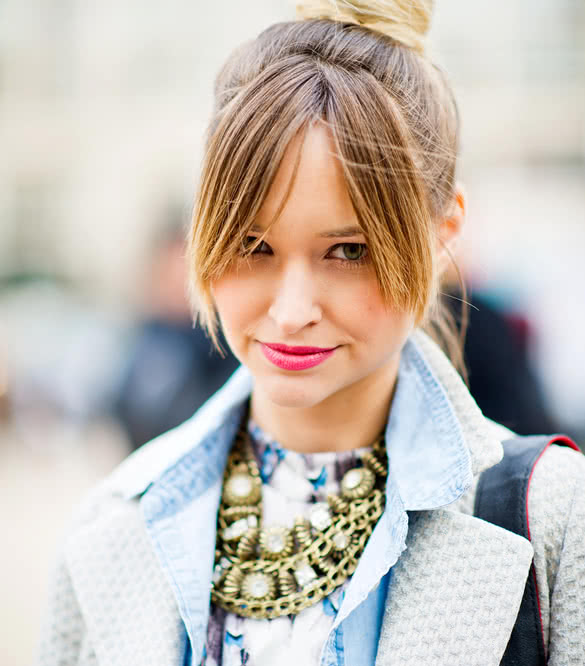 Want to look fashionable and dazzle with your jewelry? Here are two major trends you are going to be looking for:
#1: Chunky statement pieces
Absolutely every piece of jewelry for this fall has to be chunky and bold.
No more small pieces that give you that imperceptible extra touch. The accessories want to be seen well and clearly.
You just need that statement piece for every look to transform it from boring to amazing and bracelet stacks are not enough any more!
#2: Metallic elements
Metal is the protagonist of all pieces of jewelry for fall 2013, to the point that is now fashionable to wear it even with no decorations at all, just pure pieces of metal.
We see it also in the clothes, but especially in the accessories. So, no more ethnic wooden necklaces or beaded bracelets.
You now need to look for wire, chains and metallic bands, especially if in a light gold hue.
Here are 10 irresistible and trendy pieces we recommend for fall 2013:
1. Chunky band rings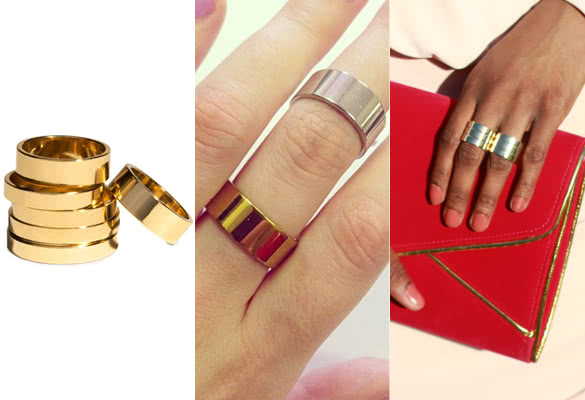 Some chunky band rings, worn all together, can add a real element of interest to any outfit. They have to be really bold and preferably gold rather than silver, as the fashion dictates right now.
You can mix different sizes on all the fingers and stack them for a really bold statement.
You can find them for a really cheap price at H&M and other high street shops. You could also go for more expensive and luxurious versions from Maison Martin Margiela and most of the biggest designer's stores.
In any case, they will look expensive and glamorous.
Style tip: Because they are already a big statement by themselves, you should not wear other statement accessories with them. Especially not too many bracelets, as the risk of overdoing it is really high and you could end up looking like an adorned Christmas tree!
2. Statement bold cuff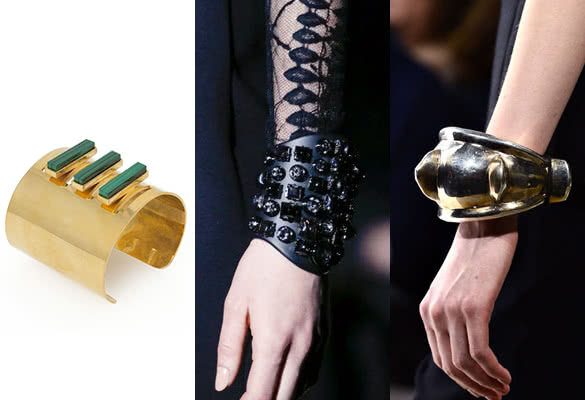 The trend right now is either to go for something completely metallic – especially in a golden color. Here's a great piece to make a statement – this amazing bracelet from Kelly Wearstler, or a leather cuff with chains on it.
In both cases, the metallic element is always there!
Style tip: These cuffs are best if worn together with a monochromatic or neutral outfit, as they are really eye-catching and they don't need any other bold element in the look.
They will look perfect with your black maxi dress or a little white dress.
3. Chunky metal link chains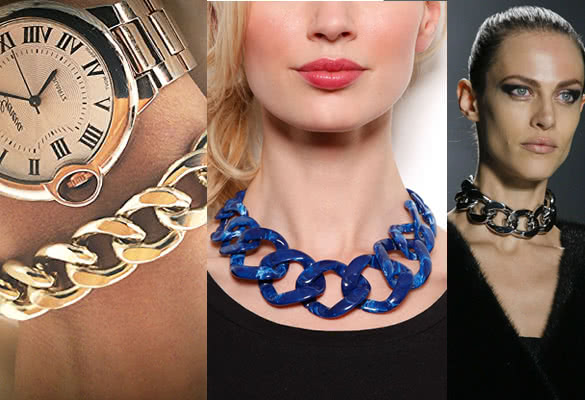 Right now, metal link chains are the biggest trend also among the most famous celebs. They totally liven up any outfit without exaggerating it or being too pretentious.
They are not only great pieces of jewelry but they have also been incorporated into other accessories, such as bags and shoes. Could it be a new DIY or refashioning idea?

Style tips: Chunky chain jewelry will look good with anything and any type of neckline, from a turtleneck to a deep v-neckline. Wear them with knitwear to make it look more edgy and young!
4. Woven bracelets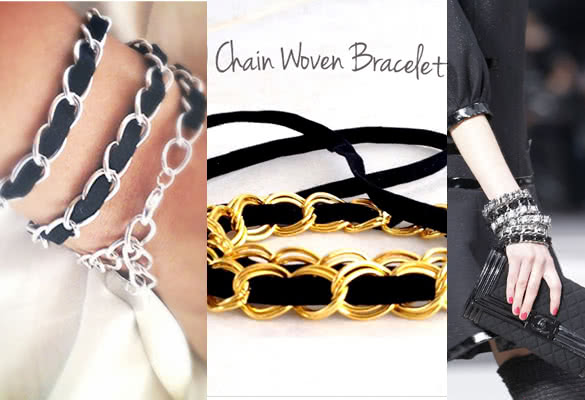 You know how the handles of the classic Chanel 2.55 bag are? They are simply created by using a metallic chain and a woven cord in the middle.
A really easy DIY project that creates an equally stylish and sophisticated accessory.
It can either be a wrap accessory like the first one we see in the picture from The English Rose Design, or like the second and third ones that are simple single bracelets.
Style tip: You can literally wear this accessory with anything and for any occasion, from a casual day out to a formal event!
5. Chandelier earrings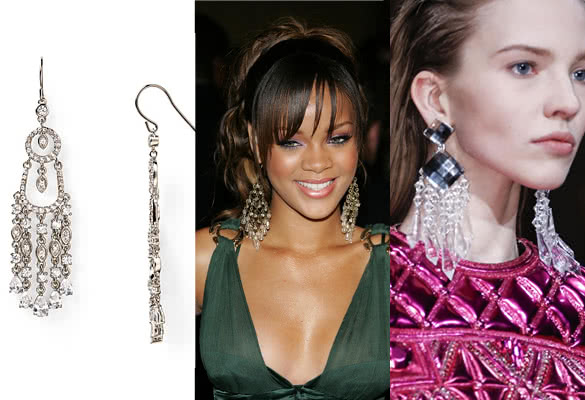 Really opulent, elegant and eye-catching, the earrings for this fall are all chandelier with a baroque-inspired design.
These are all inspired by the remakes that have been coming out at the cinemas of great films and stories from the eighteenhundreds.
Style tip: Because they are already really bold and big, you should not wear any necklace with them, just a small bracelet if anything.
6. Earcuffs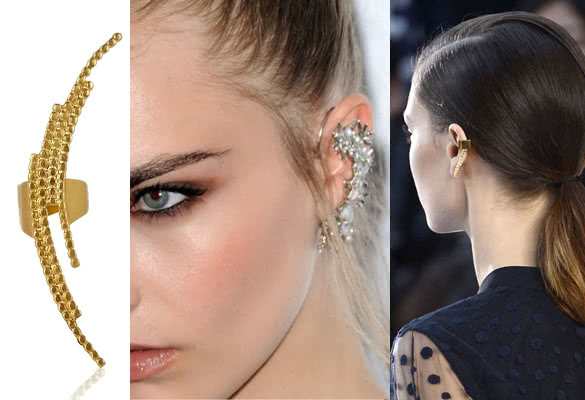 An earcuff will definitely add a touch of punk in a really glamorous way to everyone of your looks!
They are perfect if you want to try out something totally different from what you have always tried and have that extra edgy and aggressive feel to your outfit.
Style tips: There are different types of earcuffs, from the finest and more subtle ones, to the really hard-core ones. You should always choose the ones that you think you can pull off well.
7. Spiked jewelry
This year we can find punk-rock and aggressive spikes on necklaces, bracelets and rings. They are really aggressive and edgy and they can make even the sweetest outfit look fierce.
Style tips: Wear them together with your pair of biker boots and then soften it up with some knitwear or a feminine dress to have a really stylish outfit that plays with contrasts.
8. Crosses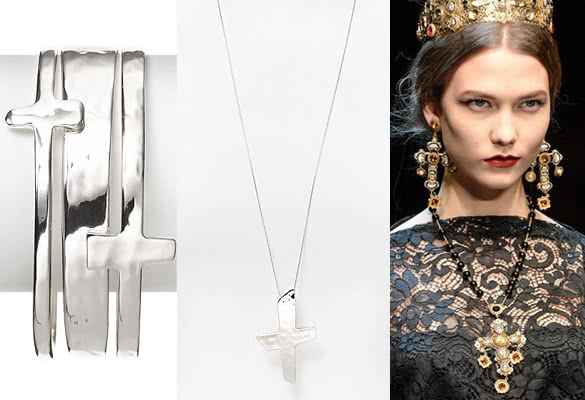 The people who wore them in the past were just considered to be really religious, but now they are also really stylish. Crosses have been with us since the beginning of 2013 and they are here to stay also for fall on earrings, bracelets and necklaces.
Style tips: Get a long necklace with a cross pendant and you will be able to wear it with all of your soft blouses and oversize t-shirts!
9. Medallions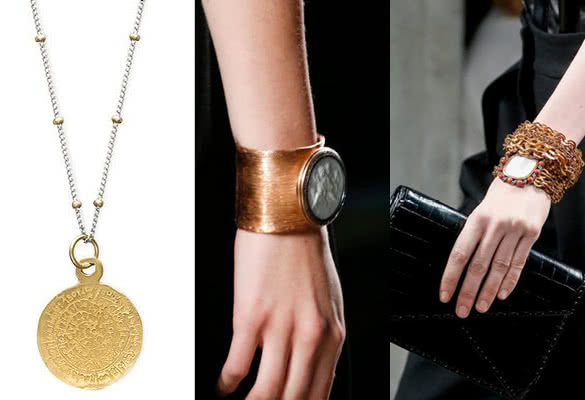 Everyone probably thinks of medallions as something really old and that only existed in the era of knights, but now they are back!
They look really regal on bracelets, necklaces and even rings and they give that sense of retro again which is just unique.
Style tips: If you want to make sure not to overdo it, you can either go for a necklace with a small medallion or for a simple wrap bracelet with one.
10. Stackable Rings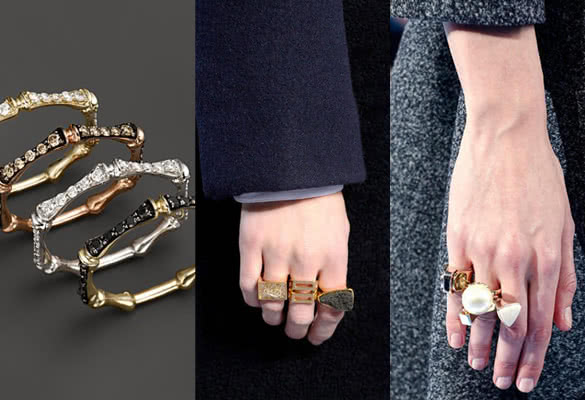 We have sort of already mentioned about this trend when talking about band rings but here it is again. This summer it was all about bracelet stacks, but now we go with multiple rings.
We are talking about more than one ring per finger on most fingers. You can do this by stacking one normal ring over the other or a knuckle ring over a normal ring.
Style tips: Like with the band rings, when you decide to go for a ring stack it is better to keep everything else toned down and don't wear any other statement jewelry.
Cover photo: dailybeautyreviews.com