While you cannot buy style or class, with each piece made by Oscar de la Renta, you are one step forward at the right direction. As a young man he worked with big names such as Cristóbal Balenciaga and Diana Vreeland, for fashion houses like Lanvin and Balmain.
He has been winning awards since the 60's and yet, many decades later he manages to surprise his loyal customers. His designs are worn by various individuals of distinguished taste, but it was not until year 2001 he started making fashion accessories. Since his jewelry is every fashionista's biggest craving, take a look at some hottest earring and what to wear them with.
What might surprise you is that Oscar de la Renta's jewelry collection is not that pricey as one might expect. These pieces are daring and very feminine, dramatic because de la Renta doesn't like anything that looks shy. Earrings made by fashion empire of Oscar de la Renta are not for women who enjoy minimalism, but they are regulars at the biggest events in the entertainment business. Oprah Winfrey, Anne Hathaway, Eva Longoria, Scarlett Johansson and Sarah Jessica Parker are among his fans, so let's take a look at the magical world of earring and various styles you can wear them with.
Block It
Beaded tassel clip earrings come in various colors and lengths, but one thing is for sure: these earrings are bold and can be worn at numerous occasions. For your next black tie event, wear a midnight blue pair of Oscar de la Renta's beaded earrings with a long, colorful dress and create an inspiring color block outfit with a pair of a dark red pair of sandals and a matching clutch. With swept-up hair and a statement colorful cuff, you will look and feel like a real star.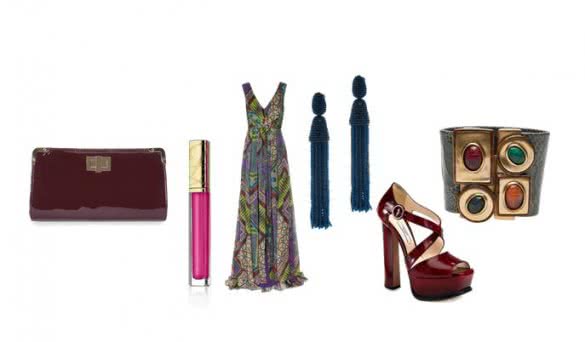 Estée Lauder Lip Gloss Violet Rain (harrods.com)
Matthew Williamson Maxi Dress (net-a-porter.com)
Berry Patent Corner Frame Clutch Bag (next.co.uk)
Prada Sandals (saksfifthavenue.com)
Oscar de la Renta Long Tassel Earrings (boutique1.com)
Oscar de la Renta Geometric Cuff (farfetch.com)
Colorful World
These adorable earrings became a world wide must have after they appeared as a part of Serena Van Der Woodsen's outfit, in Gossip Girl's season 5. Serena's gorgeous three drop earrings consist of coral, jade and turquoise, making them hard to take your eyes off. Floral engraving gives them a vintage feel, so I choose a bit more unusual approach while creating an outfit which will look cool with these earrings. A leather jacket and leggings with a geometry printed tunic or kaftan are a brave and powerful choice. It is a pair of three drop earrings and a cocktail ring that gives this outfit a playful and girly look, so it is perfect for a wild night out.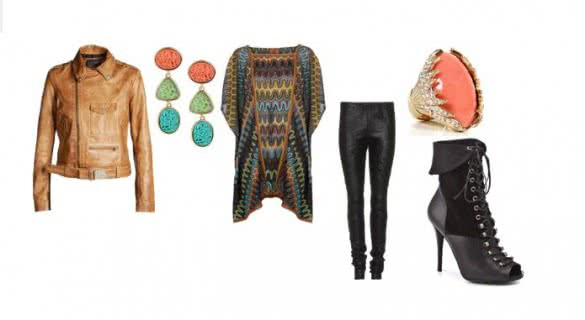 Jacket (diesel.com)
Missoni Waved Kaftan (harveynichols.com)
Haider Ackermann Arizona Leggings (mytheresa.com)
Guess Shoes Owenson (heels.com)
Ring (windsorstore.com)
Oscar de La Renta Cabochon Earrings (net-a-porter.com)
Everyday Cutie
A shorter version of beaded tassel clip earrings in white is an excellent choice for modest, yet charmingly feminine outfits. Pair them up with a matching bracelet and white pointy pumps. While pretty much every color looks good with these accessories, an outfit inspired by summer's favorite colors, turquoise and navy, is the look everyone must love.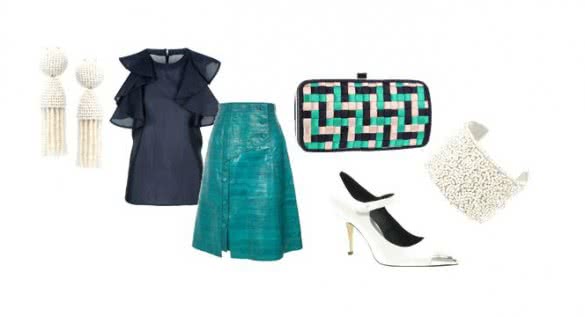 Menbur Cucurbitaa Clutch (endless.com)
Asos Perry Pointed High Heels (asos.com)
Proenza Schouler A-line Skirt (brownsfashion.com)
See by Chloe Blouse (farfetch.com)
Oscar De La Renta Beaded Tassel Earrings (nathalieschuterman.com)
Seed Bead Pearl Cuff (topshop.com)
Emerald City
Did you notice how the most gorgeous women, such as Angelina Jolie simply adore wearing emerald jewelry? Well, it is time for you to get a pair, preferably de la Renta's two stone drop earrings, made in two beautiful shades of green. You don't need to wear them on the Oscar's night, you can create an effortlessly chic daily outfit, adding some glamour with a pair of these earrings. Relieve the 70's with a pair of wide leg pants and a silk-chiffon blouse and stick to shades of green on your pumps and a clutch.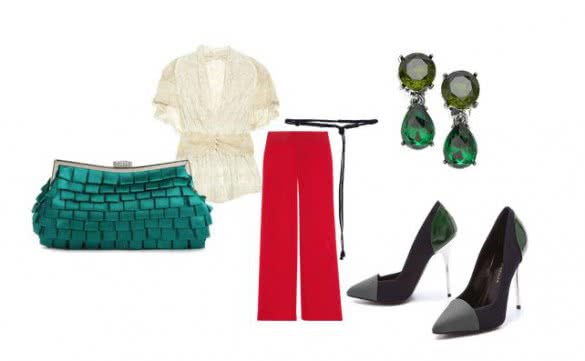 Anna Sui Top (net-a-porter.com)
Lulu Townsend Clutch (dsw.com)
Alice + Olivia Pants (net-a-porter.com)
Farhi by Nicole Farhi Belt Rope Belt (julesb.co.uk)
Proenza Schouler Pumps (shopbop.com)
Emerald Earrings (oscardelarenta.com)
Geometry and Leather
Russian gold cubist earrings created by Oscar de la Renta are so versatile that you can wear them with a gown or with a leather shorts and still look like a million dollar babe. It looks like I insist on leather, but that is only because fall's trends include lots of leather made clothing items and accessories. For everyone who enjoys wearing all black, especially at night, this is a winning outfit. Maybe not something you shuld wear to the opera, but most definitely an outfit that will make you the hottest girl at the party.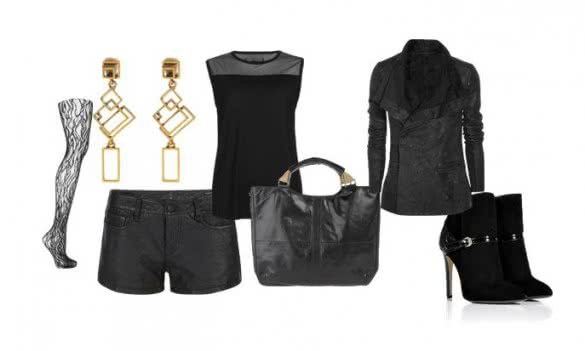 Tights (net-a-porter.com)
Perry Leather Shorts (allsaints.com)
Bo Tank (allsaints.com)
Diesel Bag Large (yoox.com)
Emilio Pucci Ankle Boots (stylebop.com)
Rick Owens Jacket (net-a-porter.com)
Russian Gold Cubist Earrings Oscar de la Renta (net-a-porter.com)
Red Carpet Time
You never know what tomorrow might bring, so if you are lucky enough you may find yourself on the red carpet of some of the hottest events of the year. Choose a gown that will show how fabulous your figure is and stick to timeless colors, like black or nude. Spice an outfit up with a mix of fuchsia and gold. This look might be a typical red carpet one, but at the same time it is daring and sexy. Oscar de la Renta's gold knot earrings will brighten up your face and make it glow.
Yves Saint Laurent Rouge Fuchsia (barneys.com)
Bottega Veneta Sandals (couture.zappos.com)
Nina Ricci Pleat Front Gown (barneys.com)
Elie Saab Small Box Clutch (boutique1.com)
Dior Nail Color (bloomingdales.com)
Oscar de la Renta Earrings (saks.com)
Shine in the Dark
Shine some light on opulent chandelier Oscar de la Renta earrings. Wear them with a navy/black dress, which is very elegant and smart; add a matching clutch and a pair of trendy booties of the season. With nude lips and smokey eyes, all you need is a grayish sequin cardigan to complete the look. Wear this outfit to your best friend's wedding or to a birthday party. It is very cute and lady like, but at the same time you won't feel overdressed.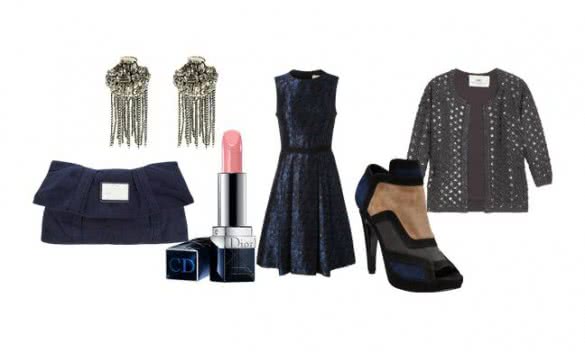 Halfmoon Clutch (dorothyperkins.com)
Dior Nude Lipstick (nordstrom.com)
Pierre Hardy booties (farfetch.com)
Day Birger et Mikkelsen Cardigan (theoutnet.com)
Jason Wu Floral dress (farfetch.com)
Oscar de la Renta Crystal-embellished chandelier earrings (net-a-porter.com)
Cover photo: www.confashionsfromkuwait.com