Looking for some budget-conscious ways to boost your image and put the 'in' back into 'incredible'? Then check out our top tips for looking stylish on a budget.
Okay, so you're surviving on a diet of two-minute noodles until your next paycheck comes in. During any normal month, this isn't cause for particular concern. After all, the old adage 'live like a Queen for the first two weeks of your pay, and like a pauper for the last two weeks' is completely normal for you.
But the problem is that this month there is an event that you need to look fab-u-lous for it. But how can you look fab on a budget?
Da-da-da, YouQueen to the rescue! We have found the top ways that you can look amazing at your special event and still have change left over for the obligatory morning-after grease fest.
#1. Polished nails for a swipe of style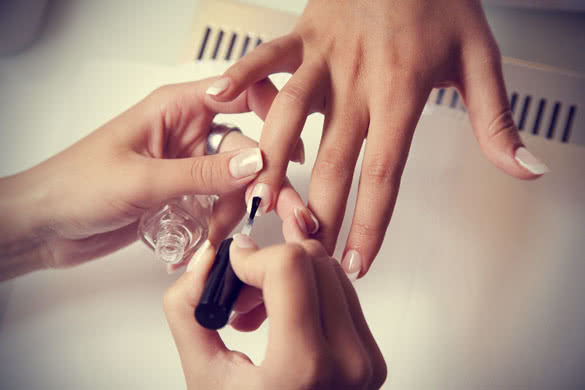 Have you ever noticed how good you feel directly after a manicure? How your confidence seems to soar and you feel like you can take on the world? … No? Maybe that's just me. But in any case, your first stop to savvy style is a swipe of your favorite nail color.
You don't have to go a salon to get your nails done either, (save that for the first two weeks of the month) instead why not pick up some fresh polish for $20 and use it as your signature color for the next month? You can even get an OPI polish for that price, and better yet you can reapply as needed. Spend a night in DIYing your manicure, switch on some of your favorite reality TV reruns and voila – beauty bliss.
You can choose any color, but some particularly stylish shades are light pink, French, red and deep blue. And lastly, although this should be a no brainer, never walk around with chipped nails. Keep your nail polish in your handbag and have it on hand (no pun intended) to touch up chipped nails.
Because while a fresh new manicure can turn your look from drab to fab in an instant, a chipped polish can take it down to 'cheap' even faster.
#2. It's all in the scarf
Want a quick way to look expensive? Add a silk scarf to your outfit. Preferably a Louis Vuitton, but if you don't happen to have one in your closet (more's the pity) then try buying a knock off or one that mimics the same style.
Then, use your new scarf as a feature point of your outfit. There are plenty of ways to tie your scarf to make your outfit seem fresh and best of all, stylish. Or, if you're up to the challenge why not tie it around your handbag? It brightens up even the dullest handbag and is a quick style statement.
#3. For a touch of glamour, add one token luxury item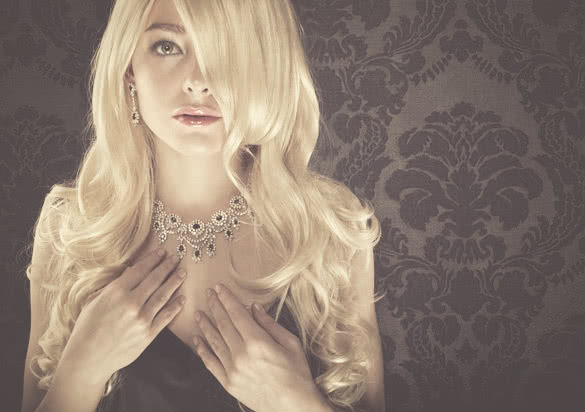 If you've ever watched Two Broke Girls (and if you've haven't, you should start – it's hysterical), you'll notice that Caroline, who is the blonde, always looks incredible. And I mean Fifth Avenue, Rodeo Drive incredible. Despite the fact that she's flat broke.
Want to know how she manages it? Caroline rotates a handful of luxury items and uses them to class up her image. An expensive necklace, a pair of Christian Louboutins, some Chanel lipstick … All carefully worn and used to project the image of being far better off than she actually is.
Now, I'm not asking you to go out and spend a fortune you don't have on a pair of Manola Blahniks – that'd be stupid – but you can be style savvy and obtain luxury, designer items to add to your collection.
How? Easy. Have a birthday coming up? Ask friends, family, co-workers and the guy that serves you coffee every morning to chip in on a designer item that you've had your eye on. Christmas is also great for designer collections and you can prepare your 'Dear Santa' list well in advance. Otherwise, sidle up to your rich Aunt/Uncle/Cousin/Grandmother and see if they have any vintage designer you can, uh, borrow.
And lastly, if there's no rich Aunt making an appearance and your birthday isn't for months, why not try renting your luxury items? There are designer rental businesses in almost every country now, ripe for the handbag/shoe/clothing picking. They even sell old stock at discounted rates so you can pick up a good deal on a second hand Chanel. Check them out – maybe you'll find something you like.
#4. Get blown
Get your head out of the gutters, people – I'm talking about a good, stylish blow-dry. Bouncy, soft and well-groomed hair is the trademark of the stylish. So if you want to look the part, you have to well, erm, look the part.
Now just like with your ultra-fashionable manicure, you don't need to go to a pro to get your hair style on. Instead, just learn the tricks of the blowout trade and learn to style your hair like a pro.
If you have any hairdresser friends, offer them a two-minute noodle dinner or a cocktail next month in return for some hair advice. They can show you the best ways to blow-dry your hair to get the style you're after, and you'll get some insider knowledge on how the best of the best do it.
And worst case scenario, Google it. No, I'm not being facetious, there are actually some really great resources out there on how to blow-dry and style your hair. Just type 'blow-dry tips' into YouTube and watch some tutorials of girls going 'umm' and 'aah' while they perform awe-inspiring hairstyles. The quality of their blow-drying skills will make you feel bad about doubting their intelligence … uh, I mean … isn't it time for our next style tip?
#5. Whiten up
This one is easy: just buy something white or cream. If you want to look expensive, white is where it's at. My personal theory is that it's because rich people can afford to get the inevitable stain on their clothing, so they can wear white. Whereas, us regular people have to buy colors and items that we can remove stains from.
Another theory is that white exudes the appearance of being fresh, clean and calm. Whatever theory you subscribe to, there's no doubt that adding white to your wardrobe gives the impression of ultra style.
Go to Target or Walmart or whatever your local department store is, and pick up some white clothes. A t-shirt, jacket, skirt, jeans – whatever works. Then add one piece of white to your outfit and watch your style points soar.
And by the way, whoever said not to wear white after labor day clearly didn't have enough style. 
#6. The flesh rule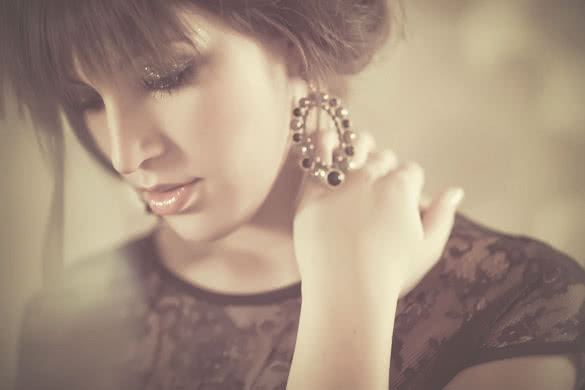 The next tip is just as much about your modesty and looking expensive as it is about being stylish. There's a little rule known as the flesh rule, which dictates how much, or little, flesh should be shown at any one time.
Now, if you're looking for the type of attention where you get leers, slaps on the ass and catcalls, feel free to bare as much flesh as possible. Get out your girls and show off your pins. Leave nothing to the imagination.
However, since this article is about style, I can only assume that you don't want to walk around looking like trailer trash. In which case, the flesh rule advises you to only show one area of flesh at any one time. It could be a hint of your cleavage, or a mini-dress that shows off your legs – whatever you think your best feature is.
The idea is that you want people to look at you and think 'class', rather than 'nice ass'. Well, sure they could think that too, but it shouldn't be their first opinion of you.  Don't be the girl he wants to take home for the night. Be the girl he wants to take home to meet his Mom.
#7. Make it up
Have you ever noticed how celebrities like Gwyneth Paltrow, Blake Lively and Scarlett Johannson always seem to pull off that barely there and natural make up look? How their skin looks flawless, their eyes glitter mischievously and their cheeks are flushed lightly but you can't actually pinpoint where their make up sits?
That's what your goal is. You want your makeup to be so subtle, so sheer and so stylish that people wonder if you actually wear any. There are some great tutorials online to help you get this look and best of all; it's probably achievable with what you have in your make up bag right now.
#8. Thrift shop
It's not just hipsters and hippies that shop in thrift stores – it's savvy stylemeisters too. Thrift shopping is a fun and cheap way to pick up some new stylish clothing. You can search for stores in your local area and then take a girlfriend and make a day out of it.
Look for items that are clean, don't smell too funky and will complement your existing wardrobe. Also keep your eye out for any hidden designer items that rich heiresses have thrown away. Better yet, why not go thrift shopping in the surrounding areas of the posh neighborhoods? You're more likely to find higher quality clothes, and you can enjoy people watching the rich and famous.
#9. Get inspired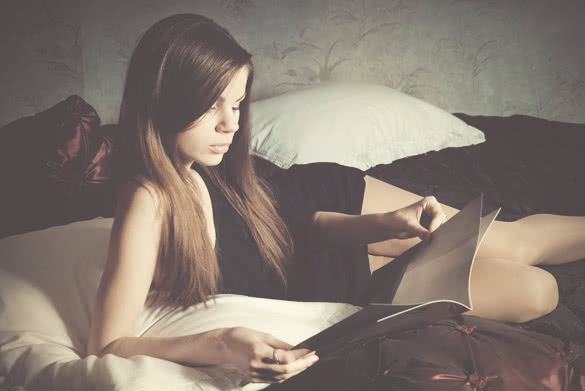 If you're not sure where to start with your new stylish (and cheap) wardrobe, why not head to the library and browse through some magazines for ideas? Most magazines have a style section where they showcase designer clothes and then find affordable alternatives that look (almost) the same.
Take your inspiration as it comes and then hunt down the smaller boutiques that are cheaper, more unique and far more interesting.
#10. Style, not fashion
Screw fashion. No, seriously. The clothes are 'so' last season before they've even hit our shelves. So, why bother?
Instead, channel some Chanel and Audrey Hepburn and aim for a permanently classy look. Find clothes that suit you and your body shape, not clothes that are the current trend. Find items that you feel comfortable in, that make you feel good about yourself and that you know you will wear often.
Investing more money in an item that you can wear over and over again is far wiser than buying something because it was on sale and then never even taking the tags off it.
Looking stylish on a budget is all about sensible allocation of resources. So spend your money wisely and only buy things you are crazy about. Ask a particularly fashionable friend to go shopping with you and offer a second opinion on whether your must-haves suit you and flatter your beauty. Once it has the besties' tick of approval, add it to your wardrobe and enjoy the sensation of knowing that you look gooooood.
#11. Heel, girl!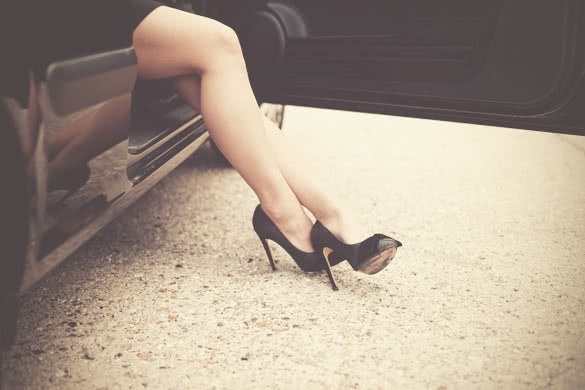 We've already touched on the element of stylish shoes, but it can't hurt to look at it again. And again. And again. Because if you don't have a passion for a great pair of heels yet, you need to develop one. ASAP.
Shoes can be the vocal point of an outfit. The 'wow' factor, or the added sexiness to your stylish clothes. They can express your personality, showcase your style and flaunt your attitude. And better yet, they don't all have to be Manolo's.
There are some really stylish shoe lines in department stores these days, as well as in thrift shops and smaller boutiques. You don't have to spend a fortune on your footwear; you just have to invest the time and energy to hunt down the right pair.
To begin with, look for shoes that are neutral and can be worn with several outfits. Think a classy black heel and a neutral platform. Then, once your shoe collection is blossoming and you have some free cash, you can afford to go out and buy some 'statement' heels to wear on special occasions.
You can even make the right pair of flats look stylish. Just combine some skinny jeans with rolled up bottoms, a half-tucked in white t-shirt and a blazer, with a pair of cute red flats and you're ready to go.
#12. Mind your manners
While this may seem completely unrelated to looking stylish, it's actually more intertwined than you would think. Have you ever seen a girl that had the right clothes, the right haircut and the right shoes but as soon as she opened her mouth you saw right through to how unstylish she really was?
Being polite, graceful and considerate is the best addition you could ever make to your style. Minding your p's and t's, offering to help those in need and being considerate of those around you will help you look good, and feel good. You'll walk around with a glow, knowing that you are acting like the very best person you can be.
Growling, snapping and glowering is trashy, so don't cheapen your image by acting badly. Take pride not only in your appearance but how you treat others and know that people respect you not just for you look, but how you act too.