What Color Shoes to Wear With a Pink Dress
Pink is a great color to wear this summer. Dresses in pink are particularly eye-catching and you should definitely have at least one in your closet. The most important thing about wearing a pink dress is combining it with the right pair of shoes.
If you want your shoes to complement your beautiful pink dress, here are some ideas on how to match the two:
1. Black Pumps
Black pumps go well with virtually every pink dress, regardless of its style, or the shade of pink. This is also the safest option. If wearing a pink dress is a little out of character for you, and you do not want to step out of your comfort zone too much, black pumps are the best shoe choice for you.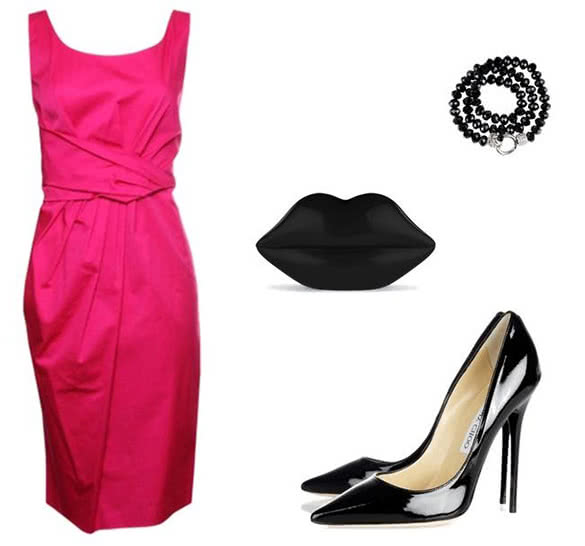 Dress: Moschino Cheap & Chic Pink Cotton Mix Dress
Shoes: Jimmy Choo Anouk patent leather pumps
Bag: Lulu Guinness Black Perspex Lips Clutch Bag
Accessories: KINKY ROCKER Fascinating Bracelet Made Of Black Glass Pearls Combined With Surgeon Steel Beads
2. Pretty in Pink and in Pink Flats
Even when you don't feel like all eyes should be on you, you can still wear a pink dress. Choose a soft shade of pink, and pink flat shoes, and you will have a comfortable and simple outfit to wear wherever you go.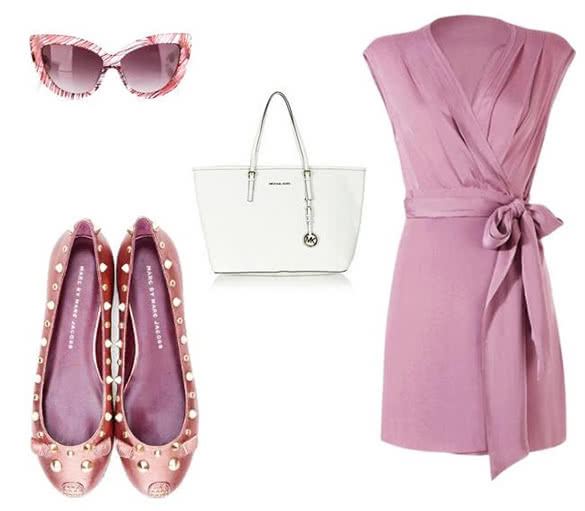 Dress: CATHERINE MALANDRINO Rose Pink Silk Wrap Dress
Shoes: MARC BY MARC JACOBS Blush Mouse Ballerina Flats
Bag: MICHAEL Michael Kors Jet Set Medium Travel Tote
Accessories: L Farrow X Charlotte Olympia Feather sunglasses
3. Metallic Shoes
Metallic Shoes go very well with pink dresses. You can combine any kind of pink dress with metallic pumps or flats, and spice it up with some metallic accessories.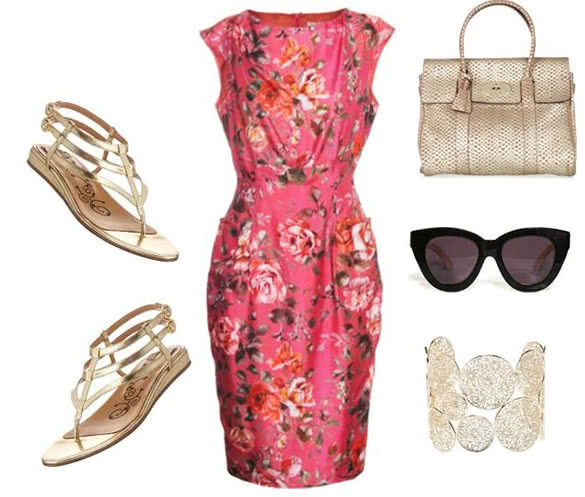 Dress: Thomas Rath Sofia Flowers Stretch Shift Dress
Shoes: Tibi Women's Eden Flat Sandal,Gold Metallic
Bag: Mulberry Bayswater snake-effect leather bag
Accessories: ISHARYA Daisy Disc Filligree Cuff and Karen Walker Eyewear Anytime – Black Fluro
4. Pink Pumps
Sometimes the pink of the dress can bring out the pink of the shoes. Combining a pink dress is not an easy task. On the other hand, combining pink pumps can lead to a serious fashion faux pas. However, combining the two can be fun.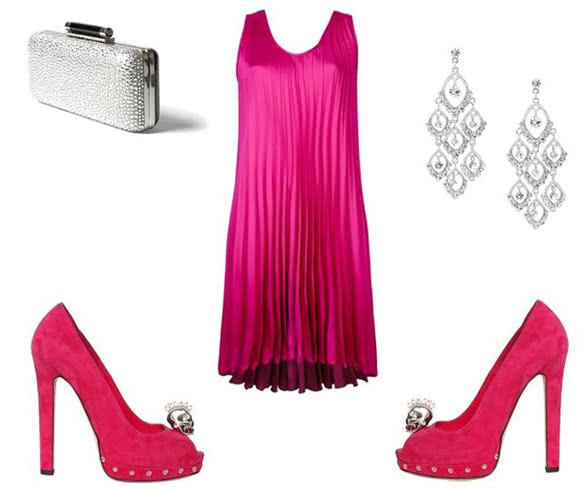 Dress: P.A.R.O.S.H. Pleated Dress
Shoes: Alexander McQueen Open Toe Suede Skull Pumps
Bag: Dina Von Furstenberg
Accessories: Vinateg Lace Chandalier Earring