Stay on-trend and look fabulous this season by following these top tips on how to make spring's hottest looks work in your favour. The variety and contrast in this season's selections offer plenty of options for you to try out, so read our guide for inspiration to help you decide how to pull off each style.
The spring/summer 2013 catwalks were filled with an interesting mix of contrasts: masculine versus feminine, neons versus pastels and bold graphics versus soft floral prints. There's something out there for every taste this season, so have fun with the latest trends. Experiment and try out new looks to give your wardrobe a fresh update.
White on white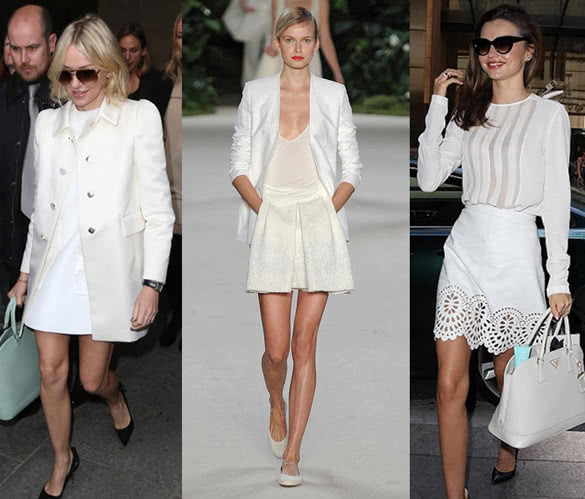 Have you ever noticed that rich people love to wear white during the summer? It's very hard to go wrong with wearing all white. It is perhaps the only colour that you can get away with wearing from head to toe while still looking chic. White is crisp, elegant and timeless. It makes your skin look more tanned and keeps you cool on a hot day.
Matching the wrong white pieces has led to many a fashion mishap, so if you are opting for white on white, avoid choosing pieces that are too over–the-top. Instead, make sure items balance each other out. Wear ruffled or over-sized tops with skinny trousers or tailored shorts and pair a loose skirt with a fitted top. Naomi Watts pulled off a winning combination at Paris Fashion Week in March by donning a long white coat over a white dress.
Try to achieve as much of a stream-lined look as possible and be sure to check how sheer your white clothes are before leaving the house. Sun rays will shine right through thin white fabrics.
Floral prints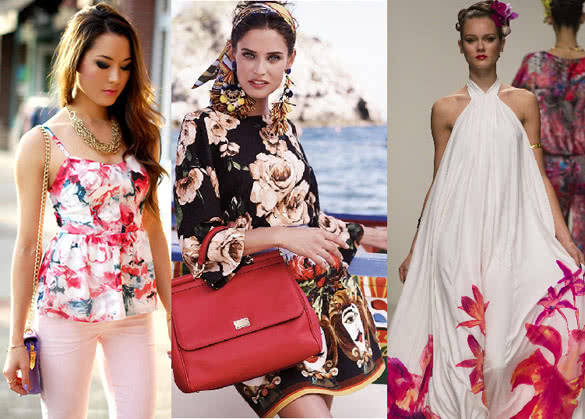 Floral prints will make you feel feminine, flirty and ready for warm weather, adding a touch of summer romance to your wardrobe. Going over-board with floral prints, however, can risk looking a little eccentric.
Pair floral prints with block-colour pieces. Try wearing a loose floral top tucked into a tailored mini, or matching floral print trousers with a pastel coloured shirt and loose jacket.
If you're still not convinced, adding a subtle floral item, such as a scarf or handbag, can soften your look. If looking all-out feminine is not your thing, there are also plenty of bold-coloured floral prints available this season.
Maxi dresses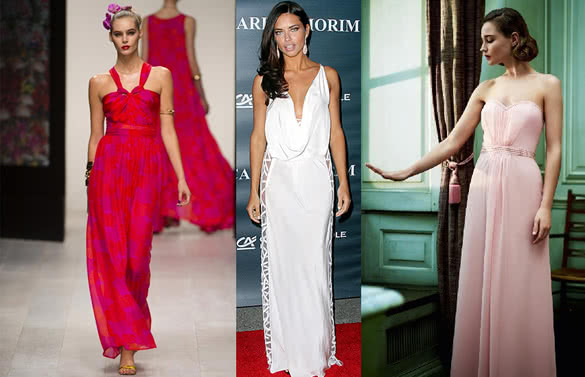 Who doesn't love maxi dresses? Flattering on practically all shapes, these long flowing frocks will make you feel both elegant and sexy. Issa's catwalk collection for this season was a myriad of flowing dresses of every colour and style.
Accessorize your maxi tastefully and you will look and feel like a million dollars. Chandelier earrings and bangles will add a touch of effortless glamour. Belted maxi dresses are in style this season, giving a more streamlined silhouette.
Maxi dresses can also be worn in mid-season weather, so wrap up with a short jacket or bolero to make sure that your dress takes centre stage.
Stripes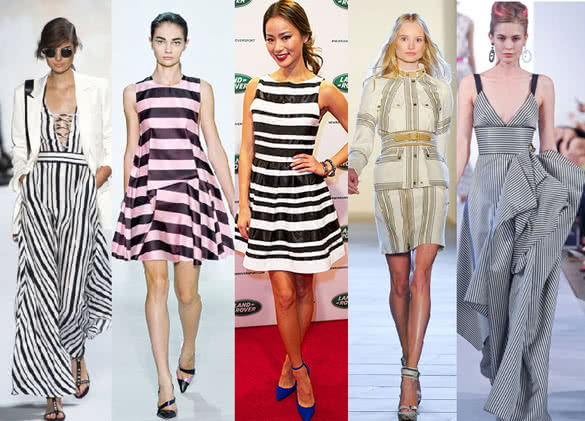 Stripes took the Spring/Summer catwalks by storm, being showcased in all colours, widths and patterns. They can be fun to experiment with, and provided that you choose the right pieces, they can also be very flattering.
Use stripes to your advantage by letting them manipulate the image of your shape. If you have a small lower body, wear a horizontally-striped skirt. If you have a larger bust, opt for a blouse with vertical stripes. Diagonal stripes will flatter nearly any shape and can even accentuate the waist. Just make sure that the pattern works well with your figure.
Tuxedo jackets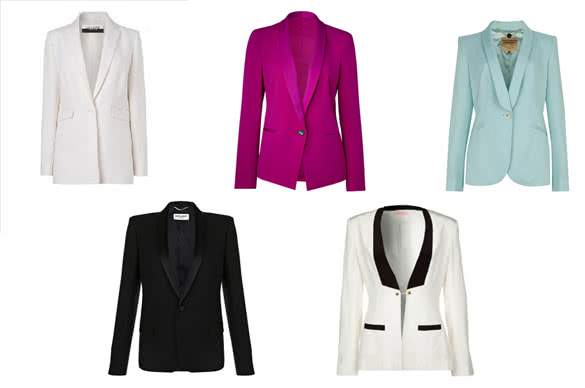 This season, matching suits are out and mismatching suits are in. What better way to mix up your professional attire than by wearing an on-trend tuxedo jacket? Replace your usual tailored blazer with its bolder counterpart for an updated statement look.
White tuxedo jackets were particularly popular on the Spring/Summer catwalk. Pair one with a slim-line mini or skinny trousers to balance out its structure, and have fun by matching it with this season's stripes, floral prints and bold graphics.
Pastels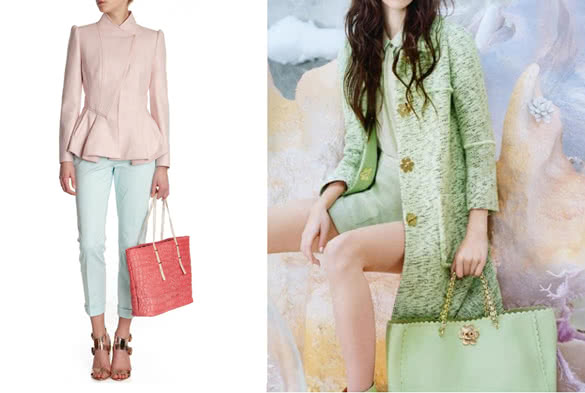 Pastel colours are everywhere this spring. Inspired by the '60s comeback, pastel hues are a feminine way to pull off any trend. Popular shades this season include mint, lemon, baby blue, candy pink and coral.
Wear pastel coloured items together to truly evoke the retro look, or pair with soft whites for a chic no-fuss alternative. Nude heels work beautifully with pastel shades, so if you don't own a pair yet, add them to your shopping list.
60s Nostalgia
This season's Chanel and Moschino collections are filled with '60s-inspired pieces, with shift dresses, bold prints, neons, mini skirts and a-line silhouettes making a definite comeback.
An a-line dress will make a classic and sophisticated addition to your evening wear. Accessorize with pearls to pull off a Jackie Onassis look.
Shift dresses will make you look fashion-forward and give you the chance to show off plenty of leg during the summer months. Don't be afraid to go for bold colours and prints. Poker straight hair with an on-trend centre part will compliment the look perfectly.
Low-heeled shoes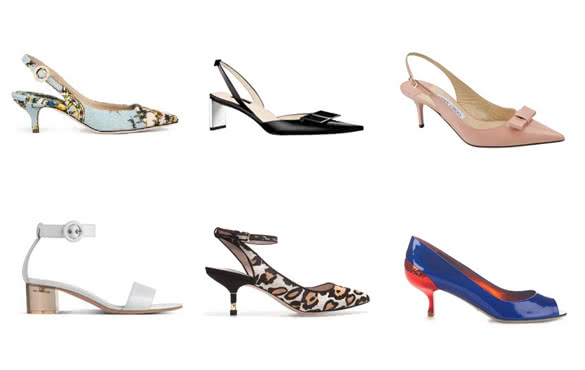 The stilettos and platforms that dominated of late have now been side-lined for more comfortable heels. Championed by the Duchess of Cambridge, low-heeled shoes offer a more sophisticated and classier look, in addition to the added bonus of no longer having to tower above your man.
Think of them as a cross between high heels and flats; a sensible option for women who spend all day on their feet. They will take you from day to night in comfort and style.
Bright coloured heels are in this season, so choose a cheerful hue to jazz up your wardrobe. Leopard prints are also back in style and will pair beautifully with a sleek all-black outfit.
Cover photo: thebestfashionblog.com