Are you tired of the same old boring bedroom routine? If you're trying to get your guy to be less mundane, we have a list of ten kinky things to do with your boyfriend.
I'm sure you've all heard the hype about the new 50 Shaded of Grey movie, so you already know that it opens up the doors to talk about bondage to your lover. I've never seen it, and I haven't read the books, but from what everyone tells me (and the previews I've seen) this is one of the sexiest stories ever shown on screen.
Of course, Grey isn't the first to do kink, there are quite a few movies that have shown that sex doesn't have to be missionary, and can involve some master and servant play. I have seen some of those, and they were quite eye-opening films!
Which leads me to kinky sex. Most of the time we're too afraid to tell our lover what we like because we're afraid of rejection or, even worse, that look of disgust he might get knowing you're turned on by whips, chains, or tentacle adult movies. So we keep these things to ourselves. Which really leaves a lot of fun out when you're having sex with the person you love.
Before you decide you can't tell your guy you're intrigued by kinky sex, here are ten tips for introducing him into your fantasies. Then, when you get an idea if he's open to it, find some kinky things to do with your boyfriend which will pleasure the both of you.
1. Watch adult movies together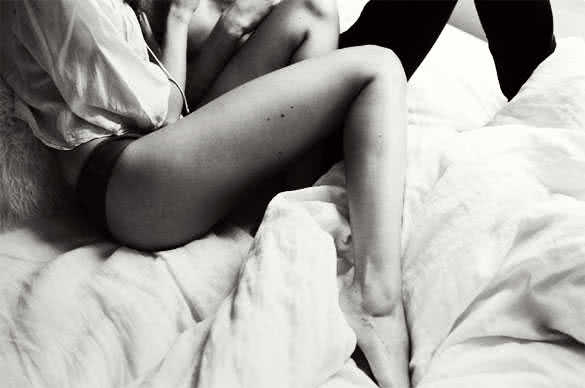 Men are very visual creatures and most men watch adult movies. They don't, however, admit it to their girlfriends because they fear ridicule (you know, the same reason you're afraid to ask him to spank you during sex). Try surprising your guy by bringing home an adult movie, and asking him to watch it with you. I highly doubt you'll make it through the entire film without getting naked.
Even better… see how he reacts if you let him watch some hot action while you give him a mind-blowing blowjob (as he's watching another scene that he may really like too).
2. Try food in the bedroom
There's this great scene in 9 ½ Weeks where Mickey Rourke is feeding Kim Basinger food as he has her blindfolded in front of the fridge. It's one of the best erotic scenes of any movie.
You can try this little kinky trick on your guy by drizzling honey on his chest and licking it off, or running a strawberry along his chest and then seductively sucking on it before you take a bite, and kiss him with its sweet juices still in your mouth. Yeah, it works.
3. Pull out the blindfold
You can get a little kinkier by blindfolding your boyfriend and spending a little extra time on the foreplay. If you don't have a blindfold, a sleep mask will work just fine. Or, if you prefer to be the dominated one, lie naked on the bed with the blindfold on yourself and let him have his fun while you enjoy the service he's giving you.
4. Handcuff him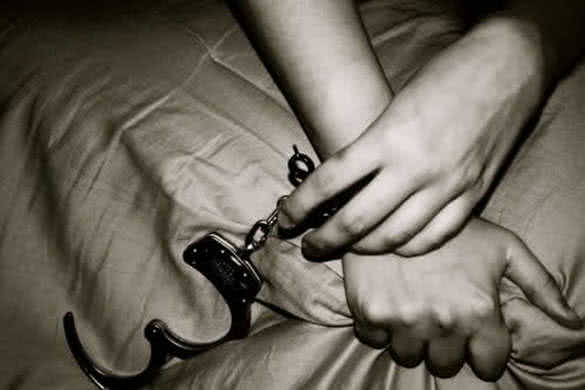 Handcuffs are an excellent introductory tool to bondage play, and they can really get kinky. Handcuffs prevent your lover from guiding you and leave you in full control! If you pair them with the blindfold, then his mind will be blown. Do yourselves a favor and get soft handcuffs, the kinds that are lined with fur, so you don't injure your wrists while you're having wild sex.
5. Have sex in the shower
One of the sexiest places to have sex is in the shower. All too often people get used to just having sex in the bedroom, but you don't have to get crazy to get a little kinky. Slip into the shower with your man while he's cleaning up from a long day at work, and watch how fast the worries of the day wear off him.
6. Don't wear panties
A quick and easy way to add something kinky into your daily routine is to go commando. That's right, wear a skit and don't wear any panties. Let your guy know you're not wearing any panties whether by whispering it subtly in his ear, or by sliding his hand up your skirt and letting him feel for himself. Panties are cute, but commando is kinky.
7. Try a sixty-nine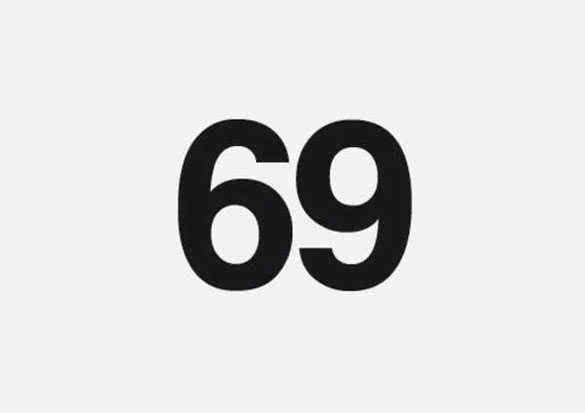 I know a lot of people who don't do this one, but if you and your guy give each other simultaneous oral sex (also known as a sixty-nine), it can really do a lot for your orgasms. There's something about simultaneous getting and receiving oral pleasure that really makes the orgasm stronger and more intense. This is a great way to get kinky before you try the handcuffs or food.
For more awesome ways to kink up your oral sex game with hot positions, I recommend you read Jack Hutson's classic guide and learn what kinky stuff men secretly enjoy, from a guy's point of view.
8. Use edible massage oils
There's no sense in stopping at food, though. There are plenty of companies that sell edible massage oils, and some of them heat up when you blow on them. They're tasty, they're warm, and they're very sexy when added to your oral pleasures. Edible massage oils are definitely a kinky must in anybody's bedroom.
9. Play sexy board games
Go to your local adult store, and look around the game section. There are a lot of kinky board games meant to tease and please you, as you spend a night at home alone with your man. Some of them seem kind of cheesy (okay, most of them seem kind of cheesy), but they're all very good at getting you naked and stimulated! They certainly add some kink into your sex life. You can also try some Kama sutra games.
10. Send him naughty texts while he's at work
Finally, remind your man of all the kinky things he has waiting for him at home. Send him sexy texts while he's at work, and get him hot and bothered and ready for you as soon as he walks in the door.
Sexting is popular and fun and you're only limited by your own imagination! Plus, it's often easier to be kinky with someone by text because you don't have to worry about seeing their reaction. Once the texts get hot and heavy, you'll find that they're an amazing turn on for both of you!
Adding a little bit of kinky fun into the bedroom will certainly enhance your sex life. So tell us, what kind of fun things are you going to try?