Miranda Kerr catapulted to fame as one of the world's hottest models, but she is certainly making her mark as one of the A-list's best dressed women. While we may not have her looks, we can definitely steal her style…
Miranda Kerr has it all; stunning looks, a gorgeous figure, a thriving career in modeling and one of Hollywood's most sought-after heart-throbs, Orlando Bloom, for a husband.
Since shooting to international fame in 2007 after becoming a Victoria's Secret angel, the world has fallen in love with the Australian model's charming looks, but it is her polished and effortless wardrobe that has gotten the world of fashion raving.
While we may not be able to steal her looks, body, career or husband, we can certainly mimic one thing: her enviable style.
No one does effortless chic quite like Miranda Kerr. She has a knack for pulling together looks that are sexy, stylish and elegant without looking like she tries too hard. Whether on the red carpet or strolling around LA with her son, Flynn, Miranda always looks immaculate and paparazzi-ready.
Classic silhouettes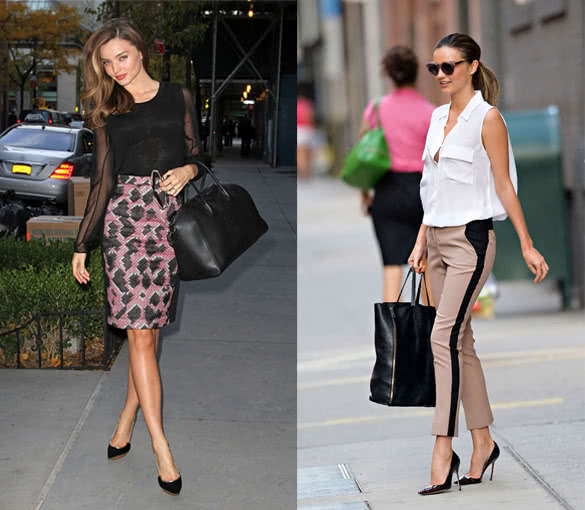 If there is anything other than Miranda's figure that we all envy, it is how well she knows how to dress it. Miranda never fails to step out in ensembles that show off her slender physique in timeless pieces that perfectly skim her body.
No matter what fashion dictates, Ms Kerr always sticks to what suits her body best. She tends to show off her perfect legs with slim-leg trousers or flattering miniskirts, keeping it classy by not exposing too much skin elsewhere. When picking out her dresses, Miranda usually opts for flowing numbers or form-fitting silhouettes that flatter her perfect physique.
She is rarely seen without enhancing her well-coordinated outfits with a classic pair of high heels that add a touch of sophistication and pull the look together perfectly. Add a classic handbag that is not overly embellished and Miranda's polished look is complete.
To achieve a classic silhouette like Miranda, dress your body in a way that shows off and flatters your form without revealing too much, and avoid overly embellished and distracting pieces. Balancing fashion-forward numbers with items that will never go out of style is a fail-safe way to achieve a sophisticated touch.
Fuss-free hair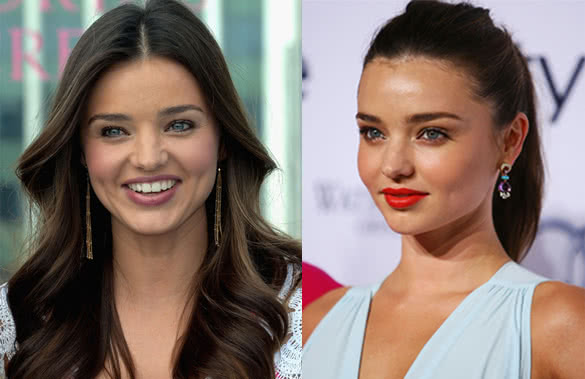 I don't think that Miranda Kerr has ever been photographed with a single hair out of place. The 30-year-old never leaves the house without immaculately groomed hair, and this comes down to one easily achievable factor: a fuss-free haircut.
Her hair is always cut at pretty much the same length, with long layers that are easy to manage. This gives her a versatile canvas to create an array of gorgeous styles with her hair, from glamorous blow-dries to tousled waves and sleek pony-tails.
While some women can get away with ever-changing hair-cuts, sometimes it is best to know what suits you most and learn how to achieve different looks with that one staple hair-do. Invest in learning how to create hairstyles that are easy to master.
Experiment with blow-drying techniques, creating loose waves with curling tongs and achieving sleek up-do's. Find a go-to style for bad hair days or limited styling time, such as a low ponytail. Mastering key looks will make the day-to-day work of keeping your hair looking immaculate far less taxing.
Miranda also knows what hair colour suits her best and has always stuck with a natural yet extremely flattering shade. While she livens up her colour from time to time with highlights, she tends to keep them subtle.
Find out what shade flatters your skin tone best and stick to highlights or lowlights that are two shades different from that colour. Taking risks with your hair colour can sometimes pay off, but if there is one lesson to learn from Miranda Kerr, it is to stick to what you know looks best on you.
Immaculate make-up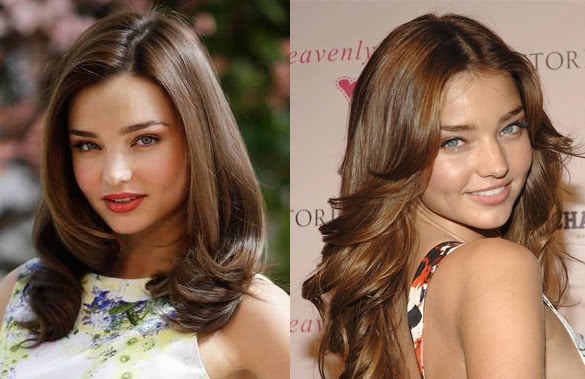 Victoria's Secret certainly knew what they were doing when they hired Miranda Kerr. Her facial features are enviably beautiful. Her high cheek-bones, piercing baby blue eyes and perfect pout are a winning combination that not all women can boast, but with the right technique, one can definitely learn to enhance their features Miranda-style.
Miranda's make-up is clear proof that less is more. She knows exactly what makes her best features pop by keeping her make-up polished, simple and flawless and her skin looking fresh. She balances her make-up beautifully, always making sure there is never too much going on at once.
She pays very close attention to her eyes, which are always perfectly defined without being over-done. She keeps colours and shadows to a bare minimum, opting instead for strikingly dark kohl and a subtly smoky effect. This combination makes the colour of her eyes take center stage.
Her skin looks fresh and flawless at all times, yet you can barely ever tell that she is wearing make-up. The right colour and texture for your skin tone is one that makes your skin look immaculate without people noticing that you are wearing anything.
Foundation should be like a veil, masking your blemishes while showing off your features. Make-up counters are always happy to try shades and textures on clients, so if you haven't found your perfect foundation yet, head down to a department store and let the make-up experts help you find what suits your skin best.
Step outside and check how the colour looks on you in daylight before buying, as indoor lighting can be deceiving.
Well-groomed eye-brows are essential for framing the eyes and face, and you can tell that Miranda's are well cared for. It only takes one minute a day to maintain your eye-brows, so build this into your daily beauty routine. Invest in a brow liner that is as close as possible to your hair colour for a natural-looking way to make your eyes pop.
Effortless chic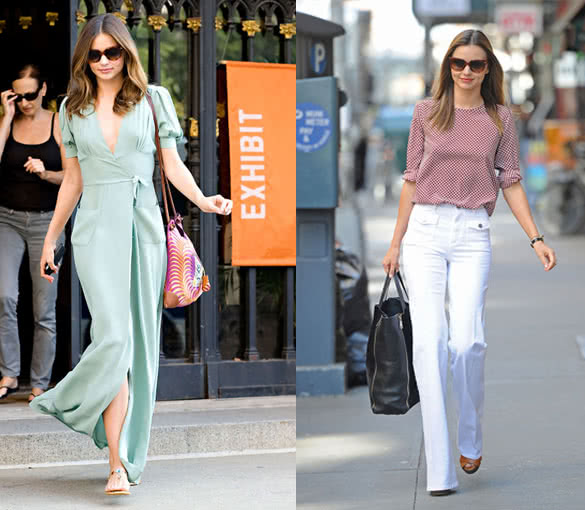 Miranda has described her own style as "classic, chic and comfortable" and we couldn't agree more. Although she is not shy to take fashion risks, she generally mixes fashion-forward pieces with classic fail-safe pieces.
Her outfits are never too busy. When out and about, her fashion sense is casual and sexy and she is usually spotted in flowing feminine dresses or skinny jeans and slightly over-sized sheer blouses. Her hair and makeup are always flawless but fuss-free.
Her red carpet looks tend to be bolder, but she somehow always manages to balance this out with a classic twist. Ever the classy lady, she has revealed in the past that she tries to play up one body part at a time with her outfit choices. That is why you will rarely see her in a mini skirt and plunging neckline at the same time.
This way, whichever body part she is trying to show off takes center stage. Even her red carpet hair and makeup are an effortless balance of glamour and simplicity, making the most of her features without detracting from their beauty.
Her accessories are always simple and tasteful and she very often steers clear of jewellery altogether. If she wants to play up a red carpet look she will typically opt either for elegant drop earrings or bold cuff bracelets, but never both. She tends to prefer making a statement with her choices of handbags and sunglasses when out and about on the town.
To achieve Miranda's effortless look, always pick out pieces that are comfortable but chic. The key is to keep a sense of balance between sexiness and simplicity.
Enhance what you've got without showing too much of it off and step up your level of sophisticated chic in a way that looks natural and effortless.
Cover photo: fanpop.com